Wednesday, November 24th, 2021
Wildcats get past Bulldogs
By Gary R. Rasberry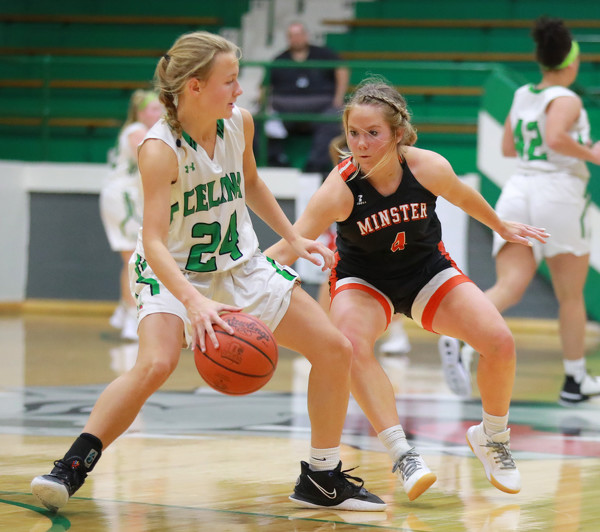 CELINA - Celina had its shot to get close to Minster early in the third quarter, but the Wildcats found that extra gear to pull away.
The Wildcats went on a 22-5 run to end the third quarter and handed the Bulldogs a loss in their season opener with a 53-36 decision at the Fieldhouse on Tuesday night. The win moves Minster to 2-1.
Unlike some of the previous meetings where Minster pulled away to dominant victories, the Wildcats got a full 32 minutes of pressure from the Bulldogs.
"There's youth there, but a lot of that youth has played," Minster coach Mike Wiss said of Celina (0-1). "That's going to continue to develop."
"We're a different team," said Celina coach Branden Rushton. "We want to be aggressive and we tell the girls to come out and throw the first punch. We think they did that. I'm proud of how they played."
Minster jumped out to a 7-2 lead, but Celina tied the game at 7- and 9-all before a Ella Mescher bucket gave Minster the lead to stay with under 2 1/2 minutes remaining in the first quarter.
The rest of the first half was Minster trying to pull away, only for Celina to thwart it and stay two possessions away.
Katie McClurg started the third quarter with a bucket to put Minster in front 26-18, but Taylor Klingshirn followed with a 3-pointer to get Celina to within five. Kaycie Albers added a bucket to make it seven, only to have Payton Bertke respond with a score to put the margin back at five with 5 1/2 minutes left in the quarter.
The tied started to turn when McClurg scored to make it 30-23. After a Celina missed basket, Mescher scored on back-to-back possessions to get the Wildcats into a double-digit lead at 34-23.
Mescher then added free throws to make it 36-23 before Amelia Lutz broke the run with two free throws of her own. But Minster answered with an 8-0 run that was halted late in the quarter on a Kyilla Billingsley 3-pointer to make it 44-28. McClurg hit a free throw with a second left to make it a 17-point Minster lead heading into the fourth quarter.
The Bulldogs worked hard to keep the Wildcats within shouting distance and 17 stayed the largest margin right until the end.
"We're not smooth right now, but I like the fact that we're working," said Wiss. "We're in people's faces and it's easier to slow hard work down then speed hard work up. We have the work ethic, we just have to be a little smarter on the offensive side of the floor."
"It's obviously not the result we want," said Rushton. "That's a great team (regarding Minster). They're really polished and don't make a lot of mistakes. That's where we're trying to get to."
Mescher finished with a game-high 19 points and seven rebounds for Minster. Albers had 14 and McClurg finished with 10.
Klingshirn was the only Bulldog to reach double figures with 11 points. Billingsley added nine points.
Both teams return to action in December in their conference openers. Minster plays host to Versailles while Celina welcomes St. Marys to the Fieldhouse.