Wednesday, January 12th, 2022
Making the charge
St. Marys rallies to defeat New Bremen for 10th win
By Gary R. Rasberry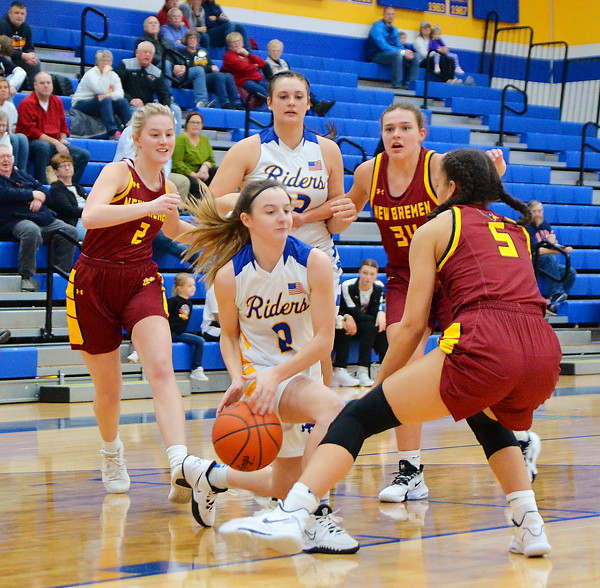 ST. MARYS - Just when it looked like New Bremen was poised to pull away from St. Marys, the Roughriders clicked into gear.
St. Marys turned a 27-19 deficit with 7 1/2 minutes remaining in the third quarter into a 39-36 lead going to the fourth quarter. The Roughriders then held the Cardinals to a single field goal in the final eight minutes to pick up the 49-38 victory in the battle of Auglaize County neighbors at Grand Lake Health System Court.
The contest was a healthy mix of defense - the teams combined to force 36 total turnovers - and some dominating scoring performances.
"Those are good games," said St. Marys coach Jon Burke. "(New Bremen coach Andy Timmerman) is a great coach. They have a good scouting report and play hard. I'm proud of Ella Jacobs and Morgan Hesse for their effort tonight. Kendall Dieringer and Noey Ruane came through tonight."
The first quarter proved to be a defensive struggle as the teams combined to go scoreless on 11 consecutive possessions while nearly three minutes came off the clock before Kendall Dieringer hit a free throw to make it 5-2 St. Marys, with Dieringer scoring all five points. Dieringer scored 10 of St. Marys' 12 first-quarter points, with Morgan Hesse getting the other bucket.
New Bremen (7-5) relied on Chloe Bornhorst for all six of New Bremen's first quarter points as the first non-Bornhorst score came early in the second quarter on a Kaylee Freund basket.
"We gave (Dieringer) too many good looks," said Timmerman. "Then we did a good job on everyone else."
St. Marys was up 15-10 at one point in the second quarter before Bornhorst, Freund and Lily Lennartz provided big points and slowed down Dieringer enough to take a 22-19 halftime lead.
Lennartz started the third quarter with a 3-pointer and Freund added a bucket to raise New Bremen's lead to 27-19 with 7:31 to play in the quarter.
Just when it looked like St. Marys needed a big play to get traction, Karsyn McGlothen got a hoop-and-harm 3-point play to cut the deficit to five. St. Marys got it to within two at 29-27 before Bornhorst hit a trey and Ruane answered with a trey of her own.
Ella Pape scored with 4:36 remaining to make it 34-30 Cardinals, but Hesse scored on back-to-back possesions to tie the game. After Mallory Messick gave the Cardinals a 36-34 lead, Ruane hit her second trey of the quarter to give the Roughriders its first lead since the second quarter at 37-36.
Ruane then closed out the scoring in the third with a bucket to make it a 39-36 game.
"We were playing a little out of rhythm (in the first half)," said Burke. "Third quarter we were able to get out spacing a little bit better, get in the paint, kick it out and get some shots. We played a little more relaxed when we were able to do that."
Freund scored a bucket with just over seven minutes left in regulation to get the Cardinals within three at 41-38, but that was all for New Bremen as St. Marys played a patient game, working the ball around to get the perfect shot inside. McGlothen and Ruane added buckets and Dieringer iced the game with two free throws with 53 seconds remaining.
"Ella played well on Kaylee," said Burke. "She clamped her up the last 10 minutes of the game."
"It was a good battle for 2 1/2 quarters," said Timmerman. "They took over at both ends of the floor. They put pressure on us and we didn't handle the pressure as well as we could have. We weren't as sound defensively as we were (in the first half)."
Dieringer was held to just four points in the second half, but finished with 18 points to lead St. Marys (10-3). Ruane had all 12 of her points in the second half while Hesse added nine.
Freund led New Bremen with 14 points. Bornhorst added 11.
Both teams are in league play on Thursday. St. Marys is back home to host Van Wert in a Western Buckeye League contest while New Bremen travels to Coldwater for a Midwest Athletic Conference showdown.