Friday, January 14th, 2022
Alone at the top
New Knoxville defeats Minster in MAC battle
By Gary R. Rasberry
Photo by Nick Wenning/The Daily Standard
MINSTER - Mike Wiss channeled his inner Dennis Green on Thursday night when talking about New Knoxville.
"They are who we thought they were," said the Minster coach, quoting the late NFL coach's famous line from a 2006 game between Arizona and Chicago.
What New Knoxville is now is the sole leader in the Midwest Athletic Conference girls basketball standings after defeating the Wildcats 36-23 at Wildcat Gymnasium.
"For the most part, both teams gave each other exactly what they average (defensively)," Wiss said. "(New Knoxville) gives up around 23 and we give up an average in the mid-30s."
The Rangers' defensive pressure gave Minster fits through the game. The Wildcats committed 16 turnovers and shot just 9-of-24 from the floor.
"We like to rely on our defense," said New Knoxville assistant coach Matt Gabel, filling in for Tim Hegemier, who was not at the game. "We wanted to put ball pressure on them and it seemed to work.
"I told Mike I knew what kind of game this was going to be tonight. That's what it turned out to be: (a) slugfest. Minster's got a great team, but I'm happy to get out of here with a win."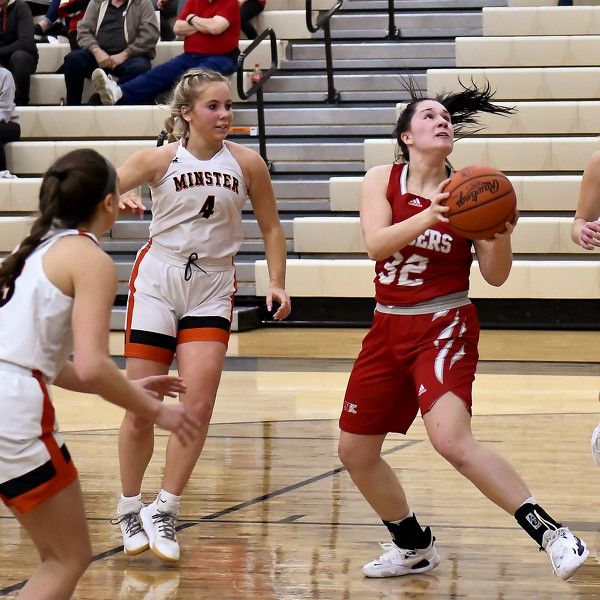 Photo by Nick Wenning/The Daily Standard
The two teams started out even. Minster's Katie McClurg tied the game at 7-all with a 3-pointer with 3:43 remaining in the opening quarter, only to have Carsyn Henschen come back with a trey of her own seconds later to put the Rangers in front to stay. New Knoxville's pressure began to take its toll as the Rangers led 12-7 and Minster went nearly seven minutes between scores before Ella Mescher broke the spell with 4:47 left in the first half. By then, the Rangers were up 16-9 and led 20-9 at the half.
With Minster playing tight pressure, the Rangers found their best scoring chances on backdoor passes. Avery Henschen and Ellie Gabel came up with big layups that pushed New Knoxville's lead up to 27-12 in the third quarter and then in the fourth quarter briefly put the margin to 20 at 34-14 with 6:44 to play after a Gabel trey.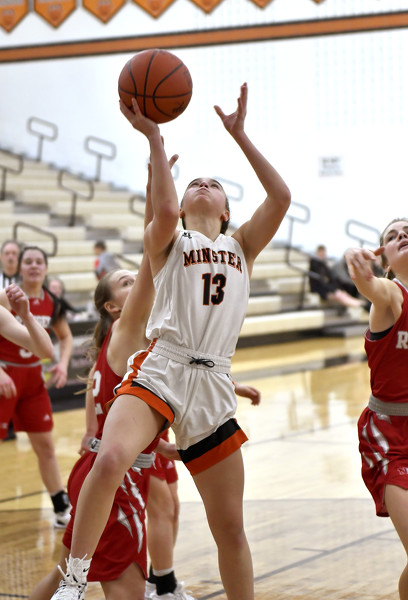 Photo by Nick Wenning/The Daily Standard
"We didn't have our best shooting night," said coach Gabel, whose squad shot 46.7% from the floor. "But we told the girls they'd fall. They just had to keep shooting."
"Visibly frustrating," said Wiss. "We didn't have great movement. I would have liked to have seen the wins over Parkway and Ottoville last week transferred into something a little more positive tonight. Defensively, they took us out of anything we were trying to do."
Gabel and Avery Henschen each finished with 14 points to lead New Knoxville, which improves to 13-1 and 5-0 in the MAC.
Kaycie Albers scored 10 to lead Minster (9-5, 4-1 MAC).
New Knoxville returns to action Tuesday when Legacy Christian out of Xenia comes to the Barn. Minster's next contest comes Thursday with a trip west to Maria Stein to face Marion Local.