Wednesday, May 11th, 2022
Firing on all cylinders
Celina jumps out early and advance in tournament
By Gary R. Rasberry
VAN WERT - Just over a month ago, Celina lost a lead late to Van Wert and took a tough one-run loss in league play.
In the rematch, there was no trouble whatsoever for the Bulldogs.
Celina plated three runs in the top of the first inning and never looked back, picking up a 13-2 win in five innings in the Division II softball sectional opener at Jubilee Park in Van Wert.
The Bulldogs (6-12) travel east to St. Marys on Friday to face the Roughriders in round two of the Battle of Grand Lake for a trip to the district at the University of Northwestern Ohio. St. Marys shut out Celina 7-0 on April 8.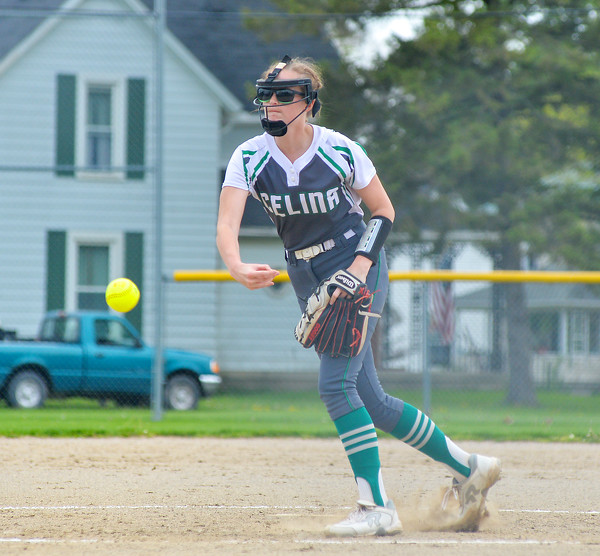 Photo by Paige Sutter/The Daily Standard
The first meeting, an 11-10 Cougar win, saw Celina commit five errors, walk five and a hit a batter.
This time, Paige Kuehne was sharp from the start, scattering four hits, walking one - coming in the bottom of the fifth - and striking out six, including two of the final three batters she faced.
"She was on. In my opinion this was the hardest she's thrown," said Celina coach Jason Tribolet. "Her accuracy was spot on."
Karsissa Frederick led off by getting hit by a pitch from Emilee Phillips. Sarah Giesige bunted for a hit before Payton Bertke grounded to third for the force to get a fielder's choice.
Sydnee Davis provided the first big blow of the day with a double to right-center to score Giesige and Bertke. One out later, Carly Hathaway brought Davis home with a single to make it 3-0.
"We had key hits," said Tribolet. "I know we left runners on (eight, including the bases loaded in the fourth) but in the past we would have left a lot more on than we did. We've been working on discipline and they did a great job."

Phillips got out of the second unscathed, but after getting the first out of the third, she was greeted by singles from Hailey Shaffer and Hathaway. After a fielder's choice by Samantha Jacobs brought the second out, Lucy Piper singled home Hathaway, with the throw to third going wild to allow Jacobs to score.
Frederick then brought two more runs home with a single and Giesige was hit by a pitch. Marissa Mottinger was brought on in relief and promptly gave up a double to Bertke that likely would have left the park if not for the high fence in left. Mottinger got the next batter out, but the damage was done.
Celina plated two more in the fourth as Hathaway scored on an error and Bertke drew a bases-loaded walk, which forced Phillips to come back in and end the threat as Celina led 11-1.
The Cougars tried to keep the game from ending early with a run in the bottom of the fourth, as Phillips scored on an errant throw to second on a stolen base attempt, but Celina got the run back and added cushion in the top of the fifth as Piper got an RBI groundout and Jacobs came home on an error that would have been the third out.
From there, all Kuehne needed to do was get three outs, starting with getting Lauren McHugh to ground out and striking out Hope Blythe. Carlee Young drew a walk and stole second, but after Sydnee Savage ran the count full, Kuehne got her to swing at strike three to end the game.
"That was a game where all levels of the game - offense, defense and baserunning - all came together," said Tribolet. "We've been telling them we were close and in tournament we'd take that next step and try and make a run."
Hathaway and Giesige each had two hits for Celina.
Now the Bulldogs take on backyard rival St. Marys with a trip to UNOH on the line.
"We'll get geared up. Great team and a great pitcher," Tribolet said of the Roughriders. "We're going to come biting and scratching."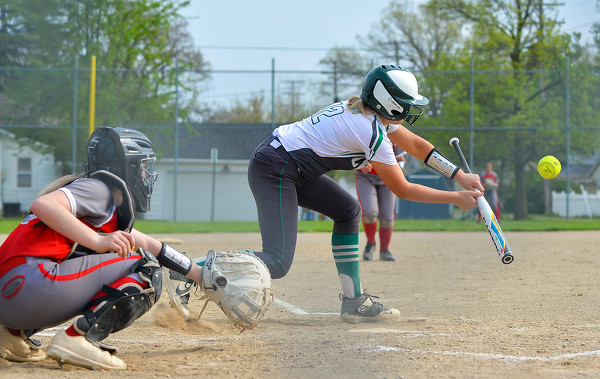 Photo by Paige Sutter/The Daily Standard