Friday, May 13th, 2022
Ninth-inning breakthrough
Indians advance as Flyers haunted by blunders late
By Tom Haines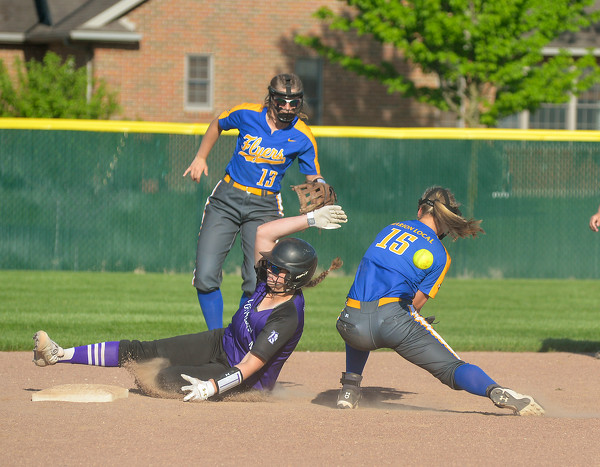 Photo by Paige Sutter/The Daily Standard
FORT RECOVERY - After pulling off one narrow escape after another, Ashlyn Bohman and Marion Local finally ran out of luck.
Fort Recovery scratched across a run in the sixth inning to tie the game, and after Bohman stranded runners on second and third in the seventh and eighth, two errors gave the Indians the winning run in a 2-1, nine-inning home victory in the Division IV softball sectional final on Thursday.
"I'd much rather play a low-scoring game, any day of the week," Fort Recovery coach Ryan Thien said. "I told the girls, even if we'd lost, that still would've been the funnest game that I've been a part of."

With the win, Fort Recovery (12-8) will face Minster in the district semifinal at Wapakoneta on Tuesday. Marion's season ends at 7-12.
Emma Will led off the bottom of the ninth with a grounder to second baseman Ava Evers, who couldn't pick it up cleanly as Will reached safely. Chloey Grisez laid down a sacrifice bunt, and Bohman had to make a diving pitch to Kailee Beyke at first, getting the out but allowing Will to advance all the way to third.
Bohman got ahead 1-0 on Sophie Pearson before Pearson slapped a ground ball to Olivia DeMange at short, and DeMange dropped the ball as Will dashed home to win the game.
"What a game," Marion coach Mindy Feasel said. "Top to bottom, Marion Local and Fort Recovery, it was just a very well-fought game, and the errors just kind of crept up on us. It was just a bad time to have an error, basically."
Marion (6-11) took the lead in the third, as Camryn Swain started a two-out rally with a soft line drive just past third baseman Ella Schoen, who was playing in. Swain stole second and moved to third on a wild pitch by Pearson, and DeMange drove her in with a line drive single over second base.
DeMange stole second and made it to third when the throw went into centerfield, and Allison Dirksen hit a fly ball into the right-center gap that hung up just enough for Indians centerfielder Kensey Gaerke to get there for a basket catch on the run to keep the score 1-0.
That was all the Flyers could muster, as Pearson set them down in order in the fourth before turning the ball back over to starter Jackie Homan. Homan retired 10 more in a row before Ava Evers reached on an error in the eighth.
"If anything, maybe a little bit of complacency," Feasel said. "We weren't looking to hit the first pitch, we were getting deep into counts. She really worked her stuff from there, and we just couldn't quite catch up."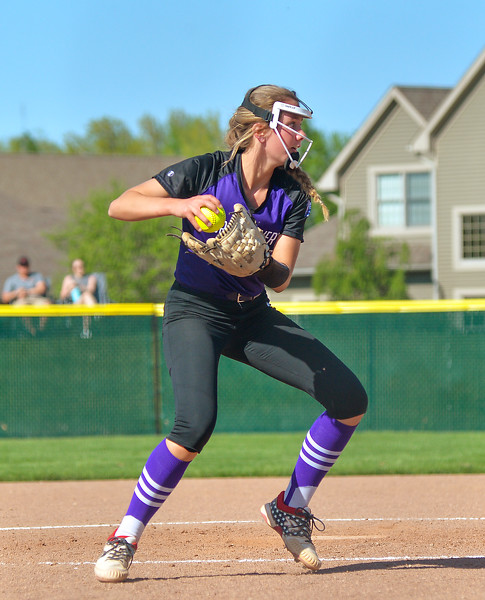 Photo by Paige Sutter/The Daily Standard
Homan, who pitched the first two and the last five innings, gave up one hit and struck out six without a walk.
"I was probably going to go back to Sophie, but Jackie was dealing," Thien said. "She was pumped up. She loves that outside part of the plate, and she was hitting it. When she's dialed into that, she's pretty good."
That left Marion's hopes in the hands of Bohman, who had already stranded the bases loaded in the second. Pearson singled through the left side in the third but was caught stealing before Jackie Homan slammed a double over Swain's head in center, and Bohman struck out catcher Maddie Guggenbiller swinging to end the threat.
The Indians got a two-out walk in the fourth and Will got all the way to third after a leadoff single in the fifth before Bohman got Homan on a failed check-swing to end the inning. In the sixth, Guggenbiller led off with a shot high off the wall in center, narrowly missing a home run and held to a single instead.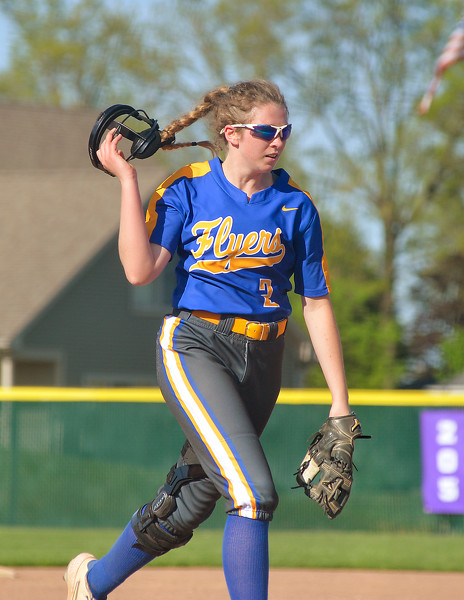 Photo by Paige Sutter/The Daily Standard
With Gaerke at the plate, Guggenbiller took off for second, reaching safely when the ball popped out of DeMange's glove. Bohman struck out Gaerke, and Guggenbiller went for third on the first pitch to Schoen. The throw was too high for third baseman Aliyah Arling and Guggenbiller bolted home to tie the game.
"Honestly, she is probably the best, smartest baserunner we have on the team," Thien said. "She's quick, and early in the year we gave her some courtesy runners, and every day she was telling me, 'No, no.' She can run the bases well."
Marion went down in order in the seventh and Fort Recovery started looking for the knockout punch. A one-out error put Will at first, and the Flyers tried and failed to force Will out at second on a grounder by Grisez that allowed both runners to reach safely. But Bohman needed just two pitches to end the threat, getting Pearson to ground out to second and Homan to hit a soft fly to right.
In the eighth, Gaerke worked a full-count walk before Schoen laid down a sacrifice bunt to the left side, and Arling's throw pulled Beyke off the bag to put both runners on with one out. With a squeeze on, Cali Wendel laid down a beautiful bunt, but it rolled foul across the first base line before Bohman reached it and with Gaerke almost across the plate.
Wendel's next bunt attempt also went foul, and Bohman got her to look at strike three before bearing down to strike out Ava Grisez on five pitches.
"Just coming up with a timely hit would've been nice, but that's what good pitching does," Thien said. "I said it the last time, that's the best pitcher we've faced all year, because she throws a really good rise ball. Our hitters, we practice it all the time, but we still have a little trouble laying off of that rise ball."
All told, Bohman stranded 11 runners, eight of them in scoring position, giving up five hits and three walks while striking out 13.
"She put it all out on the line," Feasel said. "That's all we ask of these girls. This whole postseason, it was just 'lay it out on the line', and her if anybody, she really did for us."