Tuesday, June 21st, 2022
The art of efficiency
Celina's Wes Greber needs just 79 pitches to beat St. Marys
By Gary R. Rasberry
Photo by Paige Sutter/The Daily Standard
CELINA - Celina ACME coach Tim Harter loves it when he hears that a pitcher wants to finish what he started.
Harter gave Wes Greber the option of going out for the seventh inning against St. Marys after having thrown 73 pitches through the first six innings.
Greber needed just six more to retire the Roughrider side in order and preserve a three-hit 5-0 shutout in summer baseball action on Monday night at Montgomery Field.

The incoming freshman only allowed two runners to get past second base on the night and worked out of one major jam in the fourth after allowing a walk to Easton Craft and a single to Greg Felver, who later stole second, to put runners in scoring position with no outs.
Greber wasted no time, striking out Ethan Hollandsworth, Carson Sturwold and Carter Steinberg in order to end the inning. Craft also reached third in the sixth when going to second on an errant pickoff throw, but Greber promptly got closed out the threat.
"Was going to try and keep him on a short leash," said Harter. "Seventy-three pitches (through six) is pretty efficient. He had some real quick innings. I asked him if he wanted to go. I like when they say 'Yeah. I want the ball.' He worked well."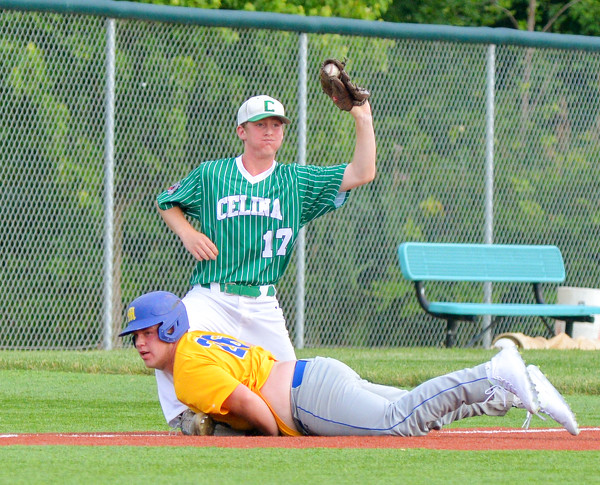 Photo by Paige Sutter/The Daily Standard
Celina started its hitting much like it did last week at Fort Recovery, leaving the bases loaded in the top of the first inning. In the second, Ethan Hollandsworth got the first two outs before walking Greber and Nick Steinbrunner to bring up Blayn Aller, who slashed a single to center to score Greber for the opening run.
The Bulldogs added another run in the third when Brady Steinbrunner led off with a single. Hollandsworth got two quick outs, but Caleb Stephenson blooped a single to center to score Brady Steinbrunner and make it 2-0.
Hollandsworth got through the fourth unscathed before turning the ball over to AJ Dieringer in the fifth. After getting the first out, Dieringer gave up back-to-back singles to Zander Jones and Max Baumstark, and after Stephenson struck out, Luke Maxwell walked to load the bases for Greber.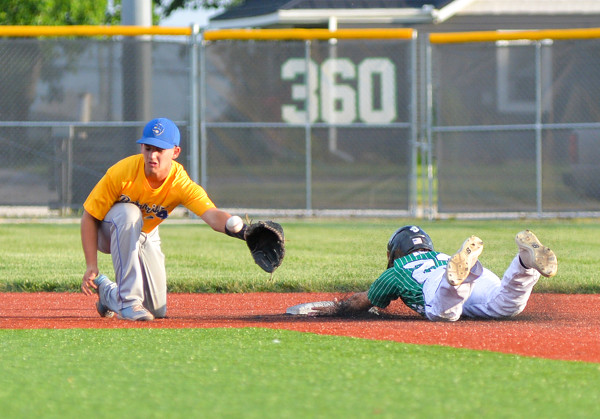 Photo by Paige Sutter/The Daily Standard
Jones came home on a passed ball, followed by the lefty Greber helping his cause with a single to score Baumstark. Maxwell later came home on a wild pitch to complete the scoring.
"We had some key hits that helped us," said Harter. "We had runners that we kept on base (nine, compared to 15 last week against Fort Recovery) but we came through. Boys played well. We just have to keep on a roll."
Brady Steinbrunner was the only player on either team to have a multi-hit game with two hits.
Celina (7-2) returns to action Wednesday for an 8 p.m. game at St. Henry.