Wednesday, June 22nd, 2022
Finding his Form
Dehan building confidence as he adjusts to college baseball
By Tom Haines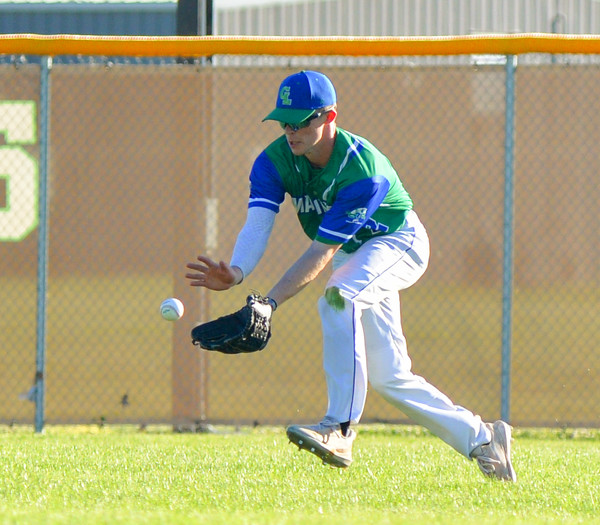 Photo by Paige Sutter/The Daily Standard
Despite reconstructing his hitting as he adjusted to college pitching in his freshman year, St. Henry grad Tyler Dehan took the field in 21 of Defiance College's first 29 games before an injury cost him the last week of the spring.
Playing with the Grand Lake Mariners of the Great Lakes Summer Collegiate League this summer, Dehan has followed a similar script: he fought through an initial slump with a key hit in Grand Lake's win on Thursday while again earning regular time in the outfield.
"Just (focusing on) confidence," Dehan said. "Being able to compete with these guys is just going to put me in a better position to be successful in the spring."
Coming into his freshman year, Dehan looked to add power, which led to revamping his swing and threw off his timing. He racked up six hits in a four-game stretch in mid-March, then mustered just three hits over his final 28 at-bats.
With the Mariners, he opened the summer 0-for-14 with seven strikeouts before poking a two-run single up the middle against Xenia. He went on to score an insurance run against the Scouts, added a hit against Hamilton the next night and stole a base in each game.
"I changed my approach a little bit," Dehan said. "I was going in, getting some work in, bugging our hitting coach, just trying to figure it out. There is a big jump from high school to college, and I feel like there's also a pretty big jump from college to the Great Lakes and playing for the Mariners. It's just having to adjust to some really good pitching, figure it out."
While working out his mechanics at the plate, Dehan has continued to secure playing time with his other tools, especially speed and defense. After playing centerfield in high school, he started 15 games in right field for Defiance, and with the Mariners, he has started five games in right field and one in left over the team's first 12 games.
As Dehan continued to try to figure out his hitting this spring, he earned just two starts over his final 11 games before he missed the last seven of the year.
"I felt a lot of pressure and anxiety in college my first year, just trying to live up to everyone's standards and keep that starting spot," he said. "It was a lot of pressure that I put on myself. But after that first year, just flush it and move on to the next one."
In the spring, Dehan also contributed on the mound after serving as St. Henry's closer his senior year. He made two appearances out of the bullpen before a UCL sprain in his elbow shut him down for the rest of the spring and cost him his chance to pitch in the summer, though he intends to resume his work on the mound come fall.
When the spring season came to a close, he knew his goal was to play in the Great Lakes League, and the Mariners were the first to offer him a spot. It probably didn't hurt that the general manager of the Mariners is John Dorner, who coached St. Henry when Dehan was on varsity as a sophomore and a junior.
"Him knowing me and being local was a plus," Dehan said. "I don't know if I would've been on the team if there wasn't that connection."
With a full season of college ball and half a summer under his belt, Dehan has reason for more confidence heading into his sophomore year.
"I know a lot of guys don't get to just go to college and play right away," he said, "so it was good to be a part of the rotation and see some time in the outfield my first year."