Thursday, September 22nd, 2022
A great coach, a better person
Longtime Coldwater baseball coach Brian Harlamert dies unexpectedly at 51
By Gary R. Rasberry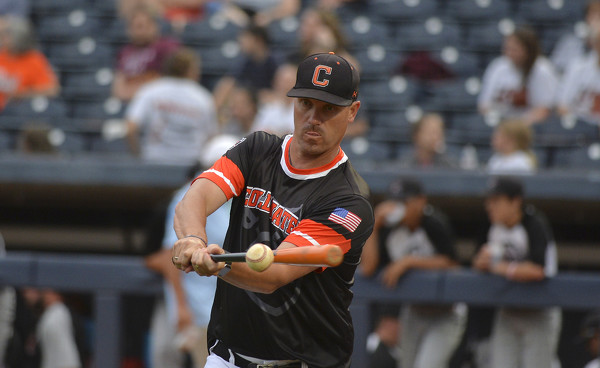 Photo from The Daily Standard Archives
Talking to several people who knew Brian Harlamert, the emotions were obvious over the phone.
Harlamert, who was part of two Coldwater's state baseball championships as a player and later coached the team to its two most-recent state crowns, died in his sleep on Wednesday at 51.
"We're just stunned with the news," said Celina baseball coach John Dorner, who coached against Harlamert at both St. Henry and Celina. "So incredibly saddened for his family. It's rocked the baseball world in our area. … We've certainly lost a great coach and a really good guy. It'll be odd not seeing him (at games)."
"I first got to know Harley when I was coaching baseball at Lima Senior," said Coldwater athletic director Eric Goodwin. "I really got to know Brian a lot that day. Obviously, working with him for 25 years at Coldwater has been a joy. We had the same situation with John Reed (the Hall of Fame Cavalier football coach who died in 2010 after a battle with cancer), but we had a chance to say goodbye to John. … That always makes it hard."
The bonds Harlamert forged brought together great friendships, including from his college career at the University of Dayton, where he played with Minster coach Mike Wiss.
"We didn't know each other that well through high school," said Wiss. "But I think once we got to college, we lived together, roomed together, played baseball together and spent weekends together. It's kind of like having another brother sometimes."
Those who knew him either as a opposing player or coach, teammate or administrator all agreed that Harlamert was much more than a baseball coach.
But the time he spent on the baseball diamond provided quite a legacy. As a player, he played for Hall of Fame coach Lou Brunswick on two state title teams in 1987 and 1990. From there he went on the University of Dayton, where he remains the Flyers' all-time leader in runs batted in and is second in career home runs behind another Coldwater standout in Brooks Vogel.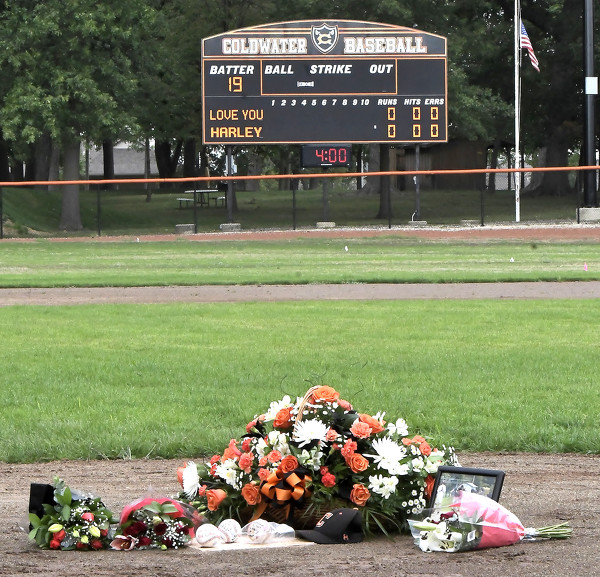 Photo from The Daily Standard Archives
Harlamert returned to Coldwater to teach and serve as an assistant coach to Gabby Wilker before taking over as head coach of his alma mater in 1998. In his third season, the Cavaliers returned to the state tournament for the first time since 1996. In 2004 the Cavaliers were state-runners up, returning to the state tournament in 2008 and 2009 before Harlamert earned his first state title as a coach in 2014 and then earned his second in 2019.
"He had a passion for the game of baseball like nobody else," said Dorner, who coached Harlamert in American Legion baseball during Harlamert's high school days. "Even coaching at Celina, no longer in the MAC, you knew you had to play a perfect game when you played Coldwater to beat them. He was ready in every aspect of the game.
"Our rivalry (Coldwater-St. Henry) was fierce, but the respect we had for each other on and off the field; everybody in the MAC and area got along well. We lost a brother, for sure."
While Harlamert had stellar achievements on the baseball field, it was only a portion of who he was.
"If people realized who Brian was, knowing he was a Hall of Fame coach, they'd think baseball was (all he was about)," said Goodwin. "Brian was one of those rare people who was always positive about everything. He was competitive on the baseball field and was just the most positive person I met.
"He would see a sixth-grader in the hallway and ask about their Boy Scout derby went the night before. He'd ask about the swim meet or say 'I saw you did this in a swim meet.' He always knew everybody and always asked how their day was with a smile. Baseball was a very small portion of who Brian Harlamert was."
Wiss always looked forward to when Minster and Coldwater would face off in baseball, and not just because the game would be competitive.
"He's got a family. I've got a family," said Wiss, who noted the two met recently to discuss their summer ACME schedules for 2023. "You can start to feel that you don't get to see each other as you once did. I looked at Minster-Coldwater baseball games as chance to see my old friend, because you don't get to do it all the time."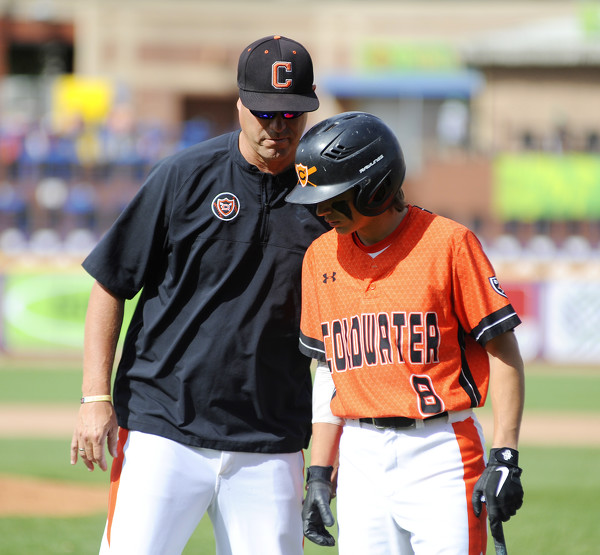 Photo from The Daily Standard Archives
Brian Harlamert Honors:
• Head Baseball Coach, Coldwater (1998-2022).
• 531-159 record (.770 winning percentage).
• University of Dayton Athletic Hall of Fame: 2013.
• Ohio High School Baseball Coaches Association Hall of Fame: 2022.
• Thirteen Midwest Athletic Conference championships.
• State Championships: 2014, 2019.
• State Runners-Up: 2004, 2018.

Coaching legend Harlamert dies at 51:
COLDWATER - Longtime Coldwater baseball coach Brian Harlamert died this Wednesday in his home in Coldwater.
The 51-year old Harlamert, a 1990 graduate of Coldwater, had been the Coldwater baseball head coach since 1998, guiding the Cavalier teams to a 531-159 record with two state championships in 2014 and 2019.
Harlamert, who had played college baseball at the University of Dayton and was enshrined in the university's Athletic Hall of Fame in 2013, was inducted into the Ohio High School Baseball Coaches Association's Hall of Fame this past January.

Services:
Calling is 1-7 p.m. Sept. 25, 2022, and 9-10 a.m. Sept. 26, 2022, at Hogenkamp Funeral Home, Coldwater.
Funeral Mass is 10:30 a.m. Sept. 26 at Holy Trinity Catholic Church, Coldwater.

Correction:
The story originally incorrectly stated Harlamert's date of passing.