Monday, September 26th, 2022
Defending the championship
Coldwater girls win third straight conference title; St. John's wins boys title
By Gary R. Rasberry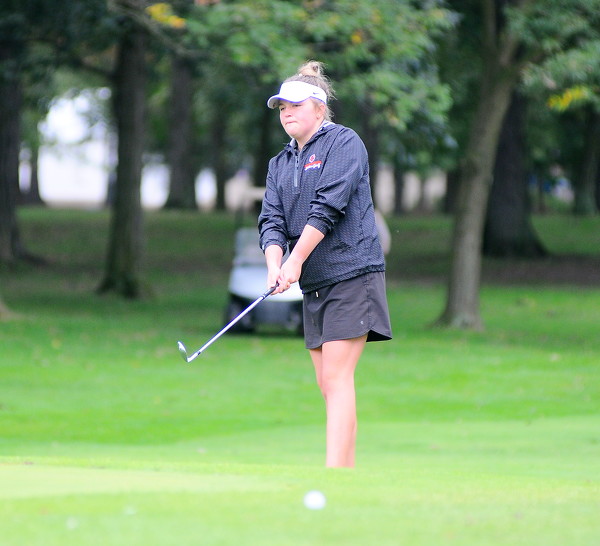 Photo by Gary R. Rasberry/The Daily Standard
Compiled by Gary R. Rasberry

Saturday brought together a winner-take-all scenario for both the boys and girls golf championships at the Midwest Athletic Conference tournaments.
In the girls' division, Coldwater, Minster and Versailles entered the day having shared the regular season title with matching 7-1 records. On the boys' side, Minster, Coldwater and Delphos St. John's all finished 8-1 in league matches.
The Coldwater girls earned their third straight conference championship after winning the tournament at Arrowhead Golf Course in Minster with a final score of 377, four strokes better than host Minster and 10 shots better than Versailles.
Meanwhile, at Celina Lynx, St. John's edged Minster 320-323 to claim the tournament title and the overall title over Minster. Coldwater, finished third with a 340.
MAC Commissioner Don Kemper announced that all conference championship trophies for the 2022-23 school year will be dedicated to longtime Coldwater baseball coach Brian Harlamert, who died on Wednesday.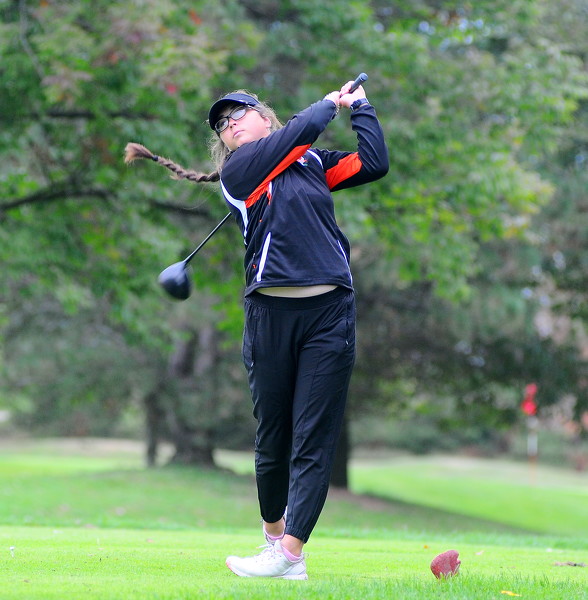 Photo by Gary R. Rasberry/The Daily Standard
MAC GIRLS
Parkway finished fourth in the team race with a 414. New Bremen was fifth with 432 with St. Henry taking sixth with a 440. Marion Local was seven with a 453 with St. John's eighth at 469 and Fort Recovery rounding out the field with a 473.
In addition to the battle for the conference title, MAC Girls Golfer of the Year honors were on the line as Coldwater's Jordan Hemmelgarn was a half-point of Versailles' Ella Porter in the points standings (83 to 82 1/2) going into the day, while New Bremen's Abbie Burden (79 1/2) and Minster's Katie Heitkamp (79) were in the running as well.
Hemmelgarn captured the Golfer of the Year title by winning the tournament with a medalist round of 85, four strokes ahead of Porter's 89, who finished third as Burden was second with an 88. Heitkamp finished with a 90.
Rounding out the first team was Coldwater's Natalie Ashbaugh, Minster's Ashley Meyer, St. John's Elle Gable, Minster's Ashlyn Homan, Parkway's Madison Louth and Versailles' Emma Garrison.
Earning second team honors were Kennedy Voskuhl (Coldwater), Lauren Jay (Versailles), Audrey Wendel (St. Henry), Shay Boroff (Parkway)< Courtney Rockwell (St. Henry), Lauren Wietholter (Versailles), Megan Ritter (New Bremen) and Lydia Kelch (Marion Local).
Honorable mention winners were Kaitlyn Otte (Marion Local), Sarah Sheppard (Parkway), Emily Clutter (Parkway), Alyssa Steinke (Coldwater), Emma Will (Fort Recovery), Kendyl Bergman (Minster), Lindsay Grieshop (St. Henry) and Lauren Heitkamp (Minster).
The postseason begins for the Northwest District teams on Tuesday at the Division II tournament at Moose Landing in Ottawa. Versailles will host the Division II Southwest District sectional at Stillwater Valley on Wednesday.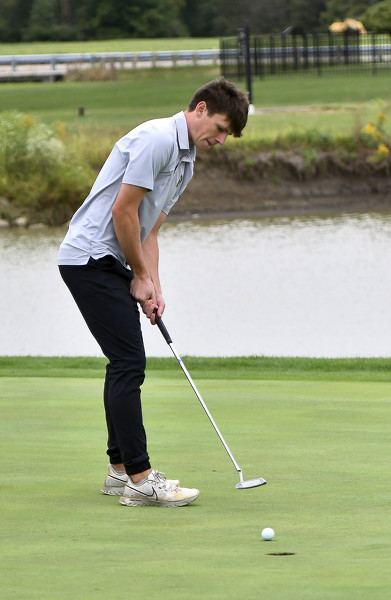 Photo by Gary R. Rasberry/The Daily Standard
MAC BOYS
Versailles finished fourth in the tournament with a 343. Fort Recovery placed fifth with a 354 with Marion Local taking sixth with a 358. St. Henry was seventh with a 367 with Parkway taking eighth with a 397. New Bremen was ninth with a 454 with New Knoxville rounding out the leaderboard with a 489.
Boys' Golfer of the Year honors was a three-player race as defending Golfer of the Year Jack Gerker of St. John's was just 2 1/2 points ahead of teammate Collin Feathers and 3 1/2 points ahead of Parkway's Roman Leszinske in the points standings.
Just like Jordan Hemmelgarn, Gerker made sure of winning his second straight award in shooting a 75 to share medalist honors with Minster's Nathan Beair to edge Feathers, who shot a 76, for the points title.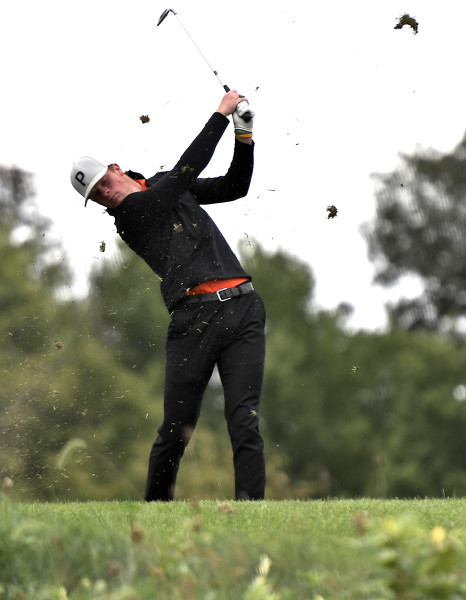 Photo by Gary R. Rasberry/The Daily Standard
Minster's Jack Meyer shot a 78 to earn fourth place with St. John's Tyce McClain rounding out the top five with a 79.
Gerker, Feathers, Leszinske, McClain, Beair, Meyer and Josh Rindler, who shot an 80 to finish sixth, were joined on the first team confererence honors by Marcus Rethman (Marion Local), Keegan Bruggeman (Coldwater), Mitchell Bornhorst (Minster), Isaac LeFevre (Fort Recovery) and Louis Magoto (Minster).
Second team honors went to Ben Giere (Coldwater), Ty Post (St. Henry), Joe Ruhenkamp (Versailles), Nathan Overman (Coldwater), Tyler Overman (Coldwater), Zach Rindler (St. Henry), Hayden Beougher (Coldwater) and Cole Brunswick (Marion Local).
Honorable Mention team members were Ray Purdy (Minster), Noah Covault (Versailles), Brayden Wagner (Versailles), Keaton Bruns (Coldwater), Jay Waterman (New Knoxville), Carson Heitkamp (Versailles), Grant Kremer (Marion Local) and Eli Lennartz (Fort Recovery).
The Divisions II and III postseason for the Northwest District begins Thursday. Coldwater competes in the Division II sectional at Moose Landing while the remainder of the MAC teams travel to Colonial Golfers Club in Lima for the Division III sectional. Versailles plays in the Division III Southwest District sectional at Turtle Creek in Greenville on Tuesday.