Thursday, September 29th, 2022
Old tree to be removed, reused
By Hank Nuwer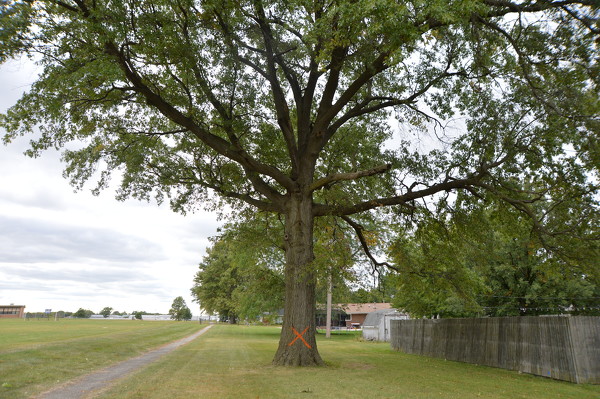 Photo by Paige Sutter/The Daily Standard
CELINA - An old white oak tree off of Wild Cherry Street is set to be removed due to its proximity to phase 1 of the Celina City Schools expansion project.
Its location on city property is in the middle of the path of the approved pre-K-sixth grade Celina Intermediate School expansion, part of the overall $126.8 million project.
Phil Metz, facilities director at Celina City Schools, said the valuable lumber will be preserved and used in a constructive way, such as an artistic carving or cabinet countertops.
The actual cutting will be completed by a subcontractor tree service working with Garmann Miller's landscape architect. A small number of other trees located partially on school property and partially on the neighboring land of a homeowner will also be removed, Metz said.
He stressed the white oak was directly in the path of workers needing to get equipment into the area in the future.
About half the cost of cutting those trees down will be the responsibility of the homeowner, said Metz and Celina City Schools Superintendent Ken Schmiesing in separate phone interviews.
However, a neighbor, 73-year-old retiree Ron Prenger, expressed his opposition to the tree's removal in a phone call to Schmiesing after two large "X" marks were painted on the white oak's base.
"When the tree lost its leaves and ended up on my property I was mad at it," said Prenger. "Now I want to save it."
Prenger opined that too many old trees have been axed at Mercer County locations such as the Fairgrounds and Eastview Park.
"Soon there won't be any left," he said. "I called the mayor but he never called back."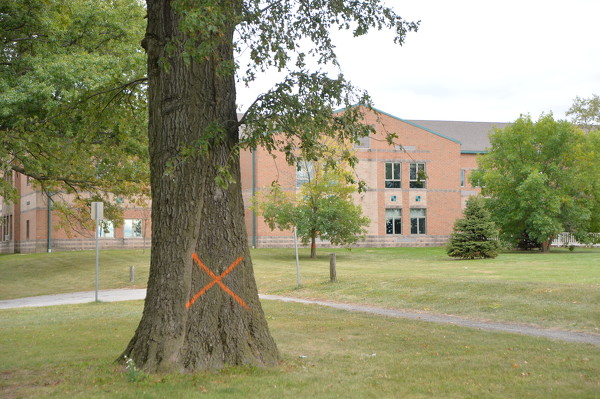 Photo by Paige Sutter/The Daily Standard