Saturday, November 19th, 2022
Strong start
Panthers defense keys season-opening win
By Tom Haines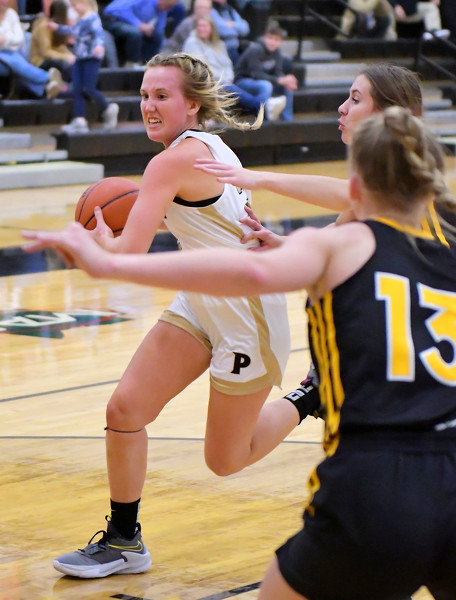 Photo by Nick Wenning/The Daily Standard
ROCKFORD - After a tight first quarter, Parkway pulled away and never looked back.
The Panthers allowed single digits in each quarter and got 21 points from Paige Williamson as they rolled past South Adams 51-28 in the girls basketball season opener at Panther Gymnasium on Friday.
"For game number one, it was really good," Parkway coach Dan Williamson said.

Parkway (1-0) started to pull away late in the first quarter, with an 8-0 run over three minutes that put South Adams (1-2) in the rearview. After Cora Baker hit a floater to cut the Panthers' lead to 11-9 with 1:24 left in the first, Emiree Knittle started things off with a three from the left wing on a assist from Gabrielle Stober to stretch the lead to five for the first time.
With the ball rolling loose in the final seconds of the quarter, Williamson scooped it up and sank a deep three from near the volleyball line to make it 17-9 with 1.3 seconds left in the first. Williamson then added a pair of free throws to give Parkway a 10-point advantage before Peyton Pries stopped the run with a layup.
"This year, we've got more balanced ways to score," coach Williamson said. "I think the girls understand that. It was Paige's night tonight in the first half, but tomorrow it could be Allison (Hughes) or it could be Gab, and I don't think those girls really care. They just want to win."
South Adams got a free throw two minutes later and top scorer Macy Pries added a trey with 1:15 left in the half, but that was all the Starfires could muster. Williamson outscored them herself in the second quarter, adding a layup under the basket, then a catch-and-shoot three from the right wing and a corner trey that made it 28-12 with 90 seconds left in the half.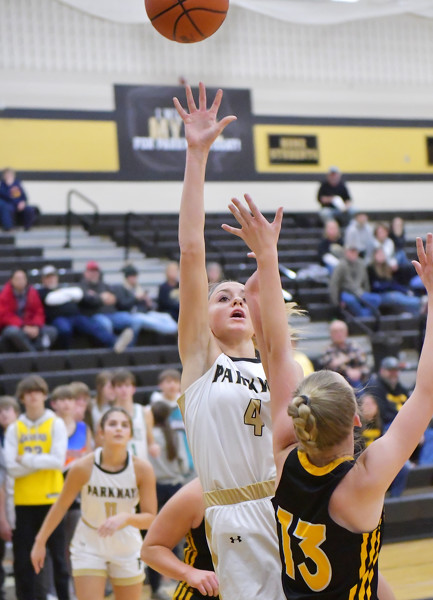 Photo by Nick Wenning/The Daily Standard
As Parkway inbounded the ball with seconds to go, Williamson added another key shot, getting a pass on the right side from Emiree Knittle, taking one step to her left and draining a three with seven seconds left in the half to give the Panthers a 31-15 halftime advantage.
All told, Williamson went 5-of-8 behind the arc and the Panthers shot 9-of-20.
"Over the summer, we talked about the number of threes that we shot last year," coach Williamson said. "It was in the 30s per game. That's just too many. … That was a focus in our skill work. We've got to be able to get into the paint when we drive. Even if we do take a three, if the help defense has to collapse, it's an open three rather than a contested three."
Hughes hit a shot to extend the lead to 20 midway through the third, and South Adams' sputtering offense couldn't get closer than 19 the rest of the way.
Macy Pries, who averaged 17 points and went to the free throw line 29 times in the Starfires' first two games, managed 11 points on 4-of-16 shooting, 2-of-5 from the charity stripe.
"We were concerned about the Pries sisters, their ability to create shots for themselves and their teammates and, more importantly, draw fouls in their first two games of the season," coach Williamson said. "They can get inside, and if the defense doesn't get straight up, the officials call a foul, and rightfully so. But I thought, for the most part, our girls did an outstanding job of going straight up, and the officials saw that and they didn't get baited into calling those fouls.
"I was floored. I don't think we could've played any better defensively in that regard."
While Williamson led the way, Parkway was able to get contributions from players up and down the roster. After struggling with depth the past few years, the Panthers had eight players record double-digit minutes on Friday.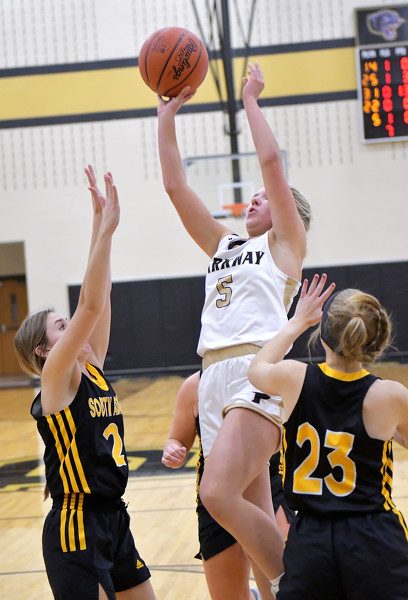 Photo by Nick Wenning/The Daily Standard
Junior Avery White and freshman Brittyn Bruns joined sophomore Adria Miller off the bench, while junior Audrey Nichols slid into the starting lineup after missing most of last year with an injury.
"They want to get out there and prove that they can play, that they should be out there on the floor," coach Williamson said. "My first three years here, we had some good players, but nowhere near the depth we have this year. I think that's what got us last year when we played Marion Local (in the district semifinals). We just didn't have the depth…
"As the season goes on and we have some tight games, that may play into our favor. We don't have to play Gab 30 minutes a game or Allison 30 minutes a game, we can sit them out a little bit and keep them fresh for the fourth quarter."
Hughes recorded a double-double with 10 points and 12 rebounds. Bruns added three steals. Parkway finished with a 44-19 rebounding advantage and held South Adams to 22% shooting from the field.
Parkway travels south tonight to take on Lehman.