Tuesday, November 22nd, 2022
Turkey for Two
This Thanksgiving, two's company.
By Leslie Gartrell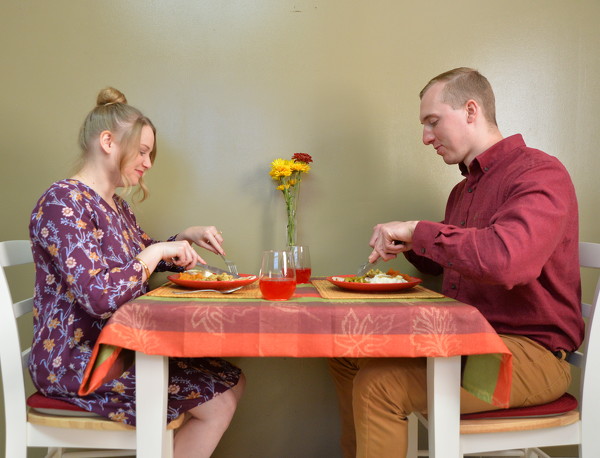 Photo by Paige Sutter/The Daily Standard
Thanksgiving is a holiday known and celebrated for its abundance. Dinner tables often overflow with massive turkeys, vats of mashed potatoes, roasters full of vegetables and desserts as far as the eye can see.
However, those hosting smaller gatherings may find it difficult to determine what and how much to cook among a plethora of recipes that call for enough ingredients to feed a village.
"It's a struggle when you try to downsize from 16-20 people to two," said David Rosado Rosado Vega, executive chef at Mercer County Community Hospital, Coldwater. "Downsizing is an adventure, and getting experience and doing some trials is never a bad thing. You gotta have fun with it."


Getting started/prep work
Rosado Vega said he has been in the food service industry since he was 15 and has been an executive chef at multiple hospitals.
A recent empty nester himself, Rosado Vega, said he and his wife are beginning to navigate how to cook for two.
The executive chef said those cooking for a small crowd should first consider how much food they usually eat at Thanksgiving, whether or not they want leftovers and if so, how much.
"How much do you want to eat? Do (you) normally eat a quarter of a turkey, or just a leg?" he said.
Jonathan Roode, a Coldwater native now living in Pennsylvania with more than 20 years experience as a chef, caterer and food industry professional, agreed.
"Focus on what you really like," he said. "Fewer people means fewer dishes, so focus on what you really like."
Roode said getting shopping and prep work done ahead of time is a huge time saver when it comes to cooking a Thanksgiving feast for any sized crowd.
"It's so much better to get things done in advance," he said. "You can prep the day before, (such as) cleaning and trimming vegetables, so all you have to do is pull (food) out of the fridge and put it into the oven."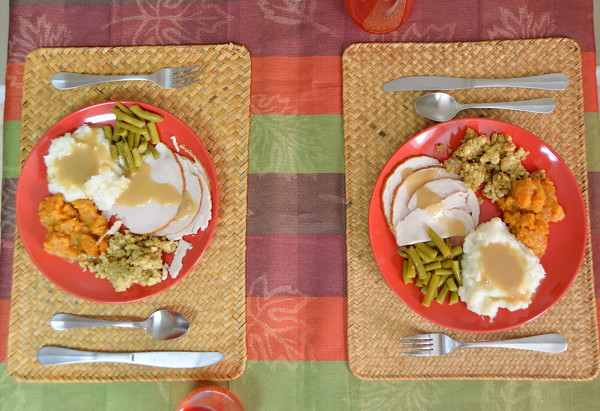 Photo by Paige Sutter/The Daily Standard
The turkey
When it comes to the classic Thanksgiving centerpiece - turkey - Rosado Vega and Roode both agreed turkey breasts would be well-suited for smaller gatherings.
For those who love leftovers, Roode said a small, 10-pound turkey typically feeds six people, leaving plenty of food for the next day's meal.
When cooking turkey, Roode noted the internal temperature should be 165 in order to be food safe. However, he said that doesn't mean the turkey needs to stay in the oven until it reaches that temperature.
"If you're cooking a boneless turkey breast, you could cut in half and cook it (until it's) 162 (degrees). That's probably the perfect temperature," he said. "If you're cooking a full turkey you could take it out at 160. You don't want to overcook it."
No matter the size, Roode said turkey should rest for 30 minutes to an hour once out of the oven; otherwise, cooks risk losing all the juice from the turkey.
The sides and desserts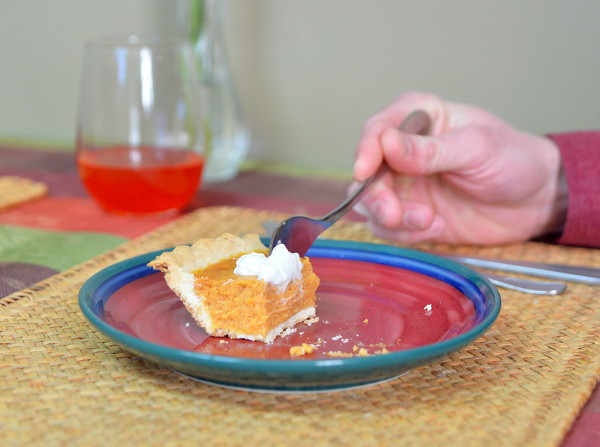 Photo by Paige Sutter/The Daily Standard
Rosado Vega said those using fresh vegetables for side dishes such as mashed potatoes, sweet potato casserole and green beans have an advantage over those cooking for a huge crowd.
"With fresh vegetables, you can pick out how much you want," he said. "Like instead of getting a box of instant mashed potatoes to cook for a crowd, you can just get a few potatoes. Sweet potato casserole is one of my favorites, so you could get two or three sweet potatoes instead of using a huge amount."
Canned vegetables can also work, he noted. For example, the chef estimated one can of green beans should be enough for two people. Rosado Vega suggested cooking some bacon and adding it to the green beans to add extra flavor.
"We love crescent rolls, but one container is more than enough for us," he continued. "So you could do Hawaiian rolls and make sliders with the leftovers."
For cooks looking to save even more time, Roode suggested buying one or two items that are ready-made, such as mashed potatoes or rolls.
Roode said rather than trying to fit every Thanksgiving staple under the sun on a kitchen table set for two, home cooks could pick out a few dishes they love and stick with them.
More food translates to more work and potentially more stress on a day that should be comforting and relaxing, he said.
"Turkey breast, mashed potatoes, green beans - the goal is not overdoing it," Roode said. "Figure out what you really want to eat. It's the holidays, so you should really relax and enjoy it."
When it comes to dessert, Rosado Vega joked that he's not above cheating. He and his wife write down their favorite desserts, draw a dessert name (or two) out of a hat and then purchase a single-serve or frozen variation at the grocery store.


The leftovers
Although cooking for two might mean less ingredients, leftovers are still an inevitable and delicious byproduct of Thanksgiving.
Freezing leftovers is always an option, both chefs agreed. Roode said Thanksgiving leftovers are even better on the second day, and Rosado Vega said home cooks have myriad options when it comes to utilizing the previous day's meal.
"You can shred turkey up and make turkey sliders… I like to take the turkey, shred it, reheat it and use it as a nacho topper with barbecue sauce," he said.
Rosado Vega said his wife has made a Thanksgiving casserole by layering leftovers, topping it with French onions and baking.
Roode said unused vegetables and turkey bones can be used to make a killer homemade broth that could beat any store-bought variation.
"I always make broth after with the bones," he said.
That homemade broth can be poured over any uneaten meat and made into a soup, Roode said. Rosado Vega noted he's previously made used mashed potatoes as a thickener for turkey soup.
Sliced turkey breasts for sandwiches is a classic way to use leftover turkey, Roode said. He added that gravy and cranberry sauce can be used as condiments to make a Thanksgiving sandwich.
Although those cooking for two might downsize their ingredients, it doesn't mean cooks have to downsize on fun, Rosado Vega said.
"The most important thing is being creative with it, experimenting," he said. "That's where you may find gold and start a new tradition. You gotta have fun with it."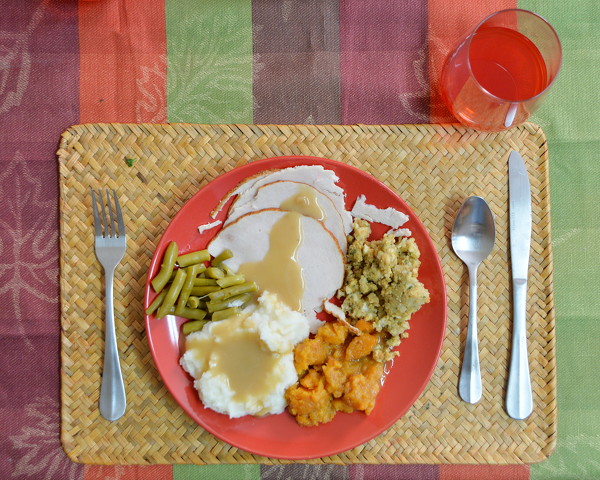 Photo by Paige Sutter/The Daily Standard