Saturday, January 21st, 2023
Cards beat Redskins
By Dave Stilwell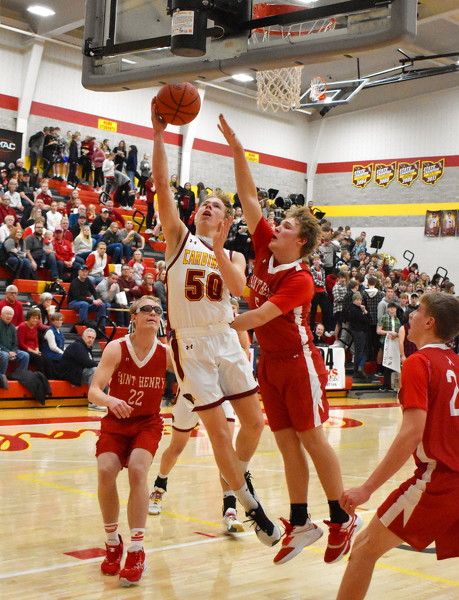 Photo by Zachary Hesse/The Daily Standard
NEW BREMEN - It was almost as if someone flipped a switch.
In a matter of just under three minutes in the third quarter, New Bremen went from seven points down to seven points up.
The Cardinals then used a 15-4 run to start the fourth quarter, blowing open what had been a close game, and cruised to a 73-63 victory over St. Henry Friday night in Midwest Athletic Conference boys basketball action at the Nest.
After battling to a 32-32 first-half tie, New Bremen missed its first two free throws and its first six shots from the floor to open the second half.
The Redskins took advantage. Evan Bowers and Luke Beyke hit buckets, followed by a 3-pointer from Caden Bergman to put the visitors up 39-32.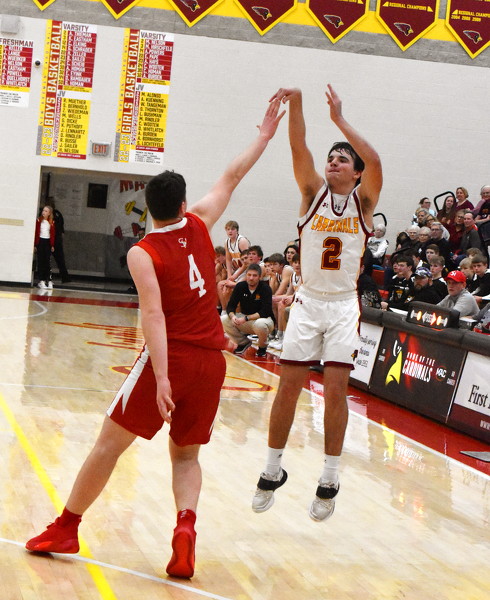 Photo by Zachary Hesse/The Daily Standard
Aaron Thieman ended the second half drought for New Bremen with a trey that triggered a 19-5 run, lifting the Cardinals to a 51-44 lead.
"We settled down a little bit," New Bremen coach Cory Stephens said. "I thought early in the game we were forcing a lot of things with passes. In the second half, it was all about settling down and working for a great shot, not a good shot. The first available shot might not be the one we need."

New Bremen maintained a 53-47 lead at the end of the third quarter, and pulled away quickly in the fourth.
St. Henry managed just four free throws in the first five minutes of the fourth quarter. The Redskins got their first field goal of the final period on a floater in the lane from Beyke with 2:53 left to play in the game. However, by that time the Cardinals had opened up a 68-51 lead.
"We're going to watch the film because I don't want to say something that's not true," St. Henry coach Eric Rosenbeck said, "but obviously the snowball started gaining some steam and got really big in a hurry on us."
New Bremen (8-6, 3-2 MAC) got out of the gate strong with a 7-1 lead. The Redskins used an 8-0 run late in the first quarter to take a 16-15 lead at the first break.
St. Henry (7-7, 3-2 MAC) led for much of the second quarter. Thieman hit a pair of free throws with 7.3 seconds left in the half to put New Bremen up 32-30, but Nicholas Bertke tipped in a missed trey at the buzzer to tie the score at intermission.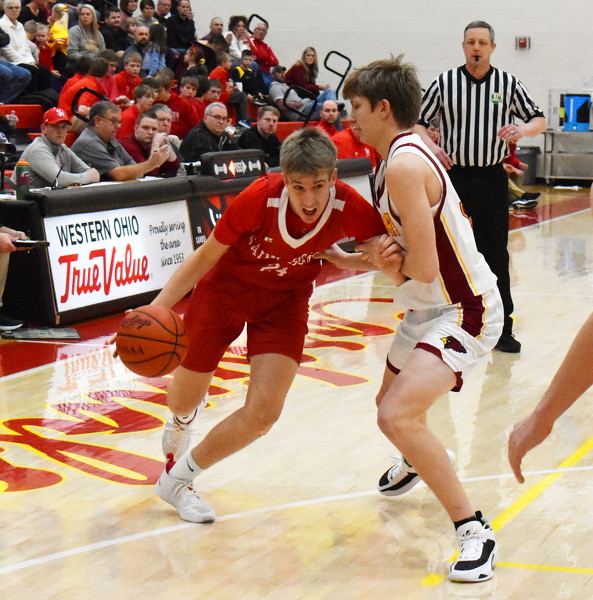 Photo by Zachary Hesse/The Daily Standard
Beyke had 19 of his team-high 26 points in the first half. Bowers also finished in double figures with 11.
Rosenbeck was pleased with the offensive effort at times, but the Redskins struggled with turnovers, committing 13 in the first half and finishing with 22.
"Way, way too many turnovers. Looking at shots, body language, and all that needs to be assessed for us," the St. Henry coach said. "But I though we did a better job of cutting hard, setting up screens, running off screens, trying to go one-on-one. New Bremen has some very athletic guys, so it's a tall task. And there were some shots that I thought we could hit, but didn't go down."
Thieman had a big night for the Cardinals with some clutch treys in second half, finishing with 27 points.
"Aaron's a great player, and his teammates around him did a great job of getting him the ball," Stephens said. "And he distributes to other people as well. We had four different players in double figures tonight. That's great team basketball."

David Homan finished with 12 points and eight rebounds for New Bremen. Alex Homan chipped in 11 and Evan Eyink with 10.
The Cardinals are back at home tonight with Botkins and return to MAC action next Friday at Parkway. St. Henry travels to Wapakoneta tonight for a battle of the Redskins, and returns home next Friday to face Fort Recovery.