Wednesday, March 15th, 2023
Vapin' in the Boys Room
St. Henry High School cracks down on vaping
From staff reports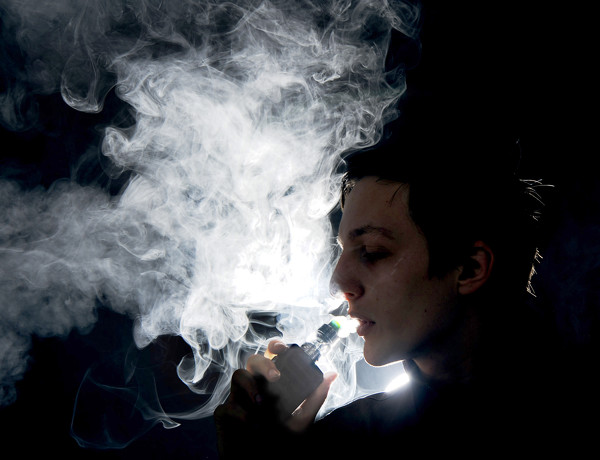 Photo by File Photo/The Daily Standard
ST. HENRY - Detectors will be installed in St. Henry High School restrooms to alert schools officials to students vaping.
Although high school principal Eric Rosenbeck said vaping isn't an epidemic at the district, school officials want to do what they can to stub it out.
Vapes or e-cigarettes use a small heating element to aerosolize liquid in a cartridge. Most vape liquids contain nicotine, which is the addictive drug in traditional cigarettes, cigars and other tobacco products, according to the Centers for Disease Control and Prevention. Only a handful of kids are caught vaping and subsequently disciplined each year, Rosenbeck said. Vaping falls under the district's tobacco policy, and violators are subject to immediate out-of-school suspensions, according to the district handbook.
Rosenbeck said he noticed a large jump in students vaping after the popular e-cigarette Juul debuted several years ago. He also said vape detectors are in place at many local school districts.
"(Vaping is) still around and it's a major health concern, so if there is something in place that we can help negate students utilizing them, then we want to try to take advantage of it," Rosenbeck said.
The detectors will be installed above stalls in restrooms where students tend to go to take furtive drags on e-cigarettes.
Once activated, the system would alert school administrators of the location via their computer or cell phone.
"With (stall) doors being closed … there is no way to know if that is happening, hence the vape detecting systems," he said.
Questions regarding the number of units to be installed, the cost per unit and the number of bathrooms at the high school were unanswered by press time. Rosenbeck said district officials will work with contractor Northwestern Ohio Security Systems to determine how many units to implement.
"Hopefully it's a deterrent to utilizing vapes in any shape or form," he said. "There's been so many health reports on the negativity of them (vapes). We are trying to have our students educated and stay away from those."
School officials are making upgrades after receiving a $125,000 school safety grant. District officials contracted with Northwestern Ohio Security Systems to install $118,993 worth of vaping detection systems in the high school as well as security cameras throughout the district. Rosenbeck said officials also have not decided where the security cameras will go.
The latest government study on teen vaping suggests there's been little progress in keeping e-cigarettes out of the hands of kids.
The data seems to show more high school students vaping, with 14% saying they had done so recently, according to survey results released in October. In a previous year's survey, about 11% said they had vaped recently.
Despite its persistence, vaping appears to be less popular than it was: In 2019, 28% of high schoolers said they had recently vaped.
Centers for Disease Control and Prevention researchers authored the new study, which is based on a Jan. 18 to May 31, 2022, online survey of about 28,000 U.S. middle and high school students.
The study asked about use of e-cigarettes and other vaping devices in the previous 30 days. In addition to the 14% of high school students who said they vaped recently, about 3% of middle schoolers said they had done so.
Of those who vaped, about 28% said they did it every day. Nearly 85% of the youth who vaped used flavored products. Favored brands included Puff Bar and Vuse, followed by Hyde and Smok.
In the last three years, federal and state laws and regulations have raised the purchase age for tobacco and vaping products and banned nearly all teen-preferred flavors from small, cartridge-based e-cigarettes.
Leaders of one advocacy group said they worry the battle to diminish youth vaping is not going well.
The numbers "may not reflect the much larger reality of youth e-cigarette use that we hear about on a daily basis from parents, teachers, pediatricians, and prevention specialists who are experiencing this urgent and ongoing adolescent public-health crisis," the group, Parents Against Vaping E-Cigarettes, said in a statement.
- Associated Press contributed to this story.