Tuesday, May 23rd, 2023
Welcome to The James Watson House
New restaurant promises 'elevated' comfort cuisine
By William Kincaid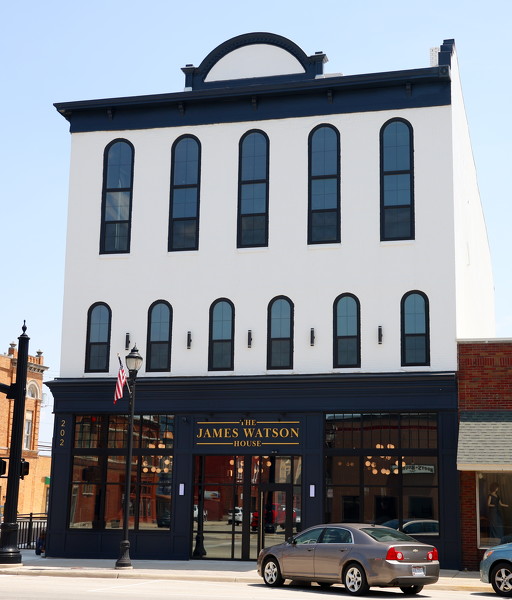 Photo by Paige Sutter/The Daily Standard
CELINA - The James Watson House, a fine dining restaurant and bar nearly two years in the making, is slated to open its doors at 202 S. Main St. sometime next week.
Reservations will be required for at least the first week, said the owners on Monday afternoon as they scrambled to make final preparations for the business' opening.
The visionaries behind the upper-casual establishment will reintroduce to the community a historic, 147-year-old downtown mainstay that at one point had fallen into disrepair and was at risk of being demolished.
The first floor has since been painstakingly gutted and rebuilt into a magnificent eatery boasting a rustic industrial look with modern flourishes.
The striking three-story brick building is painted white. The front lower half features black paneling, several windows and the The James Watson House name spelled out in stately gold.
Chris and Cassie Campbell, co-owners of the award-winning restaurant The Merchant House in Greenville, will operate The James Watson House, according to building owners Michael Hoying and Phil Moeller.
"It's been great working with them, and we're super excited for what they are bringing to downtown Celina and the surrounding area," Moeller said on Monday, adding he believes The James Watson House, named after Celina's founder, will be a great attraction for Celina and the rest of the area.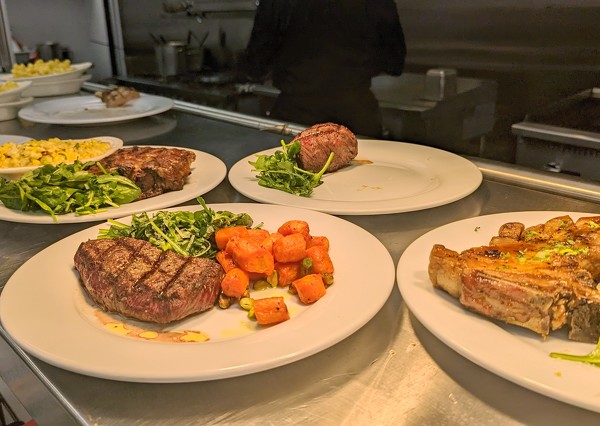 Submitted Photo
The restaurant and bar alone reflects an investment of $1.13 million.
The James Watson House will specialize in "elevated American comfort food," Chris Campbell said.
"We'll have a really unique steaks and chops menu, some seafood, a lot of different appetizers to enjoy on the patio," he said. "Pastas, salad, you name it, we'll have it. Everything but pizza."
Chris Campbell said he particularly relishes preparing steaks and chops and experimenting with mac and cheese.
Crab bites, meatballs, goat cheese dips and other offerings "you won't really find anywhere else," are among the appetizers that will be made available to diners.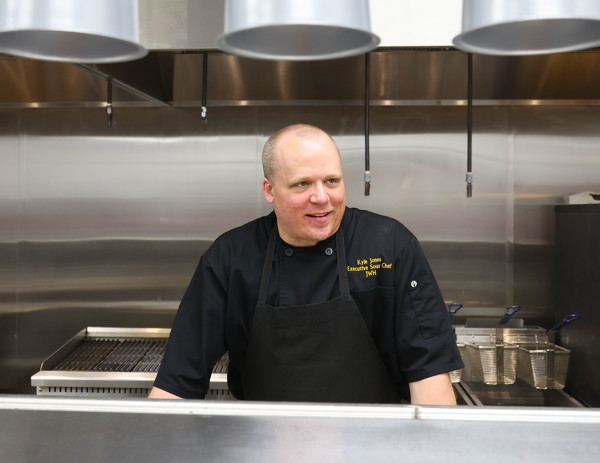 Photo by Paige Sutter/The Daily Standard
Chris Campbell said he's assembled an ace kitchen team that has been busy trying out an array of dishes.
"In fact, what I did is I placed some phone calls into some people that have worked with us in the past and have worked with us in Greenville that had moved on but closer to this area," he said.
It will take four to six weeks for the menu to take final shape, one that is the best fit for the restaurant and Celina, he said.
"Once we're comfortable and we think we can do that to the point where guests are happy and we're getting that consistently excellent product out to them, that's when we'll say, 'hey, this is the final menu,'" he said.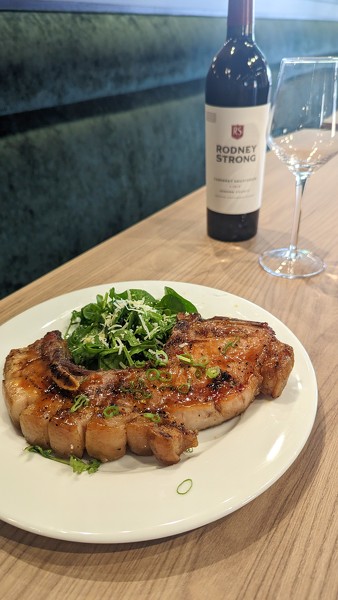 Submitted Photo
The Campbells also place an equal emphasis on drinks.
The bar will serve 14 craft beers on a rotating basis and offer a nice selection of wines, noted Cassie Campbell.
"We sent a survey out to a couple hundred people," she said. "Something that, I guess, surprised me is that people really wanted wine, really nice high-end wines. But if we're going to serve some really great steaks that we should probably have some really nice cabernets to go with those. So that's what we did."
Smoked pineapple bourbon sour and patio punch are some of the concoctions that have so far made the cut for the speciality drink list.
"We have a fantastic bar crew that has created a custom cocktail list that is amazing, and that will be rotating seasonally, so about every eight weeks we'll do something different," she said.
The inside of The James Watson House is as spectacular as the food and drink offerings with high ceilings, wooden floors, exposed brick walls and varied table arrangements together capable of seating 125 patrons indoors. There's also a patio providing a more casual atmosphere.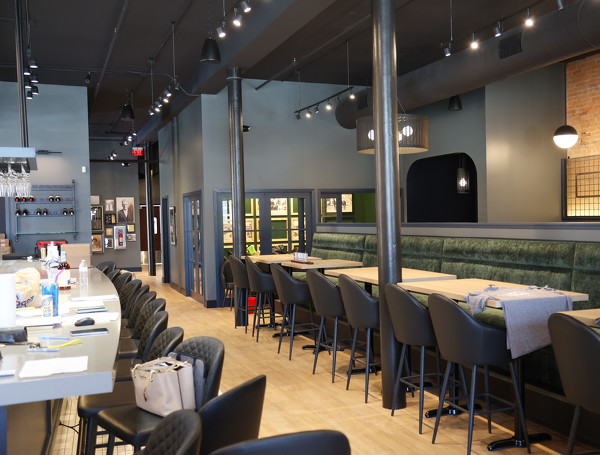 Photo by Paige Sutter/The Daily Standard
"Definitely a modern twist to the historic building, lots of different touches that we did, and then there's definitely some nods to the Merchant House, too," said Cassie Campbell. "All of the historical pieces are similar to what we've done down at the Merchant House."
Several sections of the walls feature statements and documents of Riley, such as the original plat of Celina. Also on display are items and photographs recovered prior to reconstruction of the building that formerly operated as an opera house, cigar factory, grocery and Lininger Brothers Big Bargain Hardware.
The restaurant contains a variety of seating configurations, including a private room and tucked-away booths, perfect for couples on date nights or large groups up 24, Cassie Campbell said.
"You could come here every day of the week and have a different seating arrangement or different feel," added Hoying.
Hoying, a St. Henry native, is vice president and partner of Dayton-based construction business Brackett Builders, which was the general contractor on the project.
The building required a complete overhaul.
"I think I knew what we were getting into with it being 140 years old and we've done a few older buildings in the past," Hoying said. "So I think it's using the surprises, taking advantage of them. We weren't sure that we would have exposed brick. We weren't sure how easy or not easy the plaster would come off but that turned out really well."
Contractors had to rebuild the entire first floor exterior wall due to some foundation issues and install a new floor in the kitchen area, he said.
"It is what I expected from a difficulty standpoint but I think it's just rolling with the challenges," Hoying said.
Staff will continue training through next week, Cassie Campbell said. Those interested can check the restaurant's Facebook page for updates, including what day it plans to open and menu offerings.
The James Watson House likely will be open 4 to 10 p.m. weekdays and 4 to 11 p.m. Friday and Saturday. It may also be open for brunch on Sundays.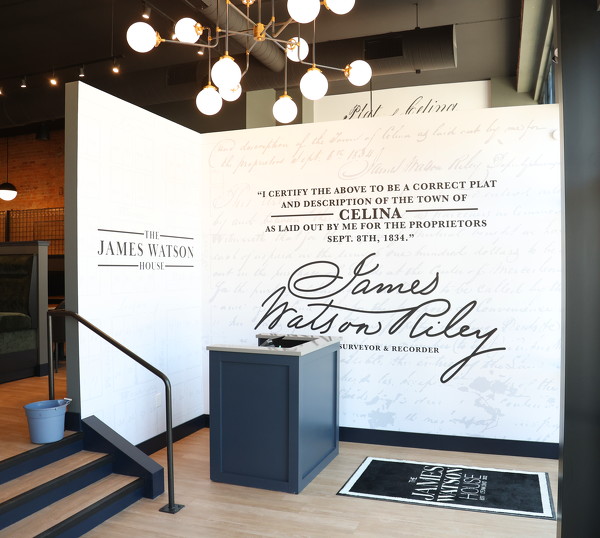 Photo by Paige Sutter/The Daily Standard
New Main St. restaurant an homage to Celina's founder
CELINA - James Watson Riley, who was born in Middletown, Connecticut on Feb. 20, 1804, was 19 when he set out with his father, Capt. James Riley, on government contract to survey Northwestern Ohio.
That's according to Riley's biography contained on a plaque hanging on the wall at The James Watson House in downtown Celina.
Riley surveyed and laid out the town of Celina in 1834, as well as the towns of Van Wert, Paulding and Willshire, according to the biography.
Riley was the proprietor of each of the three towns, the county recorder and was appointed clerk of courts of Mercer County. He resigned after 20 years to take charge of the government land office, the biography reads.
He was elected to the state Legislature in 1843 and then appointed to a position in the state auditor's office, the plaque states. Riley later became the attorney for the Sandusky, Mansfield and Newark Railroad.
"He was married to Susan Ellis in September of 1827," the plaque reads. "They had six children together, and also adopted six orphan children. He passed away in Celina on January 1, 1870, from spinal injuries received from being thrown from a horse and buggy."
The James Watson House owners coordinated with Joyce Alig, president of the Mercer County Historical Society, and other sources for historical documents and research related to Watson that are prominently displayed throughout the restaurant.
The Mercer County Historical Society is located inside the Riley Home at 130. E. Market St., Celina, which represents six generations of the Riley family in the county, according to an Ohio Historical Marker outside the house.
"James Watson Riley's son Calvin began the family's involvement in banking and built the Riley Home in 1896," the marker reads. "Following Calvin into the leadership of the Commercial Bank was his son Ashley, grandson Roscoe, and great-grandson David K. Riley. James Zura Riley, another of Calvin's sons, led an expedition to Alaska during the gold rush of 1898-1900. James Zura's daughter Lena, who died in 1974, was the last Riley to live in the house. The Mercer County Historical Society obtained the residence in 1975 and it was listed on the National Register of Historic Places in 1978."