Friday, September 15th, 2023
Battle down to the wire
New Bremen outlasts Coldwater in five-set MAC contest
By Tom Haines
Photo by Nick Wenning/The Daily Standard
COLDWATER - Coldwater outlasted New Bremen in a dramatic fourth set to prolong a battle of last year's Midwest Athletic Conference co-champions, but the Cardinals wasted no time putting it away in the fifth.
The Cardinals took a 9-3 lead in the deciding game on the way to a 25-18, 19-25, 25-21, 28-30, 15-10 victory at the Palace on Thursday, handing the Cavaliers their first loss of the year.
"Wow," New Bremen coach Diana Kramer said. "That's high-level volleyball on both sides of the net. It's very, very hard to match that level of play in small-school volleyball, and they just put on a show in front of a lot of fans.
"It's a shame somebody has to lose, because that was - wow."
Coldwater (11-1, 2-1 MAC) erased an early 10-7 lead in the fourth, with Mia Knapke serving up seven points, including an ace, to flip the lead. Morgan Blasingame added a four-point run to put the Cavaliers up 19-13, seemingly assured of a fifth set.
Olivia Heitkamp stopped the run with a kill through the block, and Coldwater suddenly slumped, committing four unforced hitting errors in the span of five points as New Bremen (8-1, 3-0 MAC) stormed back to tie the set at 21.
The Cardinals got to set point first on a block by Amelia Dammeyer, but Spencer Etzler narrowly got to the next serve and Blasingame fired a kill in front of Heitkamp. A double-hit gave Coldwater set point, but Mary Rindler answered with a kill to keep it going.
New Bremen had set point once more after a hitting error, but Blasingame staved off defeat again, and the Cavaliers got the next three chances to finish it off. On the third, Mia Knapke hit a shot to the left line and Amelia Dammeyer's diving dig sailed out of bounds to force the fifth set.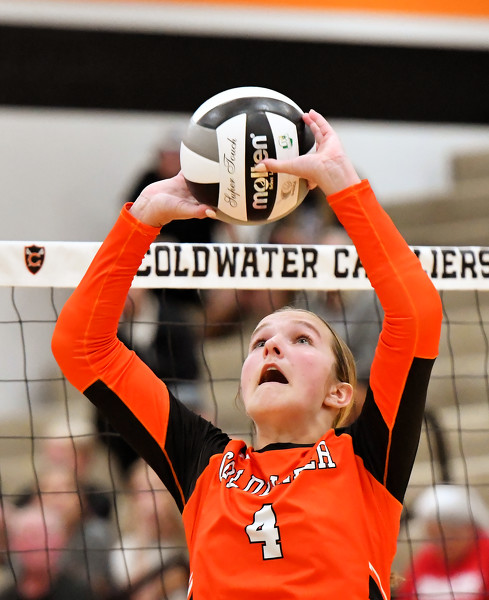 Photo by Nick Wenning/The Daily Standard
"Everybody in this gym thought that Coldwater was probably going to win that fourth set, but all of a sudden, you get within three or four points and everybody starts to feel the nerves," Kramer said. "Both sides were feeling the nerves. That ending of the fourth set was really, really good. I'm proud for my team for not giving up, because a lot of teams just give up."
Amelia Dammeyer got the first kill of the fifth set, and from there it was all Cardinals. Ava Trentman spiked an errant serve receive, Heitkamp fired a shot down the right line, and Heitkamp and Trentman combined to block a shot by Etzler to make it 4-0.
"I'll take it, for sure," Kramer said. "Was I feeling comfortable? No. No, I was not comfortable."
Coldwater came to life down six points, with Paige Ontrop placing a shot just inside the back right corner to stop the bleeding. Blasingame added two kills and an ace as the Cavaliers closed within three at 12-9.
Her next serve sailed just over the back line and Etzler missed a shot to the left to give the Cardinals match point. Madison Wendel's shot went over the back line and the New Bremen side started the celebration, only for the officials to call a tip and make it 14-10.
It only delayed the victory by a point. Heitkamp's first shot was a rocket to the right line, and though a diving Etzler was able to punch it up in the air, it sailed over the net and out of bounds for the final New Bremen point.
"It's a tale of serving and serve receive," Coldwater coach Nikki Etzler said. "They got the momentum in that, and we had a few turns in that set four that led us into set five. The game is so different in set five because you can only play to 15, so you have to come out strong. Our matchup was just a little off, I think, in that set five, which we're going to think about."
New Bremen also won the opening set, aided by a four-point service run by Amelia Dammeyer that included two aces and turned an 11-10 edge into a 15-10 lead. Heitkamp added a three-point run from the service line and Coldwater got no closer than five down the stretch.
The Cavaliers answered in the second, as New Bremen won just four service points the whole set. Etzler had six kills and a block and Wendel added five kills as Coldwater evened the match despite committing seven service errors.
"With aggressive serving, you have some errors, but there are moments in the game where that aggressive serving needs to be aggressive in play," coach Etzler said. "Make them make the error. We'll work on that as well."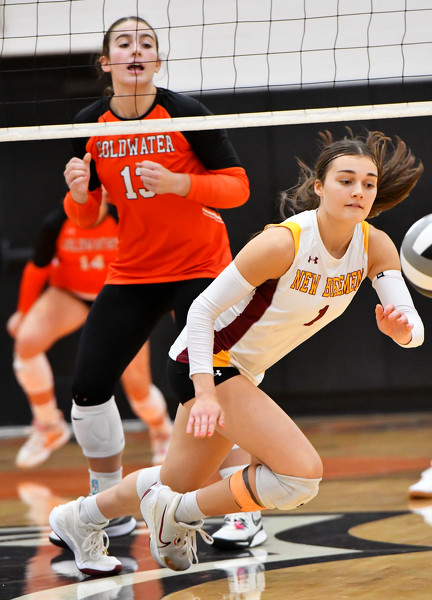 Photo by Nick Wenning/The Daily Standard
After the Cardinals opened a 10-6 lead in the third, Coldwater inched back and tied it at 18, only to fade down the stretch. Heitkamp got a shot down to give New Bremen a 19-18 lead and kick off a five-point service run by Schrader.
Etzler got a kill to stop the run at 23-19, and the Cavaliers picked up two more points on New Bremen errors before Keira Knapke's serve went just over the end line to give the Cardinals the set.
"Today was different than any other game that we've played all season," Kramer said. "The passion, the energy, the momentum, both crowds - it was really, really good."
Heitkamp had 24 kills. Schrader racked up 43 assists and 10 digs, and Keira Steininger had 27 digs.
Etzler led the Cavaliers with 20 kills and 16 digs, and Wendel added 18 kills. Blasingame notched five aces.
New Bremen travels to Anna on Saturday. Coldwater will look to get back in the win column Tuesday against the MAC's other undefeated team, Fort Recovery, at Fort Site Fieldhouse.