Saturday, September 16th, 2023
Flyers beat Cardinals in battle of state champs
By Colin Foster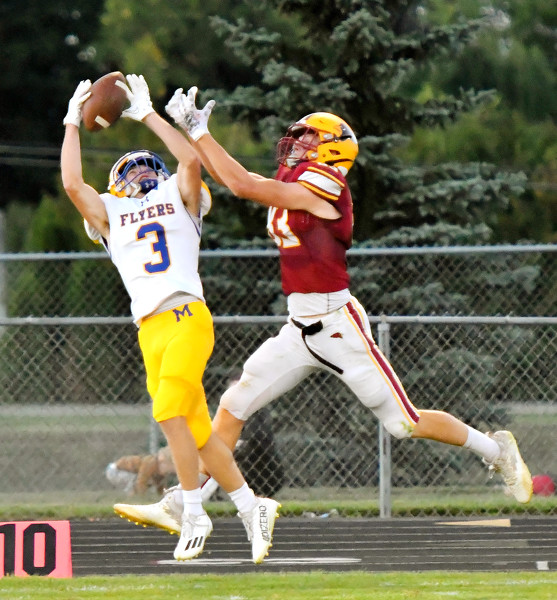 Photo by Nick Wenning/The Daily Standard
NEW BREMEN - Marion Local moved to Division VII this fall.
That might be a problem for every other team in the division.
On Friday, the top-ranked Flyers - Division VI champs last year - visited New Bremen and defeated the defending Division VII state champs by a margin of 42-7 behind Victor Hoelscher's monster night and another sturdy showing by the defense. Tim Goodwin's squad improved to 5-0 and 3-0 in the Midwest Athletic Conference while extending its winning streak to 37 games.
This game was much more challenging than last week's 56-0 win over Delphos St. John's, but Marion scored early thanks to Hoelscher and continued to wear on Bremen as the game progressed.
"They're just really good at what they do," said New Bremen coach Chris Schmidt, whose team now sits at 2-3 and 1-2 in the MAC. "They're fast and physical. As much as you try to prepare for it, what they do is hard to mimic in practice. You've got to try to execute at a high level, but they make it hard. If you aren't able to execute, then it makes for a long night."
Hoelscher almost returned two punts to the end zone in the first quarter. The junior speedster had returns of 50 and 62 yards to set up a pair of opening-frame touchdowns that put Bremen behind the 8-ball early.
"We've got an athlete back there, and it's just another opportunity to get him the ball in space," Flyer coach Tim Goodwin said.
New Bremen received the opening kickoff, but Marion scored 1:05 into the contest. After a quick three-and-out by Bremen, Hoelscher scampered 50 yards to set up Justin Knouff's five-yard shovel pass touchdown to Drew Lause. A little later, Hoelscher broke off his 62-yard punt return to put the Flyers at the Cardinal 13. Parker Hess finished another short touchdown drive with a five-yard run.
"(The punt returns) were obviously big plays," Schmidt said. "When you give up plays like that on special teams and it puts you in a hole, it's really hard to dig out of, especially against a team like Marion Local."
The Cardinals didn't do themselves any favors, either.
On Bremen's fourth offensive possession, Wyatt Greenwood intercepted Keaton Puthoff's pass attempt after it was tipped by a lineman near midfield. That led to Ethan Heitkamp scoring the first of his two touchdowns with a five-yard run midway through the second quarter.
Hoelscher, who galloped for a 24-yard punt return later in the half, got into the end zone before halftime with a 14-yard touchdown grab on a pass from Knouff. The kick by Carson Bills, who converted all of his extra points on the night, made it 28-0 after 24 minutes.
Bremen's lone score came in the third quarter, when Trevor Schaefer burst through the heart of Marion's defense and raced 22 yards for a touchdown. The Cardinals then had the Flyers pinned for a third-and-15 deep in their own territory, but Knouff uncorked a 39-yard completion to Hoelscher. Heitkamp finished that drive with a one-yard plunge.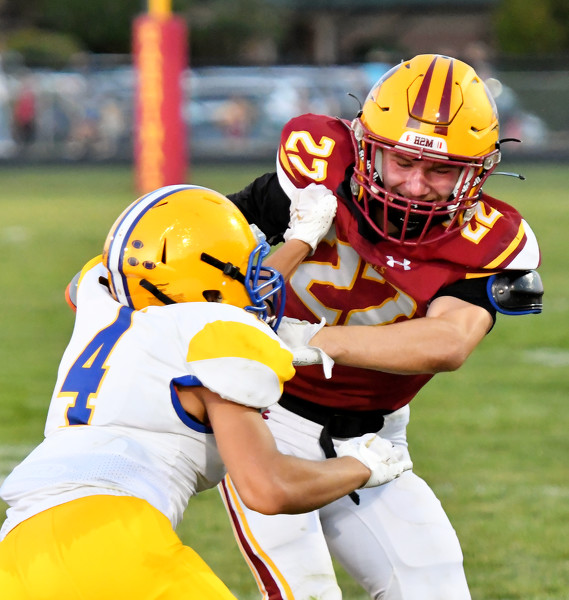 Photo by Nick Wenning/The Daily Standard
Andrew Pohlman caught a 15-yard TD in the fourth quarter from Knouff, who completed 13-of-20 passes for 161 yards. Hoelscher finished the night with seven catches for 102 yards. Carter Jones and Cale Nagel added interceptions for Marion.
Puthoff completed 15-of-29 passes for 127 yards while tallying three interceptions. Rogan Muether had an eight-catch, 72-yard night for the Cardinals, who visit Fort Recovery next Friday after consecutive weeks of facing top-ranked, unbeaten teams (Versailles and Marion).
"They played 16 weeks last year and won a state title," said Goodwin of Bremen. "Those kids play hard and they're well-coached. We just out-athleted them in some spots. Hopefully we can do that again. … But that's what makes the MAC the MAC. New Bremen's 2-3, but they're not bad."
Versailles, top-ranked in Division VI, and Marion meet next week in Maria Stein.