Monday, September 18th, 2023
Second-half collapse
Fort Recovery cedes 20-point lead, falls to St. John's in OT
By Tom Haines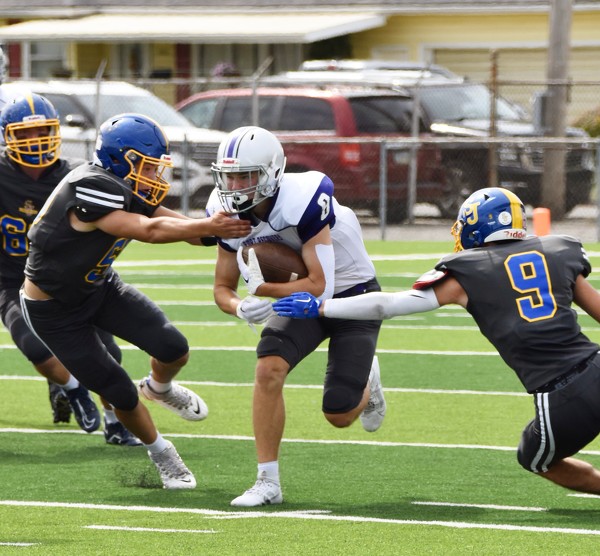 Photo by Zachary Hesse/The Daily Standard
DELPHOS - When Reece Guggenbiller scored just 1:08 into the third quarter, Fort Recovery seemed poised for its first win of the year.
Instead, Delphos St. John's erased a 20-point deficit to force overtime and then got a 20-yard touchdown pass from backup quarterback Drew Boggs to TJ Werts to stun the Indians 41-34 in a Midwest Athletic Conference football game at Stadium Park on Saturday.
"I got to credit them for making plays, but we just had too many instances where we didn't, I guess, seize the moment and make the play we needed to make," Fort Recovery coach Brent Niekamp said. "It wasn't in one particular area, it was here and there. It was missed tackle, dropped pass, whatever it might've been, but you can't do that and expect to beat a quality team, and these guys are a quality team."
Guggenbiller's touchdown gave Fort Recovery (0-5, 0-3 MAC) a 34-14 lead, but the Blue Jays only needed 22 seconds to seven points back. Collin Feathers returned the kickoff to the Indians 40, Werts broke out a 36-yard run and quarterback Grant Ulm took the ball inside right tackle for four yards and a touchdown.
Fort Recovery went three-and-out with a holding penalty on its next drive and mustered just two first downs the rest of the game.
"Defensively, we made a couple adjustments to try to take some things off the edge, but it's just coming up and making tackles," St. John's coach Todd Schulte said. "Come up, make tackles and make plays. … Offensively, we made a few adjustments, but not a lot, because we liked what we were doing and wanted to stay patient."
Ulm started the next drive with a 34-yard sprint off left tackle, and six plays later, he powered in for a five-yard touchdown, cutting the lead to six with 4:29 left in the third.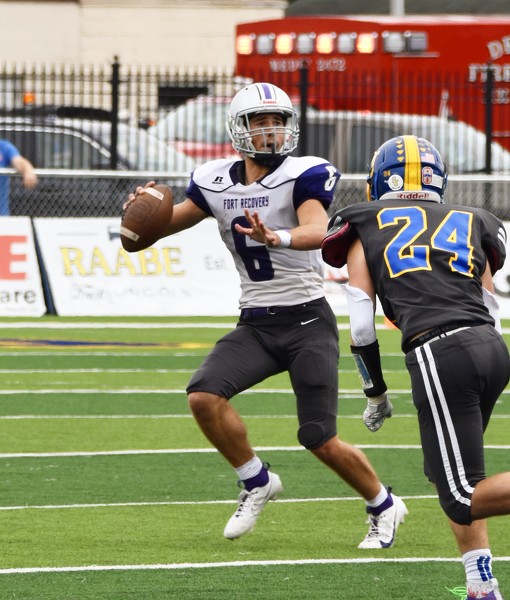 Photo by Zachary Hesse/The Daily Standard
Indians quarterback Troy Homan responded with a big throw, finding Gavin Evers for a 39-yard catch-and-run to the Blue Jays 10. But a holding penalty on first down put them behind the sticks, and Homan's fourth down run up the middle was stopped less than a yard short.
"They tightened up their alignment to the box more and more throughout the game, so it was harder to run in there," Niekamp said. "We were able to make plays early against man looks on the outside, and later on, we weren't. And we had a few dropped passes, and the hold down there was killer, after a big play where we're driving in."
The Blue Jays took over with 19 seconds left in the third and marched 94 yards to tie the game.
Feathers fumbled at the 33, but got it back to keep the drive going. Ulm fought through tacklers for a first down at the 37, and after a holding penalty pushed St. John's back 10 yards, he fired a 20-yard dart to Tyler Lindeman to move the chains.
Werts stiff-armed a defender on a 15-yard run, and Ulm ran twice more but then went to the sideline with an injury. Evers stopped Boggs on third-and-1, but Boggs' fourth down run went for nine yards.
Three plays later, Boggs lofted a pass to Werts over three Fort Recovery defenders for a 17-yard touchdown, tying the game at 34 with 3:56 remaining.
"It's next guy up, and he gets plenty of reps," Schulte said of Boggs. "Grant and Drew both do a great job playing quarterback, it's just, one of them has to play receiver. All week this week, because we were down some bodies, when Drew would come in, Grant would go out to wide receiver. They both know the position. He's our backup guy, he's always got to be ready, and he's always done a good job. I didn't expect anything less going in there."
Braylon Metzger lined up for a go-ahead PAT try, but Homan burst through the middle of the line and blocked the kick to keep the game tied.
"Troy's the leader of these guys, there's no question about it, and it's because this is really, really important to him," Niekamp said. "He bleeds for it. He plays with everything he's got, and he's going to do it on every single play. If we need him to try to block a kick, he'll go block a kick for us."
Alex Gaerke got a shot at a chance at a game-winning 46-yard field goal, but it fell well short as time expired.
St. John's got the ball first in overtime, and on third down, Boggs dodged the onrushing Alex Evers and threw a short pass to Werts, who shook off Ethan Hartnagel and dove for the pylon for a 20-yard touchdown.
"It was initially supposed to be an outside route, but the kid had it covered, so he just cut underneath and Drew put it right on the money," Schulte said. "TJ's got great hands. He's a football player. You saw it on that last one, throwing guys off and getting to the end zone. That's TJ."
Photo by Zachary Hesse/The Daily Standard
Caden Grisez took a screen seven yards on first down, but Homan had to throw the next one away and lost a yard on third down. On the do-or-die fourth down, Homan threw a jump ball for Guggenbiller on a corner route, but Metzger batted it away to seal the win.
Fort Recovery was down 7-0 in the first quarter before it scored twice in 61 seconds. Linebacker Reece Wendel jumped Ulm's pass in the flat, made a juggling catch and raced 27 yards to the end zone to tie the game with 5:09 left in the first.
Werts promptly lost a fumble, and Homan took the first snap and went 33 yards to the end zone to make it 13-7.
"We had some missed tackles where they were running down the sideline and we missed a tackle, and that's tough," Schulte said. "So back to the drawing board again. Last week we had a lot of missed tackles, had to work on it this week in practice, and we're going to have to do it again. We got to get better."
Werts bounced back with a 39-yard run that set up Ulm's 1-yard sneak as St. John's went back in front early in the second, but Grisez took a sweep 43 yards and Homan scored from a yard out to restore the Indians' lead with 7:40 left in the half.
"Well-coached team, hard-working kids, they battled right back at us," Niekamp said. "They weren't going to go away. They weren't going to go away, and I don't know if we kind of thought that, if our kids felt that way, maybe. I can't say. But we didn't keep making plays down the stretch like we needed to."
Homan dropped back and hit Reece Guggenbiller in stride deep down the middle, and Guggenbiller went all the way for a 49-yard touchdown. A "Philly Special" pass from Steinbrunner to Homan on the 2-point conversion gave the Indians a 13-point lead with 2:23 to go in the half.
Steinbrunner hit Ulm from the blind side and forced another fumble, recovered by Conner Kaikala, to keep the Blue Jays from answering before halftime.
Homan threw for 256 yards, 108 to Grisez, and Jutte made 10 tackles. Ulm led St. John's with 121 rushing yards.
The Indians' next chance for a win is Friday when they host New Bremen, while St. John's takes on Anna.