Saturday, November 18th, 2023
Still going strong
Celina beats Hamilton Badin to reach Division III Final Four
By Tom Haines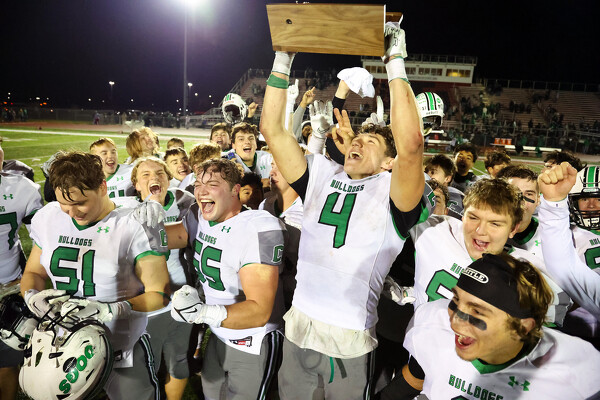 Photo by Paige Sutter/The Daily Standard
TROTWOOD - Undefeated Hamilton Badin needed a furious rally in the fourth quarter to get past one Western Buckeye League champion.
On Friday, the other one put the Rams away.
Celina answered after Badin took the lead in the fourth quarter with a pair of Zach Greber field goals, and Braylon Gabes sealed the win with a pick-six as the Bulldogs won 37-25 in the Division III football regional final at Miami Valley Hospital Sports Plex in Trotwood.
Celina (12-2) won its first regional championship since 1998 and will play Columbus Watterson next Friday at Doug Adams Stadium in Xenia with a chance to go to the state title game.
"I'm extremely proud of them," Celina coach Brennen Bader said. "They handled all the adversity, all the ebbs and flows of the game. We just kept responding. Every time we got smacked in the face, we responded, and good teams do that."
Badin (13-1) scored two touchdowns in the final four minutes to get past Wapakoneta in the regional semifinals, and the Redskins had beaten Celina 30-3 in the regular season finale to split the WBL championship.
Celina watched its own two-score lead, 21-12 at halftime, disappear in the second half. After stopping the Bulldogs on the first drive of the third quarter, the Rams marched 64 yards in nine plays and Zach Yordy scored on a one-yard plunge, with the extra point cutting the deficit to two.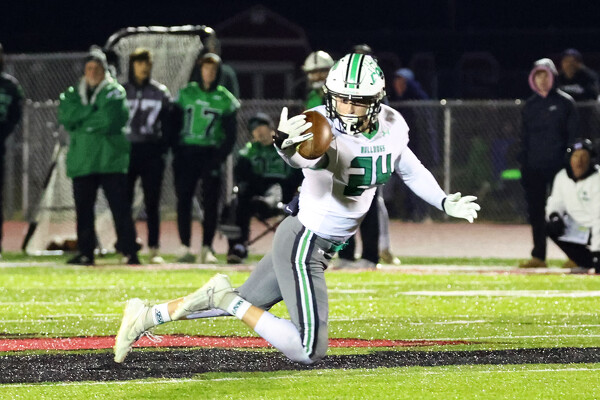 Photo by Paige Sutter/The Daily Standard
Braylon Gabes, who dropped back as a passer throughout the second half, fired a pass over the middle for Nick Newell that nearly went over his head, but Newell stretched out an arm to knock it down, then pulled it in with one hand for a 17-yard completion. On the next play, Zander Jones took the ball on a reverse and threw it back to Gabes for a big gain, even with a penalty at the end for assisting the runner.
"Going into the year, that wasn't necessarily what we wanted to do, but we found early on in Week Two that it was working," Bader said of Gabes' passing. "It's evolved throughout the year, and our other quarterback does a nice job too, but tonight we felt that Braylon needed as many touches as possible, and it came from the quarterback position tonight."
Gabes converted a third-and-2, but Badin's defense came up with a stop on third down, and Greber kicked a 25-yard field goal to make it 24-19 with 1:24 left in the third.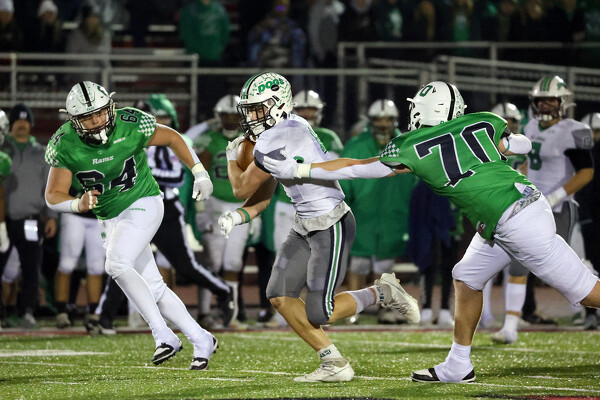 Photo by Paige Sutter/The Daily Standard
Badin answered with a 72-yard drive, highlighted by an 18-yard run by Yordy and a 23-yard grab by Austin Buckle, who twisted against his momentum to grab the ball. After Yordy got the Rams to the 4, Lem Grayson ran off the left tackle and darted back inside for a go-ahead touchdown.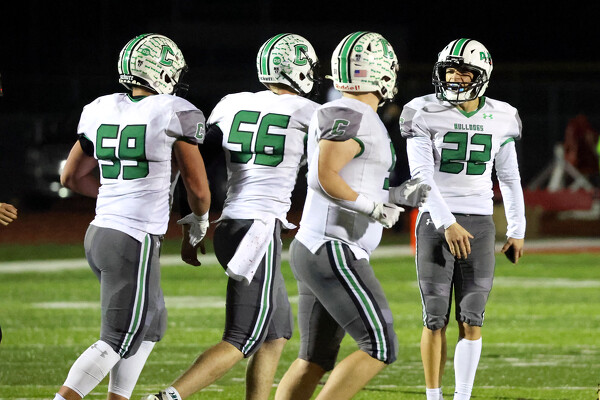 Photo by Paige Sutter/The Daily Standard
Badin went for two to try to make it a three-point game, but Yordy's initial run-in was called back for a hold. On the second attempt, Alex Ritzie's pass was out of the reach of Buckle coming back to the pylon, keeping the lead at 25-24 with 8:49 to go.
"I was confident," Gabes said. "We have a great kicker, so I knew if we could get into field goal range, we would win this game."
Celina came right back down the field, starting with a 21-yard run by Gabes. He ripped off a 16-yard run down to the 28, but could only get four yards on the next three plays, missing a third-down pass to Zander Jones at the front corner of the end zone.
But they were within Greber's range, and he hit a 42-yard field goal to put the Bulldogs in front with 4:58 remaining.
That gave Badin a chance for more fourth quarter heroics, but Celina's defense forced a four-and-out, with Gabes tracking down Yordy on third down and Tucker Ackley stopping him a yard short on fourth.
Celina's offense got just two yards, but forced Badin to use its timeouts. Greber drilled a field goal from 46 yards, his longest of the year, to stretch the lead to 30-25 with 3:22 left.
"We got two huge field goals and touchbacks which were crucial at the right time, and he hit them," Bader said. "We had the wind at our backs, so we took advantage of that, but he did a great job of putting them through the uprights when we needed it most."
With a second shot at a game-winning drive, Ritzie came out firing. Dalton Chilcoat batted down his first pass, but he found Carson Cheek on his second, and Jones was called for a personal foul to move the Rams down the field. Carter Altstaetter dove in front of his next pass to Cheek and knocked it down, but then Ritzie and Cheek connected again, this time for an 11-yard gain to put the Rams at the Celina 45 with 2:42 left.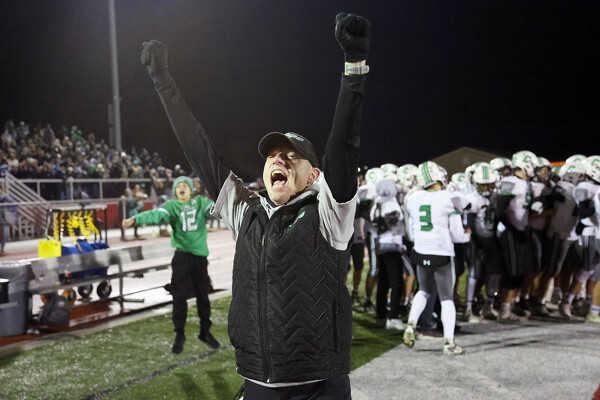 Photo by Paige Sutter/The Daily Standard
Ritzie missed a screen pass high, and before the next play, the PA announcer called out that Watterson had won 19-13 over Bellefontaine and would play the winner in the state semifinals. On the next play, Gabes made sure it would be Celina.
Ritzie dropped back and fired a pass deep down the left sideline, but Gabes, rather than getting drawn down into the flat, was lurking under the route. He high-pointed the ball, then weaved his way through the crowd for an 82-yard return.
"I knew they were going to throw it deep, so I had to play deep," Gabes said. "My coaches all week have been telling me, 'Don't get deep,' and I knew they were going to throw a smoke-fox, so I was just there to get it.
"It was a fake spot," he elaborated on the smoke-fox play, "so they were trying to get me to run up while the outside receiver goes deep."
Down 11 with just over two minutes left, Badin made one last push. Ritzie got down to the Bulldogs 13, but Kaiden Werntz made a diving deflection at the goal line, and Ian Mullins chased Ritzie down for a fourth down sack to finish off the win.
"That's a big football team up front," Bader said, "and our guys battled and hung in there, and just kept playing for 48 minutes."
Celina deferred to start the game, and after giving up a march down the field capped by Yordy's four-yard touchdown run, it caught a break when kicker Nick Warner missed the extra point. Braylon Gabes answered with a 49-yard touchdown run.

With the Rams facing a third-and-13, Ritzie threw a deep post to Cheek, but left the ball a little high, and Braylon Gabes went up and made the grab for an interception, setting the Bulldogs up at the Badin 45.
This time it took eight plays. From the 11, Gabes faked a run, stopped short and lofted a pass over the defense to Newell in the end zone.
"We knew that their defensive line is good, and we might not be able to run the ball for a whole bunch of yards," Gabes said. "Last week we threw the ball more, so I knew coming in this week that I would have to throw the ball a lot more."
Greber's kickoff was a pop-up, starting Badin at the 35. The Rams turned back to the run game, and Yordy carried the ball six times while Grayson added a 23-yard run. Yordy punched it in with another four-yard run, but the backfield was empty on the 2-point attempt. Ritzie ran around, then threw a fluttering pass that fell incomplete, leaving the Bulldogs ahead 14-12 with 6:01 to go in the half.
Celina took 4:54 off the clock with an 11-play, 80-yard drive, aided by a 15-yard targeting call on a run by Braylon Gabes. Lutz ripped off a 20-yard run that was halved by a block in the back, but Gabes came back with an 11-yard pass to Altstaetter and a 10-yard run, then took it up the middle for a one-yard score to make it 21-12.

At the end of the first half, Celina had faced just one third down.
Gabes ran for 139 yards and went 6-of-9 passing for 78 more yards. Yordy ran for 166 yards as Badin outgained Celina 396-333.
"It was a heck of a football game," Bader said. "Heck of a football team in Badin, perennial powerhouse in Division III. It was just a fight. It was a 48-minute fight, and we anticipated that."