Monday, November 20th, 2023
Kickin' into high gear
Greber key in helping Celina have dream football season
By Gary R. Rasberry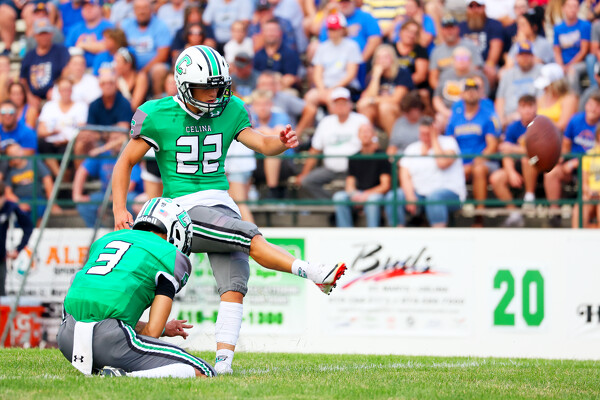 Photo by Paige Sutter/The Daily Standard
Zach Greber didn't mind being busy for most of the fall sports season. The hard work has - and still is - paying off.
Greber, a senior standout on the soccer field for Celina the past several years, joined the Bulldogs football team this season to serve as the team's placekicker.
The double-duty has productive both for Greber and the two teams he plays for, helping the soccer Bulldogs win a share of the Western Buckeye League title this season with a Division II district runner-up finish.
But on the football field, Greber's nearly automatic ability to knock in extra points and field goals and pinning teams deep in their own territory on kickoffs has allowed Celina to claim its first WBL football title since 1995 and its first regional title and trip to the state final four since 1998. Celina travels to Xenia on Friday to face Columbus Bishop Watterson for a chance to reach the state final for the first time in 40 years.
"It's just amazing to be a part of the team," said Greber. "(Considering) how much work we've put in, it's paying off."
While other schools in the Western Buckeye League have used members of their school's soccer teams to handle their kicking chores - most notably Wapakoneta's Kyle Beach, the league's Specialist of the Year in football the past two seasons and this year's league soccer Player of the Year - Celina has not been able to use soccer players due to policy.
That changed this season through the help from athletic director Derek Wenning, who was open to allowing a soccer player to kick for the football team.
"They were wondering if there were any soccer players who would be interested in kicking," said Greber. "I was like 'Yeah, I could do that.' I tried out and got the role."
While there was no issues with games - with football only on Fridays with the soccer team playing two and sometimes three matches during the week - the practice setup required some logistics.
"I found a couple days per week to work on football and go to soccer every day," said Greber, who noted he would have his usual two to 2 1/2-hour soccer practice, then work 30-60 minutes for football.
Greber praises all his coaches for helping keep things working.
"Coaches are always open. They stay after practice if I need to," said Greber. "They'll lend me footballs when I need them (to work at home) and cheer me on. (The soccer coaches) know it's a tough role to have and the toll it takes on the body, but they were there to give me a rest day if I needed it and always there to support me."
The big change for Greber was how he spent his time during games. Where in soccer Greber, a midfielder, would keep moving and playing 60 or more minutes per 80-minute match, in football, it was a wait-and-go feel where Greber would only need to take the field for kickoffs, point-afters and field goals.
Then there's the main difference, kicking a football with a helmet, pads and pants rather than his soccer kit of jersey, shorts and boots with shin guards. Plus. there is the need to actually tackle a player.
"It's different kicking with all that stuff on," said Greber, who's listed on the Celina football roster at 5-9 and 155 pounds. "If I need to tackle. I do it. Got quite a few this season."
His teammates on both teams have been very
supportive.
"I couldn't do this without them, that's for sure," said Greber. "They always keep me going and motivate. I love motivation. Makes me get into a zone."
Depsite the pressure, Greber has not had to dwell on the issue.
"The nerves are definitely there, but I just zone in and kick through it," said Greber. "That's all there is."
The fall has been special for Greber, as the soccer team finished 18-2 and won a share of the WBL with Greber earning second team All-WBL honors.
In football, Greber has been nearly perfect when it comes time to do some kicking. Greber is 56-of-59 on extra point kicks this season and 11-of-14 on field goals - tallying 89 points on his kicks. On kickoffs, Greber has put 34 of his kickoffs into the end zone for touchbacks.
Friday's 37-25 win over unbeaten Hamilton Badin in the Division III Region 12 final might have been Greber's best performance of the season. In addition to four extra points, Greber kicked three field goals. The first was a 25-yard kick to give Celina a 24-19 lead in the third quarter. After Badin took a 25-24 lead, Greber put Celina in front to stay with a 42-yard field goal, tying the school record for longest field goal set by Matt Zimmerman in 1999. Then with 2:57 left to play in regulation, Greber broke the record with a 46-yard field goal that pushed the margin to 30-24, putting the game out of reach after Braylon Gabes returned an interception for a score to allow Celina fans to really celebrate.
"I know we'll work through the week and practice hard," said Greber. "We'll just push through and do whatever we can."