Thursday, September 29th, 2022
The Weekly High School Football Preview Section
Wildcats, Panthers look to firm up playoff chances
By Gary R. Rasberry
The 2021 football season was a season of lessons for the Minster football team under the first-year guidance of Seth Whiting.
The dues paid in 2021 in going 1-9 - with the win coming against the non-OHSAA club team Columbus Crusaders - have paid off as the the Wildcats are 4-2 heading into Week Seven action against Parkway in Rockford.
A win would give the Wildcats its first five-win season since 2020 and put the team in line for its first winning regular season since going 9-2 in 2019.
Awaiting the Wildcats is a Parkway team that has two big wins over North Central - which is 4-2 in its first varsity season and in line to make the playoffs in Division VII Region 26 - and St. Henry, but has struggled in its four losses with two shutouts. Still, Parkway is still in the running for a playoff spot in the 16-team format.
Some insight into Friday's game:
BROGAN BRINGS IT TO THE TABLE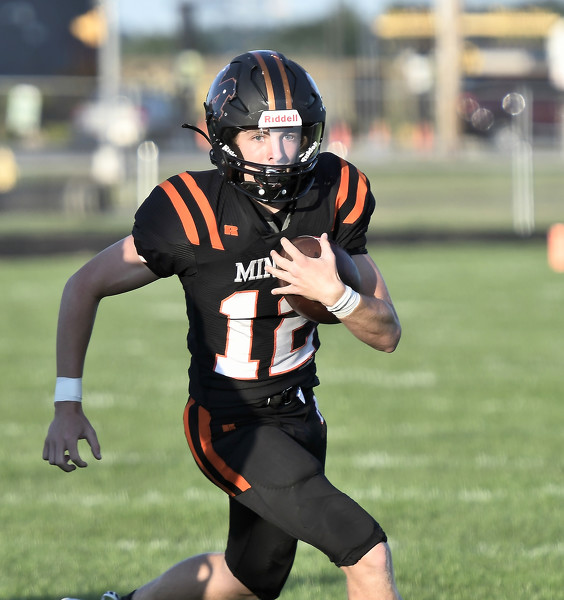 Photo by Nick Wenning/The Daily Standard
Sophomore quarterback Brogan Stephey has blossomed into one of the more prolific offensive threats in the area this season.
Stephey already has over 1,000 yards passing, going 87-of-139 for 1,179 yards with six touchdowns and just one interception and rushing for 497 yards with 10 touchdowns.
In addition to his impressive offensive numbers, he has also contributed as the Wildcats' kicker. Stephey is 17-of-19 on point-afters and 2-for-4 on field goals. Stephey leads the MAC in scoring with 91 total points.
WAKE UP CALL
The Minster offense has cranked up its play after getting shut out 34-0 by Marion Local in Week Three. The Wildcats are averaging 37 points per game in the last three contests.
ALL-AROUND PLAYER
Parkway running back/linebacker Eddie Nichols leads the team in rushing (498 yards, four TDs) and tackles (60) on the season.
MIDSEASON BUMP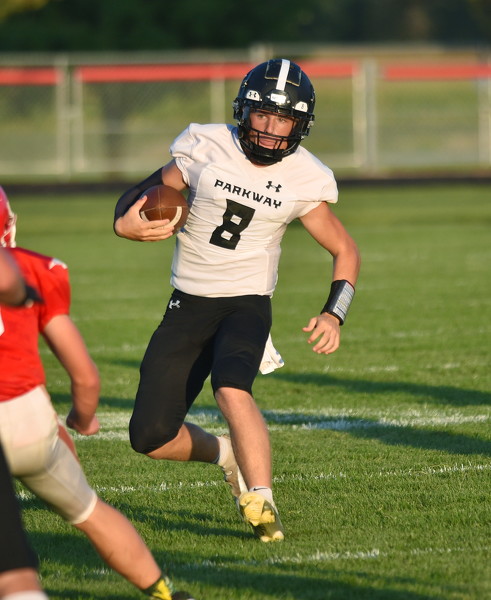 Photo by Jason Snyder/The Daily Standard
Parkway quarterback Fletcher Smith started out strong but has struggled over the past two games in facing powers Versailles and Coldwater.
Smith is closing in on 1,000 yards passing (805 yards) and id still completing 55% of his passes, but over the last two games, Fletcher has connected just over 45% of his passes for 99 yards, no touchdowns and an interception after connecting for six scores across the first four games.
TAKE CARE OF THE BALL
Minster is plus-6 in turnover ratio (10 takeaways, four giveaways) on the season. Parkway is even (10 each) on the year with the Panthers struggling to hold on to the ball, committing eight fumbles.
LOOKAHEAD
With both teams looking to lock up playoff spots, the rest of the season will feature both teams playing differing fields.
Minster faces St. John's next week and still has to face Route 66 rival New Bremen (5-1 currently) and Versailles (4-2) in Weeks Nine and 10. The teams are a combined 11-7.
Parkway's home stretch features trips to Fort Recovery and Anna sandwiched around the home finale with St. John's. Parkway's final three foes are a combined 6-12.
Thursday, September 29th, 2022
Computer Points Insight
Week Seven could be rough week for some teams
By Bruce Monnin
Wapakoneta, St. Marys and Van Wert are still the three Western Buckeye League teams assured of playing in the postseason, while Fort Recovery joins five other Midwest Athletic Conference teams (Coldwater, Marion Local, Versailles, New Bremen and Minster) that will also be in the playoffs.
If you are a fan of close local games, this may not be the week for you. In four of the five WBL games, the favored team is expected (at least by the computers) to win by four touchdowns or more. The closest WBL game may be Celina traveling to Ottawa-Glandorf.
If Celina wins this week, it should put the Bulldogs into the playoffs. It will also set up an unlikely matchup of 5-2 teams next week between Celina and Defiance. Few if any preseason prognosticators thought both of these teams would be hovering near the top of the WBL standings this late in the season.
Similarly, four of the five MAC games are expected to be four or more touchdown blowouts. Minster (with a likely reduced fan following on Oktoberfest weekend) traveling to Parkway is expected to be the best game in this conference. A win can put the Panthers into the postseason.
For more analysis of the teams in west central Ohio, download and listen to Bruce Monnin's Computer Points podcast. The computer points for the entire state, and especially the five regions involving most area teams (Regions 12, 14, 18, 24 and 28) can be found throughout the season at
user.nktelco.net/bdmonnin/football.htm
.
Division III Region 12
Team - Ranking (Computer Points)
Wapakoneta - 6th (10.32)
Celina - 10th (6.40)
Elida - 16th (4.57)
Trotwood-Madison - 17th (4.44)
Shawnee - 25th (0.83)

Wapakoneta remains in sixth place after defeating 1-5 Kenton. The Redskins are big favorites in their final four games, which should allow them to finish fourth in the region and host their first two playoff games. Keep an eye on Cincinnati Woodward as a possible first round opponent, though if Wapakoneta loses to Elida this week, it may have to face the Bulldogs in a first-round playoff rematch.
Celina fell one spot in the standings, which happens sometimes with no second-level points from a victory over a winless team, in this case 0-6 Bath. One more win should be enough for the Bulldogs to play in the postseason, and a trip to 1-5 Ottawa-Glandorf Friday is probably their best opportunity.
Elida is now on the bubble in 16th. A win over Shawnee in Week 10 might be enough to hold on to the final playoff spot but the Bulldogs will need an upset victory over Wapakoneta, St. Marys or Van Wert to be certain of a postseason invitation.

Division IV Region 14
Van Wert - 4th (12.40)
St. Marys - 8th (8.65)
Waverly - 16th (3.32)
Kenton - 20th (0.83)
Bath - 21st (0.00)

Van Wert falls one position to fourth after defeating Ottawa-Glandorf. The Cougars' last four opponents have a combined record of only 6-18, so Van Wert may not stay in the top four even if they win those final four games.
St. Marys is in a similar situation. The Roughriders' last four opponents have a combined record of 8-16, so St. Marys may need to win all four games to stay in the top eight and host its initial playoff game.
Kenton and Bath no longer have realistic playoff hopes.

Division V Region 18
Coldwater - 3rd (10.20)
Ottawa-Glandorf - 27th (0.83)
Coldwater needs two more wins to ensure it hosts its first-round playoff game, and three wins would probably allow the Cavaliers to finish in the top four in the standings and host two postseason contests. Coldwater is a big favorite at Delphos St. John's this week, but then runs the MAC gauntlet of New Bremen, Versailles and Marion Local.
Ottawa-Glandorf needs to win out, starting against Celina this week, to have any chance at reaching the postseason.

Division VI Region 24
Marion Local - 1st (14.42)
Versailles - 3rd (7.95)
Parkway - 12th (3.07)
Frankfort Adena - 16th (2.40)
Anna - 19th (1.73)

Marion Local will end the regular season as the top seed in this region as long as it defeats Fort Recovery, Anna and St. Henry. If the Flyers lose one of those games, they will have a chance to make up for it against Coldwater in Week 10.
Versailles is a virtual lock to host its opening postseason game. In order to finish in the top four and host two playoff matches, the Tigers may need to win out, including their final two games against Coldwater and Minster.
Parkway remains 12th in the standings after losing big to Coldwater, mostly thanks to another win by 4-2 Pioneer North Central bringing in more second-level points. Parkway still needs one more win to be on the bubble and two to secure its opportunity to play in Week 11. The schedule provides many opportunities, as the Panthers host Minster this week and then finish against three 2-4 teams, Fort Recovery, Delphos St. John's and Anna.
Anna, 2-4, still needs to win two more games. This week's matchup at 4-2 Versailles and next week's with 6-0 Marion Local do not appear to be likely opportunities for these wins. Two 2-4 teams, Fort Recovery and Parkway, close out Anna's schedule.

Division VII Region 28
New Bremen - 3rd (7.33)
Minster - 7th (5.67)
Fort Recovery - 10th (4.17)
St. Henry - 16th (1.02)
Troy Christian - 16th (1.02)
New Bremen needs two more wins to host a playoff game. Three wins should ensure two postseason games are played in New Bremen. The Cardinals are favored in their final four games except for next week's trip to 6-0 Coldwater.
Minster quietly inches into a tie for third in the MAC standings. If the Wildcats win against 2-4 Parkway and 2-4 Delphos St. John's, they may host a playoff game, though they are more likely to finish ninth in the standings. An additional win over 5-1 New Bremen or 4-2 Versailles would have Minster fighting for a top-four finish in the region.
Fort Recovery travels to Marion Local this week, but faces Parkway, Anna and St. Henry to end the campaign. The Indians should make the playoffs even if they lose all four games thanks to points earned in the win over Urbana (4-2), but will likely fall short of the top eight even with three more victories.
St. Henry is getting no such help from its win over Covington but should sneak into the playoffs if it earns a second victory. The problem is the remaining schedule features New Bremen, Versailles and Marion Local before ending against Fort Recovery.

Other Regions of Interest
Division III Region 10
Defiance may have earned its playoff berth by defeating Elida last week. A win over struggling Bath this week may remove all doubt.
Division VII Region 26
Delphos St. John's moved up to 17th with a big win over Anna last week. The Blue Jays likely need two more wins to reach the playoffs and will have trouble gaining one against Coldwater this week. Their game the following week at Minster may be do-or-die.
Thursday, September 29th, 2022
Two Minute Drill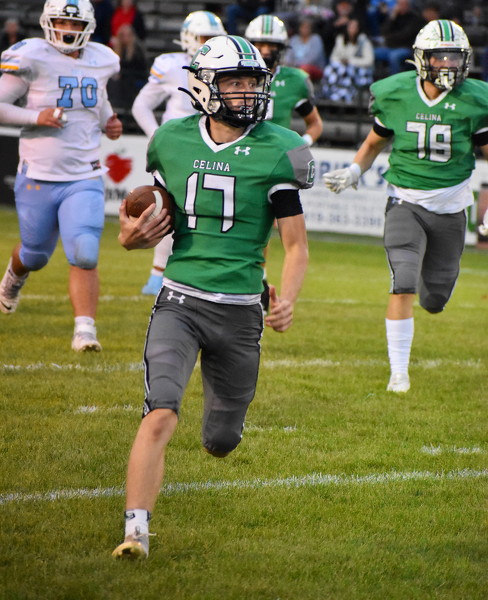 Photo by Zachary Hesse/The Daily Standard
CELINA vs. OTTAWA-GLANDORF
Titan Stadium, Ottawa
Last Season: Landen Jordan passed for 217 yards and five touchdowns as the Titans shut out Celina 42-0 at Celina Stadium. The Bulldogs were held to just 144 yards of total offense.
About the Bulldogs: Celina has been hitting all cylinders in its four-game winning streak and its defense was rewarded by pitching its first shutout since 2014 in a 29-0 win over a Bath team that played better than its winless record showed. Landen Ackley continued his hot play on defense with two more interceptions to raise his season total to five.
About the Titans: After a solid first half against state-ranked Van Wert with the score tied at 10-all, O-G struggled in the second half to fall 31-16 in Ottawa. Peyton Kuhlman has taken over the snaps at quarterback the last two games and had thrown for 305 yards and two touchdowns with three interceptions. Cy Rump is the main offensive threat, leading O-G in rushing (383 yards, three TDs) and second in receiving (15 catches for 215 yards).
KENTON vs. ST. MARYS
Grand Lake Health System Field, St. Marys
Last Season: The Roughriders rushed for 386 yards in a 48-7 win over the Wildcats at Robinson Field.
About the Wildcats: Kenton's offense has struggled this season, only scoring more than two touchdowns once - in a 20-6 win over Bath to account for its only win in the campaign - and has been hold to single digits in four of the five losses. Sophomore quarterback Korbin Johnston has passed for 912 yards this season with just three touchdowns and four interceptions. Kooper Johnston leads Kenton in receiving with 300 yards and a touchdown.
About the Roughriders: The Roughriders had 390 yards rushing in the 41-14 win over Shawnee last week in Allen County. St. Marys has four running backs with 299 or more yards this season as Aiden Hinkle puts himself in contention for WBL Offensive Back of the Year with 788 yards and 11 touchdowns. The Roughrider defense stepped up in scoring touchdowns via interception return and fumble recovery last week.
ST. HENRY vs. NEW BREMEN
Cardinals Stadium, New Bremen
Last Meeting: The teams have not played in the regular season since 2019 when New Bremen posted a 21-7 win in St. Henry. The Cardinals defeated St. Henry 28-13 in in the 2020 Division VI playoffs en route to the program's first state championship
About the Redskins: St. Henry reached double figures in a game for the first time since a 34-10 loss to Archbold in Week Two but allowed 30 or more points for the second straight week. St. Henry has been able to move the ball, averaging 218 yards of total offense per game, but has allowed an average of 230.3 yards while committing 13 turnovers.
About the Cardinals: After suffering their first loss of the season in Week Five against Marion, New Bremen bounced back for a 41-13 win over Fort Recovery in Hunter Schaefer's big breakout game as the senior ran for a school-record-tying five touchdowns and scored 35 of the team's points (30 points via touchdown, five via extra point) to set a school record. The Cardinals continue to be efficient when it comes to turnovers, holding a plus-5 in turnover ratio (nine takeaways to just four giveaways).
FORT RECOVERY vs.MARION LOCAL
Booster Stadium, Maria Stein
Last Season: The Flyers posted the third of six shutouts on defense in a 30-0 win over the Indians at Booster Stadium. Marion held the Indians to just 105 yards of total offense. About the Indians: Fort Recovery was able to move the ball, but just not enough in taking the 41-13 loss to New Bremen in Auglaize County. The Indians had 282 yards of offense against New Bremen and held the ball for nearly 11 minutes longer, but could only score 13 points on 58 plays while the Cardinals put up 342 yards on just 39 plays.
About the Flyers: Marion continued to dominate the competition, scoring 20 points in the second half to pull past Versailles 27-7 in a highly-anticipated battle between two state champions from a season ago. Darren Meier had a breakout game on defense for Marion with eight tackles and a sack and Jake Topp added a pair of sacks of his own. The Flyers have recorded 13 sacks on the season to go with nine interceptions.
COLDWATER vs.DELPHOS ST. JOHN'S
Champions Field at Stadium Park, Delphos
Last Season: Luke Sudhoff's two-yard touchdown run with just under nine minutes to play in regulation gave the Cavaliers a come from behind 21-14 win at Cavalier Stadium. Coldwater overcame three turnovers and a 14-0 deficit to get the win.
About the Cavaliers: The Cavaliers had an emotional 49-0 Homecoming win just two days after the death of Hall of Fame baseball coach Brian Harlamert. Coach Harlamert's son Evan scored twice in the first half. After allowing 21 points to Bellefontaine in Week Two, the Cavalier defense has giving up just 21 points over the last four games, including a pair of shutouts. Coldwater has outscored opponents 77-2 in the first quarter this season and 159-16 in the first half. Eight different players have touchdowns this season.
About the Blue Jays: St. John's snapped a four-game losing streak in picking up a 41-13 win at Anna last week. Running back Clay Paddubny rushed for 149 yards and two touchdowns as the Blue Jays scored 20 unanswered points to put the game out of reach.