Thursday, September 21st, 2023
Flyers, Tigers meet in battle of unbeatens
By Gary R. Rasberry
Big-time football matchups are commonplace in the Midwest Athletic Conference.
Friday night will be no different at Booster Stadium in Maria Stein as the top teams in Divisions VI and VII square off to see who remains at the top of the conference standings.
Versailles, top-ranked in Division VI, enters at 5-0 and 3-0 while cruising through the schedule, outscoring teams 203-21 this season.
Then there is unbeaten Marion Local, which is No. 1 in Division VII and doing what Tim Goodwin teams have done best: dominating teams.
The winner stays atop the conference standings - currently sharing the 3-0 honors with Coldwater, which travels to Parkway on Friday - and should lock up home field advantage through the first two rounds of the playoffs.
Tigers coach Ryan Jones has a solid offense backed by the defense that has been defiant in keeping teams off the board. Versailles opened with shutout wins over Celina, Fort Loramie and St. John's before allowing a fourth-quarter touchdown to New Bremen to snap a scoreless streak of nearly 190 minutes. Parkway got a score last week, putting the overall tally this season at 177-14.
Michael Osborne has been solid as full-time quarterback after playing a change-of-pace role behind Connor Stonebraker at times last season. Osborne leads the team in rushing with 371 yards and six touchdowns while completing 62% of his passes for 600 yards with six more touchdowns. Running back/kicker Joel Gehret adds 228 rushing yards and six scores and has booted 20 extra-points. Jace Watren is the top receiver with 208 yards and three scores.
Levi Barga has been the main force on defense, leading the team with 45 tackles to go with six sacks and an interception. Ross Francis and AJ Griesdorn each have two interceptions this season.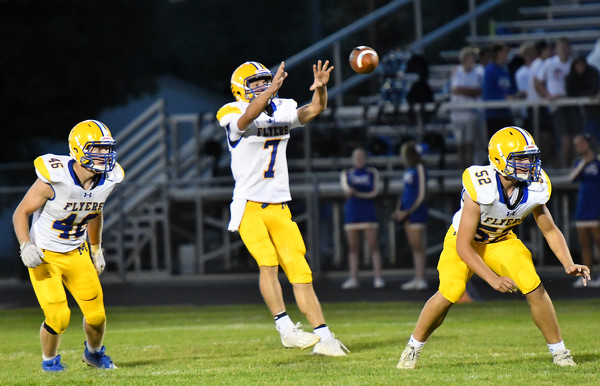 Photo by Nick Wenning/The Daily Standard
Marion has cranked up the volume since winning a last-minute 29-26 decision at Wapakoneta in Week One. Over the last four weeks, Marion has outscored teams 203-21 and averaging 50.8 points in that run, with only two of those teams - Franklin and New Bremen - currently under .500.
Justin Knouff has been very productive in his first season as starting quarterback for the Flyers. Knouff has completed nearly 64% of his passes for 846 yards and 12 touchdowns this season while also rushing for 224 yards and two scores. Receiver Victor Hoelscher has 25 catches for 455 yards and six touchdowns to go with a punt return score and two more returns of 50-plus yards.
The backfield for Marion is a committee, with four backs rushing between 109 and 196 yards. Parker Hess has rushed for 196 yards and three scores while Ethan Heitkamp has 193 yards and seven touchdowns. Drew Lause adds 139 yards and five scores.
The defense is also balanced, with 11 players recording at least one sack and five with at least one interception. Landon Arling leads the Flyers with 42 tackles and three sacks while Carter Jones adds 30 tackles and two interceptions.
Thursday, September 21st, 2023
Computer Points Wrap-up
How are local teams looking at the midway point?
By Bruce Monnin
We are halfway through the high school football regular season, which means we already have an idea of some of the teams which will be in the playoffs and some which will not. The drama is about those teams where the postseason is in doubt.
Celina, Wapakoneta and Defiance have joined Van Wert as playoff-bound WBL teams according to Drew Pasteur's Fantastic 50 computer (though I think it may be a tad premature for Wapakoneta and Defiance). Minster joins Coldwater, Versailles and Marion Local as MAC teams heading to the postseason.
That computer also says Anna and Parkway have a 99% chance if it loses out and finishes 2-8, while New Bremen would only have a 96% chance at the postseason in that doomsday scenario.
In the WBL, Wapakoneta's dominant win over Van Wert likely makes the Redskins the top contender to challenge Celina for the conference championship. Bath's win over 4-1 Elida makes Bath look like a probable playoff team, while Elida may have trouble obtaining the one more victory it needs to reach the postseason.
The best game in the MAC last week was Saturday's 41-34 overtime win by Delphos St. John's over Fort Recovery. Due to the difference in the number of teams in each region and the relative strength of the teams fighting for the playoffs, both teams are in a similar situation, needing one or possibly two upset wins to play in Week 11.
Celina hosts Elida in probably the biggest game in the WBL this coming week. In the MAC, as well as much of the state, all eyes with be on a battle of the undefeated teams. Marion Local hosts Versailles in a game has the potential to feature the eventual state champions in both Divisions VI and VII. Playoff-wise, the matchup between Anna and Delphos St. John's will be very important for those teams' playoff hopes.
The computer points for the entire state, and especially the five regions involving most area teams (Regions 12, 14, 18, 24 and 28) can be found throughout the season at user.nktelco.net/bdmonnin/football.htm
Division III Region 12
Team - Ranking (Computer Points)
Celina - 7th (7.05)
Elida - 10th (5.60)
Wapakoneta - 11th (4.90)
Shawnee - 25th (0.00)
Celina hosts Elida this week. Celina is already in the playoffs, but the large number of computer points means Celina could rise into the top three of the standings with a win. Elida needs one more win but is a big underdog this week.
Wapakoneta may be the best WBL team in this region (the Fantastic 50 computer thinks so) if not the overall best team in the region. The Redskins may well look like it against Shawnee this week.
Division IV Region 14
Van Wert - 4th (8.05)
Bath - 8th (5.70)
Kenton - 15th (3.35)
St. Marys - 21st (0.90)
Van Wert fell one spot after losing to Wapakoneta. The Cougars' four WBL opponents to date have a 14-6 record. Their final five opponents are a combined 7-18. Van Wert should win out but not rise in the standings.
Bath travels to Ottawa-Glandorf this week and a win could get it into the postseason. Afterwards, the Wildcats are big underdogs the next three weeks before finishing at St. Marys.
Kenton fell five positions after losing to Celina. The Wildcats need two more wins, and St. Marys in Week Eight and Shawnee in Week 10 appear to be their best opportunities.
St. Marys is going to be a team many others need to beat to reach the playoffs. However, the Roughriders only need three more wins themselves and are slight favorites in their final four games. If it can upset Van Wert this week, St. Marys would be heavily favored for the postseason and its opponents will be very worried.
Division V Region 18
Coldwater - 2nd (8.70)
Ottawa-Glandorf - 23rd (0.00)
Coldwater seems to be cruising through its MAC schedule until the big showdowns against Versailles and Marion Local to end the regular season. The Cavaliers need to finish at least 9-1 to have a chance to host two playoff games. More likely they need to run the table.
Ottawa-Glandorf needs three wins to reach the playoffs. Bath this week better be one of them.
Division VI Region 24
Versailles - 2nd (9.45)
Anna - 7th (3.45)
Parkway - 9th (3.35)
Three more wins get Versailles the coveted two home playoff games, and the Tigers are favored by four touchdowns in three games. That makes this week's game against Marion Local and a later matchup with Coldwater purely for league bragging rights.
Despite losing to Minster, the Fantastic 50 computer says Anna is in the playoffs and the second-best team in this region. A win against St. John's this week could prevent a five-game losing streak, as Versailles and Marion Local follow the following two weeks.
Parkway continues to claim second-level points from its win over North Central. Two more wins will have the Panthers on the verge of hosting a playoff game. Just a win in this week's game against Coldwater would also accomplish the task.
Division VII Region 28
Marion Local - 1st (9.60)
Minster - 7th (4.90)
New Bremen - 13th (3.50
St. Henry - 15th (1.45)
Fort Recovery - 21st (0.00)
Marion Local will get to host two playoff games even if it loses to Versailles this week and to Coldwater in Week 10, and even if it loses a third game along the way.
Minster rises three places after defending home field against Anna last week. The Wildcats are in the playoffs, but to obtain home field for the opening game they need three or four more victories.
New Bremen fell four places after losing its second game in a row. The Cardinals are likely in the playoffs without winning again, but probably need four wins if they wish to host their opening postseason matchup. Week Nine at Minster has the look of a game where the winner hosts a playoff game and the loser has to ride the bus.
St. Henry needs to find one or two more wins to make the playoffs. Any of the next four games should be good enough, starting with Minster next week. A victory in only Week 10 over winless Fort Recovery leaves the Redskins' fate in the hands of other results.
Last week's loss to St. John's made Fort Recovery's path to the postseason much rockier. The Indians face four teams with losing records but need to defeat three of them (perhaps only two if fortune smiles on them).
Other Regions of Interest:
Division III Region 10
Defiance dropped one place to 12th after beating winless Shawnee. The Bulldogs are likely in the playoffs, with a win over Kenton this week making it a mathematical certainty.
Division VII Region 26
Delphos St. John's only rose one position to 17th after its come-from-behind overtime victory over Fort Recovery. The Blue Jays likely need to win three more games to reach the postseason, and those victories will be hard to find without defeating Anna this week.
Thursday, September 21st, 2023
Two-Minute Drill
By Daily Standard Staff
ELIDA at CELINA
Celina Stadium
Last Season: Celina scored all its points in the second quarter and came within a few minutes of posting its first shutout in eight years with a 17-3 win in the battle of Bulldogs at Kraft Stadium in Elida. Adam Faber had two catches for 82 yards and a touchdown.
About Elida: Elida dropped from the ranks of the unbeaten on a late score by Bath as the Wildcats won 21-17. Elida lost quarterback Ryan McGue late in the first half to injury, but running back David Etzkorn had 110 yards rushing (raising his season total to 522 yards), with 55 yards coming in a fourth-quarter drive that resulted in a field goal to break a 14-all tie.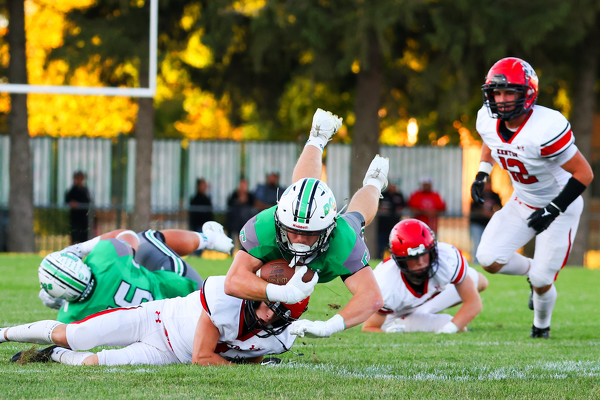 Photo by Paige Sutter/The Daily Standard
About Celina: After spotting Kenton the opening score, Celina rattled off 30 straight points and took a 30-point lead at halftime that held up with a running clock in the second half in the 44-14 victory. Celina allowed Kenton quarterback Korbin Johnston 346 yards passing, but held the Wildcats to just two touchdowns as Johnston was picked off twice with a later Kenton fumble turning into a 62-yard return score for Braylon Gabes. Jon Lutz stepped up with 104 yards rushing and three scores, including a 78-yard score on the first play of the drive after Kenton's second touchdown.
COLDWATER at PARKWAY
Panther Stadium
Last Season: Evan Harlamert caught two touchdown passes and four different Cavaliers rushed for a score in Coldwater's 49-0 win over Parkway at Cavalier Stadium. The Panthers were held to just 121 yards of total offense.
About the Cavaliers: Coldwater had its third straight 30-plus point performance in beating St. Henry 33-7 in the annual Backyard Battle. Baylen Blockberger went over the 1,000 yard passing mark with an 18-of-24 performance for 285 yards and three touchdowns. The Harlamert twins - Braylen and AJ - combined for 232 yards and three scores on the night. Mason Welsch doubled his season output on interceptions with two more against the Redskins.
About the Panthers: Parkway struggled to get offense going in falling 41-7 to Versailles at Hole Field. The Panthers were held to just 189 total yards of offense and had three turnovers in the loss. Quarterback Fletcher Smith struggled in going 5-of-14 for 90 yards and two interceptions against the Tigers.
MINSTER at ST. HENRY
Wally Post Athletic Complex
Last Season: Brogan Stephey passed for 317 yards and a touchdown, ran for a score and kicked a 35-yard field goal in the Wildcats' 31-12 win at Memorial Field.
About the Wildcats: Minster enters on a two-game winning streak after beating Anna 35-18 in Minster. In four wins this season, Minster has scored 152 points. Stephey is closing on a 1,000 passing yard-500 rushing yard margin as the second half of the regular season gets underway. The defense has forced 10 turnovers this season and has stopped 64% of the opponents' third-down conversion chances.
About the Redskins: The struggles continued for St. Henry in avoiding being shut out for the second time this season on a fourth-quarter Charlie Werling touchdown in the 33-7 loss at Coldwater in the Backyard Battle. The Redskins were held to just 169 yards of total offense - 61 yards rushing - with three interceptions.
NEW BREMEN AT FORT RECOVERY
Barrenbrugge Park

Last Season: Hunter Schaefer rushed for 189 yards and five touchdowns as the Cardinals picked up the 41-13 win over the Indians at Cardinal Stadium.
About the Cardinals: New Bremen had its taste of the Marion Local buzzsaw in a 42-7 loss in New Bremen. New Bremen was held to 161 yards of total offense with quarterback Keaton Puthoff intercepted three times.
About the Indians: Fort Recovery had a 20-point lead on Delphos St. John's early in the third quarter of last Saturday's game, but was shut out the rest of the way as the Blue Jays rallied to force overtime then got a touchdown in the extra session for the 41-34 win. Troy Homan had a good day in throwing for 256 yards and a touchdown and rushing for two more scores, but the Indians gave up 323 rushing yards as Grant Ulm and TJ Werts combined for 229 yards on the ground.
VAN WERT at ST. MARYS
Grand Lake Health System Field
Last Season: The Roughriders and Cougars combined for 1,040 yards of total offense as the Cougars won a 70-41 shootout at Eggerss Stadium. Aidan Pratt was 24-of-28 for 457 yards and six touchdowns for Van Wert while Aiden Hinkle rushed for 246 yards and two touchdowns for St. Marys.
About the Cougars: Van Wert struggled in falling 41-13 to Wapakoneta at Eggerss Stadium. Brylen Parker rushed for 105 yards and had both Cougar touchdowns, but struggled in the passing game in just completing nine of 20 passes with three interceptions. The Cougars have scored 43 or more points in their three victories while scoring a combined 27 points in the two losses.
About the Roughriders: After struggling score points in the first four games this season, the St. Marys offense was able to find the end zone six times against Ottawa-Glandorf in a 41-14 victory at Titan Stadium. St. Marys rushed for 389 yards on the night and limited O-G to just 174 yards of total offense. Colton Mabry rushed for 169 yards and three touchdowns while Caleb Schmidt scored twice and Cody Wallace added with a touchdown to become just the second and third Roughriders to score touchdowns after Mabry contributed all four scores in the previous four games.