Thursday, September 16th, 2021
Trying to get on a roll
After getting first win last week, Celina looks to start streak
By Tom Haines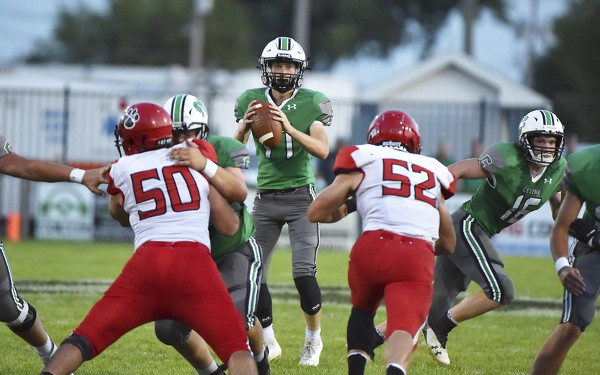 Coming off a narrow win over Kenton, the Celina football team has some momentum for the first time this season. The chance to build on it comes in a matchup of Bulldogs as Western Buckeye League rival Elida comes to Celina Stadium on Friday.
It took four games for Celina's offense to find a groove after scoring just seven points in its first three games. Against Kenton and at home for the first time, Celina left points on the board, with penalties derailing two first-half drives in Kenton territory. On a red-zone trip late in the first half, Celina (1-3, 1-2 WBL) came away empty after a third-down drop and a missed field goal.
Celina benefited from a pair of short fields to take an early 14-0 lead, with Jaden King adding a 40-yard run in the third quarter for what proved to be the winning score.
Junior Nick Adams has taken the helm of the Celina offense and turned in his cleanest performance of the season on Friday, completing 16 of 23 attempts for 127 yards and a touchdown pass and adding a one-yard touchdown run. Through the first four games, he has completed 61.5% of his passes and thrown for 423 yards with two touchdowns and three interceptions.
King has rushed for 168 yards on the season after finishing with 73 on Friday. Second-leading rusher Karsen Black has 45 yards for the year, aided by a 44-yard run against Kenton.
On the other side of the ball, Celina has improved since a pair of tough matchups at the start of the season. Versailles, whose only loss came in a whirlwind finale at Marion Local, put up 42 points on Celina before defending state champion Van Wert scored 45. Facing less prolific offenses the last two games, Celina has averaged a more manageable 23.5 points allowed.
King leads the defense with 42 tackles and a pair of pass breakups, while Jack Hassan has three tackles for loss.
Against Kenton, the defense came up with a pair of fourth-down stops in the second half, an interception to set up the first touchdown, and a stuffed two-point conversion with a minute left to win the game. Rece Rutledge sacked Kenton quarterback Korbin Johnston twice with Aidan Song adding another, and the Celina front seven pushed around Kenton's offensive line to hold the Wildcats to 46 rushing yards.
Elida (2-2, 1-2 WBL) boasts a more experienced front five and relies on a three-headed backfield led by junior Brady Kirk, who has racked up 244 yards on the season. Jalen Jones has 121 yards and has scored two touchdowns, while sophomore Jackson Covault entered the picture with 73 yards and a touchdown last week against Bath.
Quarterback Larkin Henderson had his best showing of the season on Friday, completing 13 of 24 passes for 87 yards. In the first three games, he went 1-of-7 with two interceptions.
Elida opened the season with two shutout wins, beating Spencerville 7-0 before routing Kenton 34-0, but has averaged 27.5 points allowed the last two weeks while only scoring twice.
Elida's defense has earned nine takeaways so far, but is outpaced by an offense that has given the ball away 12 times. Mike Niebel leads the defensive effort with 38 tackles.
Last year, facing off in week four, Celina came away with a 21-14 victory in Elida after Jaxson Silliman punched it in from the 1-yard line with five minutes remaining and the defense got a stop on the other end. Henderson ran for a 15-yard touchdown 30 seconds into the fourth quarter to give Elida a 17-14 lead before Celina came back.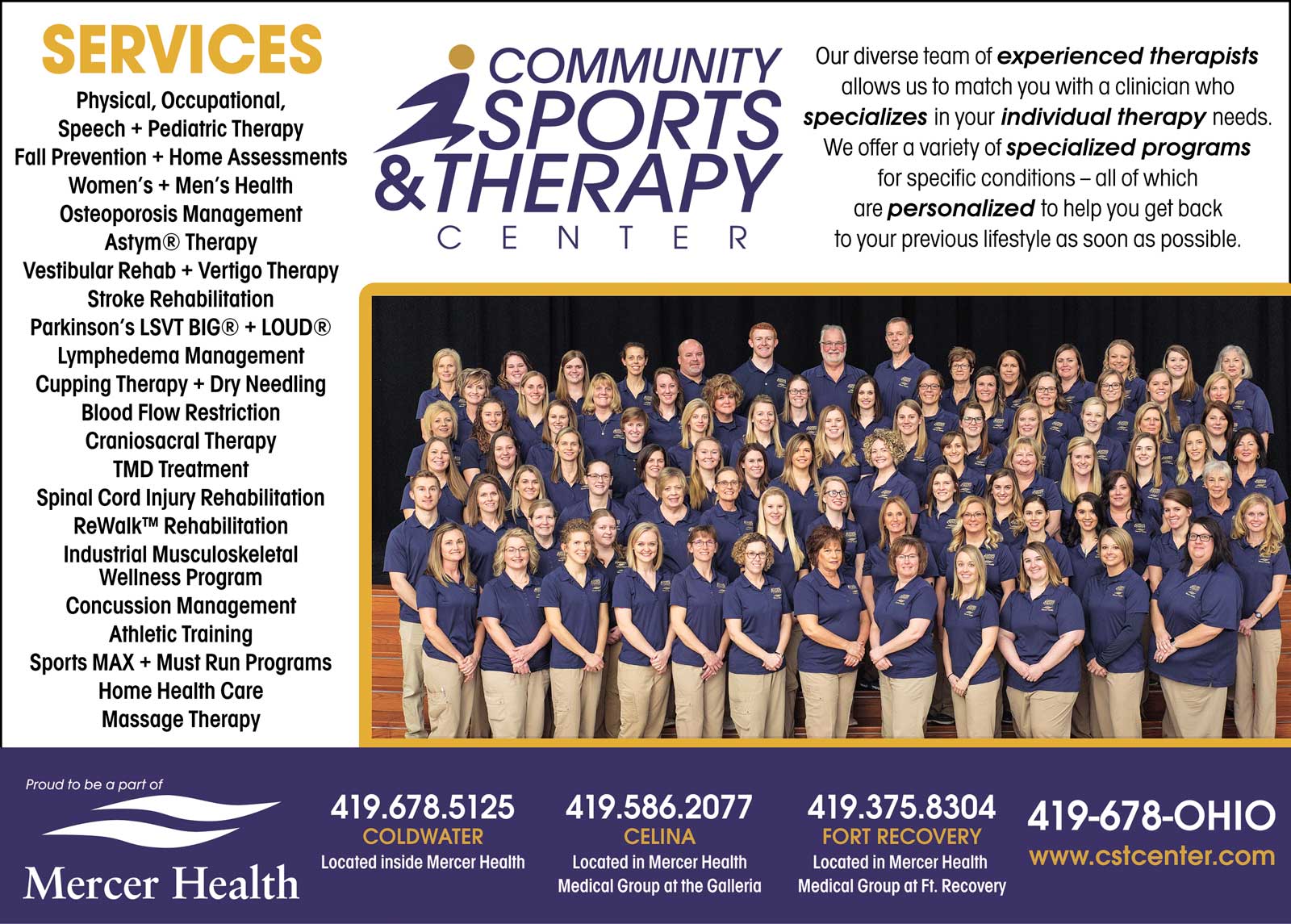 Thursday, September 16th, 2021
Some teams securing playoff spots, others need wins
By Bruce Monnin
Last week we noted two local teams who were effectively in must-win situations. Celina came through, earning a one-point win over Kenton. This does not get the Bulldogs into the top sixteen of their region but makes it more likely they can rise to that position.
The other team in desperate need for a win, Minster, suffered a brutal 27-0 defeat against Delphos St. John's. The Wildcats are now going to need one or two victories that would be considered major upsets.
On the other end of the spectrum, undefeated Marion Local has already earned enough computer points, historically speaking, to earn a spot in the top sixteen in division seven regions. With their playoff spot more or less secured, the Flyers can now work on securing a first-round home game by clinching a spot in the top eight.
St. Marys and Wapakoneta both have huge opportunities this week in facing undefeated Van Wert and Shawnee, respectively. However, the more important WBL game may be Celina hosting Elida. Both teams would find a win very useful in their run to a playoff spot.
In the MAC, Marion Local, Coldwater and Versailles look secure for the postseason, so the big game is likely New Bremen hosting Anna. The winner gains many computer points and will be aiming towards the top few spots in their region. The loser will fall closer to that critical eighth place needed to host a playoff game.
The computer points for the entire state, and especially the three regions involving most area teams (Regions 12, 24 and 28) can be found throughout the season at:
user.nktelco.net/bdmonnin/football.htm
.
Division III Region 12
Team - Ranking (Computer Points)
Lima Shawnee - 3rd (8.55)
Wapakoneta - 9th (4.70)
St. Marys - 11th (4.25)
Elida - 14th (2.93)
Celina - 19th (1.25)

Wapakoneta and St. Marys each dropped four places while the other three WBL teams remained steady in the standings.
Wapak has only lost to two undefeated teams. Unfortunately, the Redskins face another one when they travel to Shawnee. St. Marys has lost to two straight 2-2 teams, which is bad news as it faces undefeated Van Wert and Lima Shawnee the next two Fridays.
Celina has been hard to read, as it has defeated winless Kenton and lost to teams with a combined record of 11-1. The Bulldogs' final six contests are against middle of the pack WBL squads who have a combined record of 12-12. Every week should bring a new opportunity to slowly claw their way up the computer point standings.

Division VI Region 24
Coldwater - 1st (6.95)
Anna - 4th (4.78)
Fort Recovery - 10th (2.65)
Minster - 21st (0.00)
Parkway - 21st (0.00)
Coldwater continues to lead this region, with Mechanicsburg staying close. Expect undefeated Arcanum to start narrowing the gap, as they should start bringing in some second level points this week. The Cavaliers will be heavily favored against St. John's in a game not overflowing with computer point potential.
Fort Recovery has a difficult matchup against Versailles. A win would be huge, but the Indians should stay in the Top 16 even with a loss.
Anna could start contending for the top spot if it defeats New Bremen this Friday. Minster (at Marion Local) and Parkway (hosting St. Henry) are both heavy underdogs in their attempt to earn their first computer points of the season.

Division VII Region 28
Marion Local - 1st (8.55)
New Bremen - 5th (4.26)
St. Henry - 14th (2.00)

Marion Local remains at the top because their four victims are a combined 10-2 in the other games this season. The Flyers face less successful competition the next two weeks against Minster and Delphos St. John's.
New Bremen's loss to 4-0 Coldwater only cost it one position in the standings. St. Henry's loss to Marion Local dropped it three spots. This Friday, New Bremen has a chance to make big gains by defeating Anna, while St. Henry won't get much help if it triumphs over Parkway.

Other Regions of Interest
Division III Region 10
Defiance falls to 21st as its Week 1 win over Napoleon has failed to generate any second level points. This week's game at winless Kenton is probably a must-win for the Bulldogs' playoff hopes.

Division IV Region 14
Van Wert remains the top team in this region, while Kenton remains tied for last place. Van Wert should stay at the top if it wins at St. Marys, while Kenton has another opportunity for its first win against Defiance.

Division V Region 18
Bath moves up two spots for defeating its first opponent with a win, Elida. Ottawa-Glandorf is one spot behind in eighth place as the Titans have defeated both Elida and St. Marys. As these two teams face off in Ottawa this week, the winner will safely pull away from its victim.

Division V Region 20
Versailles inched up two positions by defeating winless Parkway. The Tigers travel to Fort Recovery with a chance to gain a larger chunk of computer points.

Division VII Region 26
Delphos St. John's earned its first win of the season over Minster but only moved one spot to 21st since the Wildcats provided no second level points. It will be tough to gain any points hosting undefeated Coldwater this week.

Thursday, September 16th, 2021
Two Minute Drill
By Daily Standard Staff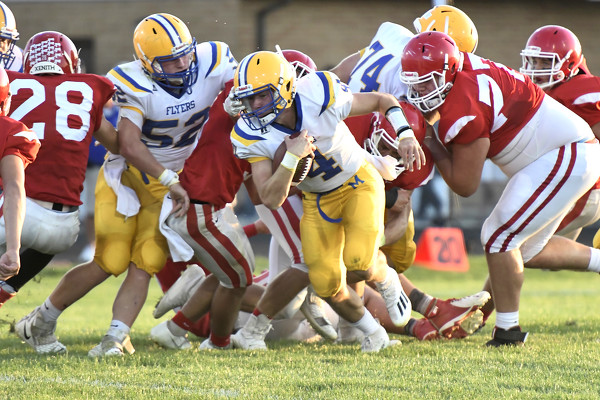 MINSTER at MARION LOCAL
Booster Stadium
Last Season: Dylan Fleck rushed for two touchdowns as the Flyers picked up a 28-0 win at Memorial Field.
About the Wildcats: After getting some offense going the week before against St. Henry, Minster struggled in a 27-0 shutout loss at Delphos St. John's. The Blue Jays outgained the Wildcats 333-224 as quarterback Brogan Stephey, who did rush for 91 yards, was intercepted twice. The Wildcats have turned the ball over 10 times this season and are minus-1 in turnover ratio.
About the Flyers: Marion Local spotted St. Henry the first touchdown but rolled the rest of the way in a 20-7 win in the rivalry game in St. Henry. The special teams came up big again with a second straight kickoff return for a touchdown, this time a Drew Lause return for 80 yards to tie the game.
DELPHOS ST. JOHN'S at COLDWATER
Cavalier Stadium
Last Season: Zack McKibben had three touchdowns (two rushing, one interception return) and Luke Sudhoff added three of his own in the Cavaliers' 57-13 win at Stadium Park.
About the Blue Jays: Todd Schulte's squad picked up its first win of the season in shutting out Minster 27-0. Quarterback Nolan Schwinnen had a breakout game with 204 yards passing with two touchdowns and running back Clay Paddubny rushed for 51 yards and a score. The passing yardage was more than double what the team was averaging in the first three games of the season (90.0). The Blue Jays are still struggling with turnovers, having thrown 10 interceptions and lost a fumble this season while posting a minus-7 turnover ratio.
About the Cavaliers: Coldwater keeps rolling along, beating a tough New Bremen team 28-14 last week. The bend-don't-break defense allowed the Cardinals to gain yards but made several big stops to keep them to just 14 points. The book-Ends combination of Tyler Schwieterman (247 receiving yards, four touchdowns) and Jesse Meyer (222 yards, two scores) continue to be the go-tos for quarterback Reece Dellinger, but slotback Marcel Blasingame and receiver Tanner Muhlenkamp are starting to pick up receptions as well.
VERSAILLES at FORT RECOVERY
Barrenbrugge Park
Last Season: Carson Bey rushed for 139 yards and two touchdowns and passed for 185 yards and three more scores in the Tigers 49-28 win over the Indians at Hole Field. Fort Recovery was held to just 41 yards rushing as quarterback Clay Schmitz passed for 307 yards and two scores.
About the Tigers: Versailles bounced back from the loss in Week 3 to Marion Local with a blowout win over Parkway. The backfield trio of Bey (303 rushing yards, 4 TDs), Jack Osborne (team-high 389 rushing yards, 5 TDs) and Landon Henry (184 yards, 5 TDs) has tallied nearly 77% of the rushing yards and all but four of the rushing TDs this season.
About the Indians: After a 2-0 non-conference start, the Indians have struggled in MAC play, being outscored 70-6 in losses to Coldwater and Anna. Riley Hiser continues to be the main force of the offense with 574 yards rushing this season.
ST. HENRY at PARKWAY
Panthers Stadium
Last Season: Owen Lefeld rushed for 221 yards and two touchdowns in the Redskins' 29-0 victory at the Wally Post Athletic Complex.
About the Redskins: St. Henry is looking to bounce back after a hard-fought 20-7 loss to Marion Local last Friday. The Redskins got the first touchdown of the game but were shut down by the Flyer defense the rest of the way. Lefeld is averaging just over 109 yards per game and has eight touchdowns while quarterback Bryce Brookhart has completed over 61% of his passes for 565 yards.
About the Panthers: Parkway struggled against run-heavy Versailles, giving up 342 yards on the ground in a 49-14 loss at Hole Field in Darke County. Eddie Nichols had 90 yards on the ground against Versailles, but the team is struggling in averaging just under 100 yards per game on the ground and 119.5 yards through the air. Opposing teams are running the ball often, averaging 323.8 yards per game with 17 touchdowns.
ANNA at NEW BREMEN
Cardinals Stadium
Last Season: Mitchell Hays threw for three touchdowns and rushed for 105 yards and a score in the Cardinals' 38-7 win at Booster Field.
About the Rockets: Anna looked sharp in a 28-0 shutout win at home against Fort Recovery. Justin Richards rushed for 121 yards to help set up the Rocket offense as quarterback Carter Seigle passed for two scores and Brandon Axe and Hunter Schmidt each had a score.
About the Cardinals: The Cardinals struggled out of the gate against Coldwater but were only trailing 13-0 at the half. The offense got better, but not enough as the Cavaliers won 28-14. Quarterback David Homan continues to be the main catalyst on offense, rushing for 511 yards and throwing for nearly 400 yards.
VAN WERT at ST. MARYS
Grand Lake Health Systems Field
Last Season: Owen Treece passed for 342 yards and five touchdowns, including the game-winning 75-yard score to Dru Johnson midway through the fourth quarter, in the Cougars' Van Wert 34-28 over the Roughriders at Eggerss Stadium. Aiden Hinkle had 123 yards rushing and two scores.
About the Cougars: The defending Division IV state champs are rolling along in starting 4-0. Quarterback Aidan Pratt has shined in taking over for Treece, the 2020 WBL Co-Offensive and Co-Defensive Back of the Year. Pratt has completed over 82% of his passes (81-of-98) for 1,233 yards and 15 touchdowns without an interception. Pratt has also rushed for 377 yards and six touchdowns. Three receivers have 270 or more yards this season led by Maddix Crutchfield's 342 yards on 28 catches and two scores. Connor Pratt adds 354 yards on 19 catches and three scores while Garrett Gunter has 11 catches for 273 yards and five scores.
About the Roughriders: After losing on a field goal to Wapakoneta in Week 3, St. Marys struggled to get anything going at Ottawa-Glandorf last weekend in a 35-16 loss. St. Marys had more passing yards (142) than rushing yards (116) in the contest as Gavin Reineke went 9-of-19 with two touchdowns and two interceptions.

Thursday, September 16th, 2021
Goal Line
Players of the Week
Offense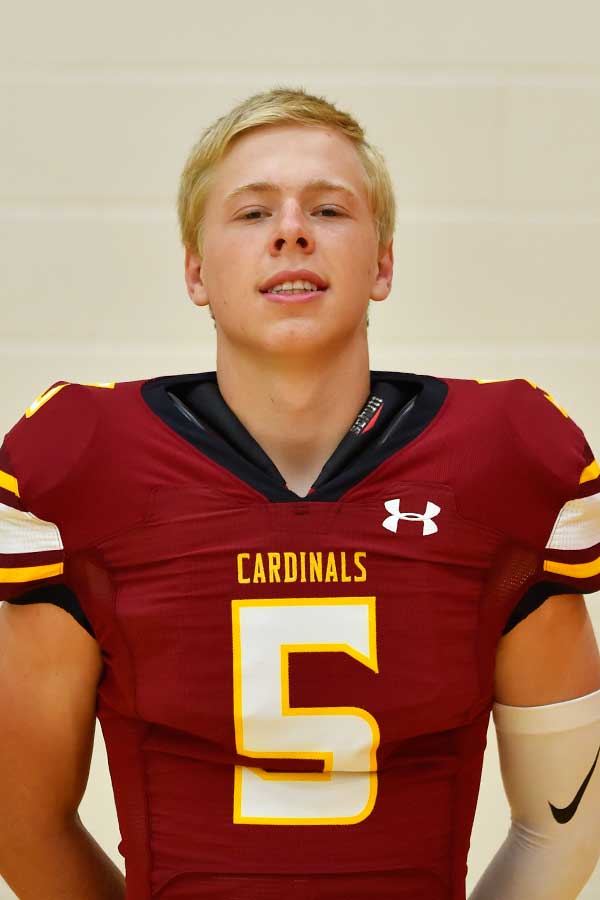 David Homan, QB New Bremen
25 carries for 149 yards and a touchdown in the Cardinals' 28-14 loss to Coldwater.
Defense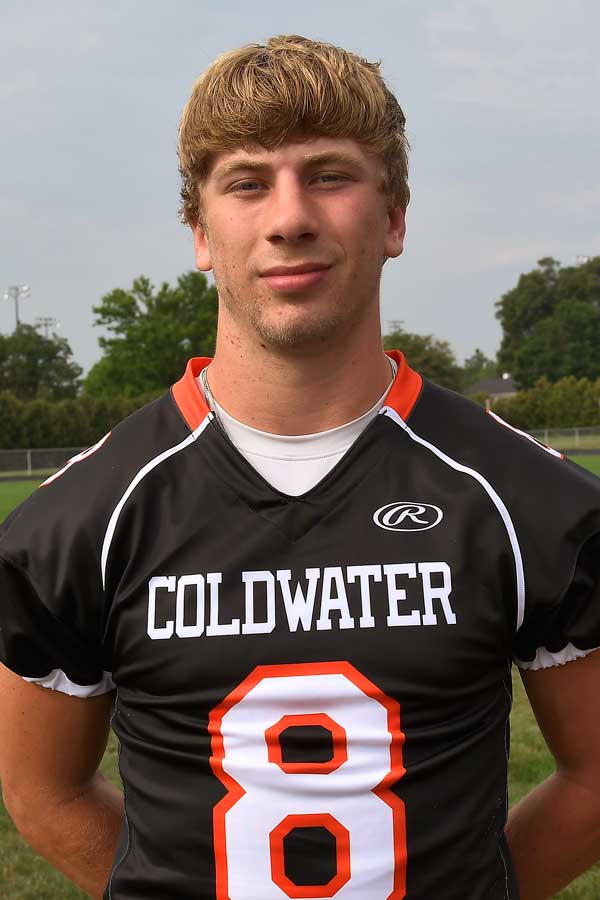 Isaac Fullenkamp, LB Coldwater
14 tackles, 2 tackles for loss and forced fumble in the Cavaliers' 28-14 win over New Bremen.
MAC Standings
| | | |
| --- | --- | --- |
| | MAC | Overall |
| Coldwater | 2-0 | 4-0 |
| Marion Local | 2-0 | 4-0 |
| Anna | 2-0 | 3-1 |
| New Bremen | 1-1 | 3-1 |
| Versailles | 1-1 | 3-1 |
| St. Henry | 1-1 | 2-2 |
| St. John's | 1-1 | 1-3 |
| Fort Recovery | 0-2 | 2-2 |
| Minster | 0-2 | 1-3 |
| Parkway | 0-2 | 0-4 |
MAC Friday's Games
Minster at Marion Local
St. John's at Coldwater
St. Henry at Parkway
Versailles at Fort Recovery
Anna at New Bremen
WBL Standings
| | | |
| --- | --- | --- |
| | WBL | Overall |
| Shawnee | 3-0 | 4-0 |
| Van Wert | 3-0 | 4-0 |
| Bath | 2-1 | 3-1 |
| Ottawa-Glandorf | 2-1 | 2-2 |
| Wapakoneta | 2-1 | 2-2 |
| Elida | 1-2 | 2-2 |
| St. Marys | 1-2 | 2-2 |
| Celina | 1-2 | 1-3 |
| Defiance | 0-3 | 1-3 |
| Kenton | 0-3 | 0-4 |
WBL Friday's Games
Elida at Celina
Van Wert at St. Marys
Wapakoneta at Shawnee
Defiance at Kenton
Bath at Ottawa-Glandorf
All games kick off at 7 p.m.