Thursday, September 19th, 2019
Big Battle in Minster
'Cats seek 1st victory over Cavs since 2016
By Colin Foster
On Oct. 7, 2016, Minster finally defeated what head coach Geron Stokes refers to as one of the Midwest Athletic Conference's "big dogs."
"It's the first time we've not laid down for one of the big dogs," said Stokes after beating Coldwater 33-18. "They wanted this tonight. We physically whipped them. That's why you work. Coldwater's a really good football team, but our kids were just ready to play."
The 'Cats are in for another dogfight this Friday when Coldwater visits Memorial Field. Each team enters 3-0 and 1-0 in MAC play. Since that 2016 loss, the Cavaliers have won two consecutive in the series - including a 17-16 decision in 2017 and a 31-20 victory last year.
"We love competing at the highest level," Stokes said. "It's really just like any other game, but you just have to be better."
Perhaps even more so against this year's Cavs.
Through three games, Chip Otten's team has an average victory margin of 40-7. Coldwater holds the top spot in the Division VI, Region 23 playoff standings and Minster is fourth.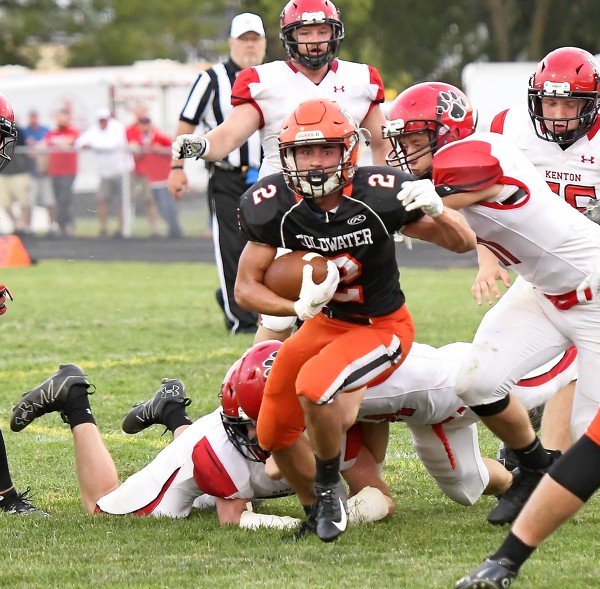 Photo by Nick Wenning/The Daily Standard
Coldwater, which leads the all-time series against Minster 50-14-1, is led by All-MAC, district and state quarterback Jake Hemmelgarn (597 passing yards, 7 TDs, 1 INT/ 255 rushing yards, 4 TDs). Noah Miller (12 catches, 208 yards, 4 TDs), Will Broering (8 catches, 129 yards, 1 TD), Myles Blasingame (6 catches, 108 yards, 1 TD) and Zack McKibben (7 catches, 84 yards, 1 TD) are the top receivers. McKibben is dangerous as a return man, too, having taken a kickoff 87 yards to the house in last week's 42-7 win over Versailles. Nathan Grieshop has rushed for 138 yards and two scores.
Defensively, Grieshop and Russell Klosterman share the team lead in tackles with 26 apiece. Josh Hrycko has tallied 21 tackles and an area-leading four sacks.
"We're really healthy, so that's obviously a really good bonus for us at this point," said Otten, who boasts an 8-1 record against Minster. "Part of our success is that we've got a really good group of seniors that are smart guys, that have done things the right way and they're pulling us along. We also have seven, eight, nine juniors who are good players. They're bought in and they get along really well.
"We're playing pretty efficiently on offense and spreading the wealth and a lot of guys are contributing," he added. "Defensively, we're playing really, really stout. We're not giving up hardly anything on the run. We're just playing pretty good right now."
Stokes' team knows Coldwater's good, too.
"They're loaded," he said. "They've got skill kids. They're solid at all 11 positions every year. We have to be better."
The Wildcats have averaged a 32-19 victory margin through three games. Otten considers Minster the most balanced and experienced team his bunch has faced to date. The Coldwater coach said his biggest concern is winning the trenches, especially offensively, to keep the Wildcats from running wild like they did last week. when Alex Schmitmeyer had 33 carries for 261 yards and four touchdowns against Fort Recovery.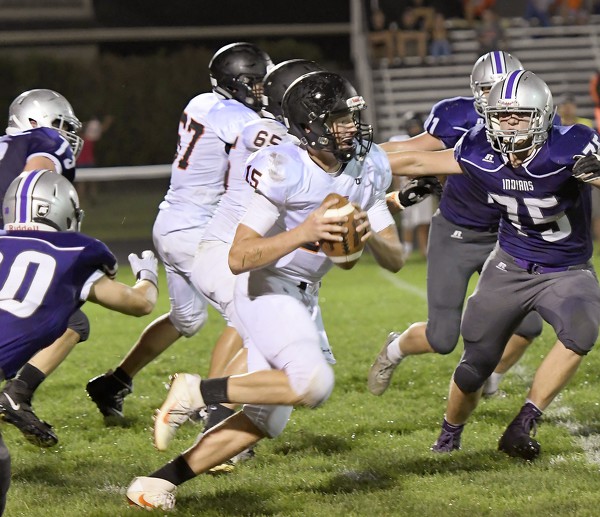 Photo by Nick Wenning/The Daily Standard
"I think the thing that stands out most is that they're more balanced than the teams we've faced so far," Otten said. "You know, Kenton's all throw. Mount Healthy's all run. Versailles did a decent job of some quick passing game, but I think they really would prefer to run the ball. Minster's more balanced, even though last week they didn't throw much. Probably the thing that stands out most is I really like their O-line. I think it's a solid group with a really good running back and a quarterback (Jacob Niemeyer) who runs well. They've got two guys that run the ball with a really physical O-line."
Minster has defeated three playoff-probable teams already this season in Fort Loramie, Covington and Fort Recovery. Minster had its most-complete effort of the season last week with a 41-20 victory at Fort Recovery.
"We're not perfect by any stretch - we've got a long way to go," Stokes said. "But I think our kids learned last week that the messy part of the process is the most beautiful part. It's hard. It's tough. You don't always feel like getting better, but when it's hard and you're frustrated, those are the times you're really getting better. I thought that was good for our entire program last week."
Since 2014, the Wildcats have won a lot of games and two state championships. But that October 2016 night marked their only win during that stretch over what Stokes considers to be the MAC's big dogs: Coldwater and Marion Local.
Minster is excited for another shot this week.
"In games like this, you have to play good football in every spot," Stokes said. "You've got to be disciplined and do what you do at a high level. This is so perfect for us because it's exactly what we need right now."
Thursday, September 19th, 2019
Two-Minute Drill
By Daily Standard Staff
Elida at Celina
Celina Stadium
Last Season: Celina traveled to Kraft Stadium and won a 56-36 shootout. Celina led 21-3 before Elida came back to take a 29-28 lead late in the third quarter. Then Celina scored 28 of the final 35 points. Chase Stephens rushed for 130 yards and a touchdown and Kyle Zizelman added 98 yards and two scores for Celina.
About Elida: Elida had one of its best defensive games of the season last week. Unfortunately, so did Bath as the Wildcats won their first game of the season with a 6-0 result on Saturday night. The Wildcats scored their lone touchdown with 33 seconds remaining in the contest. Elida had a solid running game with Marcel Poe rushing for 135 yards and quarterback Keshawn Spivey adding 102 yards. Spivey, who took over in Week 2, passed for 60 yards and two interceptions.
About Celina: After looking good early with a 14-0 lead, Celina struggled the rest of the game in falling 42-14 to Kenton in the home opener. Jaxson Silliman rushed for 144 yards in the contest and Drake Langenkamp had an interception return touchdown in the first quarter. After seeing a run-based offense in Week 1 and a spread passing offense in Week 2, Celina will see a lot of running when it meets Elida.
Delphos St. John's at Marion Local
Booster Stadium, Maria Stein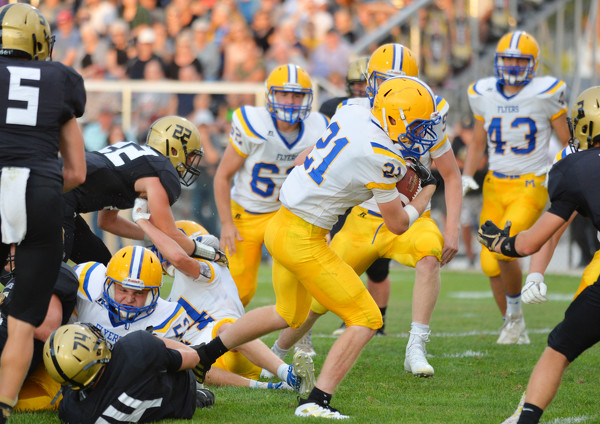 Photo by Dan Melograna/The Daily Standard
Last Season: Nate Bruns threw for 246 yards and three touchdowns, two going to Nick Tangeman, in a 53-7 win over the Blue Jays at Stadium Park. The Flyers limited the Blue Jays to 55 yards of total offense.
About the Blue Jays: After winning in dramatic fashion in the opener with Elida, St. John's struggled with losses to LCC and St. Henry. Quarterback Brady Parrish has been the main cog of offense so far, leading the team in rushing with 129 yards and two touchdowns and 296 passing yards.
About the Flyers: After suffering its first non-conference regular season loss since 2014, Marion opened MAC play in style with a 49-0 shutout win over Parkway, the second shutout in three games this season. The 1-2 punch of backs Kyle Heitkamp (168 yards, 6 TDs) and Brandon Fleck (162 yards, 2 TDs) has been potent for the Flyers. Linebacker Matt Everman leads the team with two sacks.
Fort Recovery at New Bremen
Cardinals Stadium
Last Season: Nolan Bornhorst's 30-yard pass to Bryce Blickle for a touchdown with 1:49 remaining in regulation allowed the Cardinals to leave Barrenbrugge Park with a 19-15 victory. Bornhorst rushed for 109 yards and passed for 177 yards while Clay Schmitz passed for 209 yards and two scores for the Indians.
About the Indians: Last week, Fort Recovery struggled in stopping Minster running back Alex Schmitmeyer, who rushed for 261 yards and four scores in a 41-20 Wildcat win. Indians running back Derek Jutte had a great first half with 118 yards and a score but was held to just 10 yards in the second half.
About the Cardinals: The Cardinals ran into a strong Anna squad in taking a 45-0 loss in Shelby County. New Bremen was held to just 108 yards as it fell to 2-1 on the season.
Parkway at Versailles
H.B. Hole Field
Last Season: Nick Hawk rushed for 164 yards and two touchdowns, including the go-ahead score midway through the first quarter to give Parkway its only win of 2018 by a score of 21-7 at Panthers Stadium. All the scoring was done in the first nine minutes of the game.
About the Panthers: After starting 2-0 for the first time in a decade, the Panthers took a tough 49-0 loss to state power Marion Local. Parkway was able to move the ball well in the game, tallying 213 yards of offense, but was unable to reach the end zone. RB/DE Nick Hawk continues to be a force on both sides of the ball, rushing for 256 yards and three scores and adding 16 tackles on defense. QB Eli Rich has completed 60% of his passes as he has grown into the starting role since taking over early last season.
About the Tigers: After getting their first win in Week 2 over Delphos Jefferson, Versailles was dealt a 42-7 loss by Coldwater at Cavalier Stadium. First-year coach Ryan Jones has put emphasis on the passing game while keeping it fairly balanced. Quarterback Ryan Martin has thrown for 457 yards with four touchdowns and two interceptions. The offensive line has been formidable, allowing just one sack this season. Receiver Michael Stammen has caught three of four Martin TD passes.
Anna at St. Henry
Wally Post Athletic Complex
Last Season: Anna won 28-27 in overtime at Booster Field in Anna. The Redskins scored a touchdown to get within one in OT and went for the victory but missed the two-point conversion. Zach Niekamp rushed for 230 yards for St. Henry while Riley Huelskamp had 144 yards and three touchdowns for Anna.
About the Rockets: Anna has started out the season 3-0 and is ranked second in the first AP Division VI poll. The tandem of Huelskamp at tailback and Bart Bixler at quarterback continues to be potent. Huelskamp has 341 yards rushing with eight touchdowns with Bixler rushing for 324 yards and nine scores while adding 334 passing yards and two scores. The Rockets are plus-five in turnover ratio (eight takeaways to just three turnovers). 324 yards and nine scores while adding 334 passing yards and two scores. The Rockets are plus-five in turnover ratio (eight takeaways to just three turnovers).
About the Redskins: After a rough non-conference slate, St. Henry won its first game of the season last week in Delphos. The Redskins defeated St. John's 24-21 on a 20-yard field goal by Logan Lefeld with time running out. Running back KJ Jacobs had a breakout game with 178 yards and a touchdown.
Van Wert at St. Marys
Grand Lake Heath System Field
Last Season: The Roughriders held the Cougars to just 158 yards of offense in a 38-8 win at Eggerss Stadium in Van Wert. Two of Van Wert's three losses in 2018 came at the hands of St. Marys, which beat the Cougars 55-20 in the Division IV regional semifinals.
About the Cougars: Van Wert had to fill some spots on offense this season. Owen Treece has taken over at quarterback and has been able to throw the ball well, passing for 545 yards. But he has been picked off five times, including four times last week in a 13-7 loss to unbeaten Wapakoneta.
About the Roughriders: After three straight road games to start the season, the Roughriders play their first official game at their new venue. St. Marys took a pair of tough losses to start WBL play, including a three-point loss to Ottawa-Glandorf last Friday. St. Marys has struggled with injuries at times this season. Defensive end Blake Kanorr leads the team with 43 tackles.
Thursday, September 19th, 2019
Players of the Week
Offense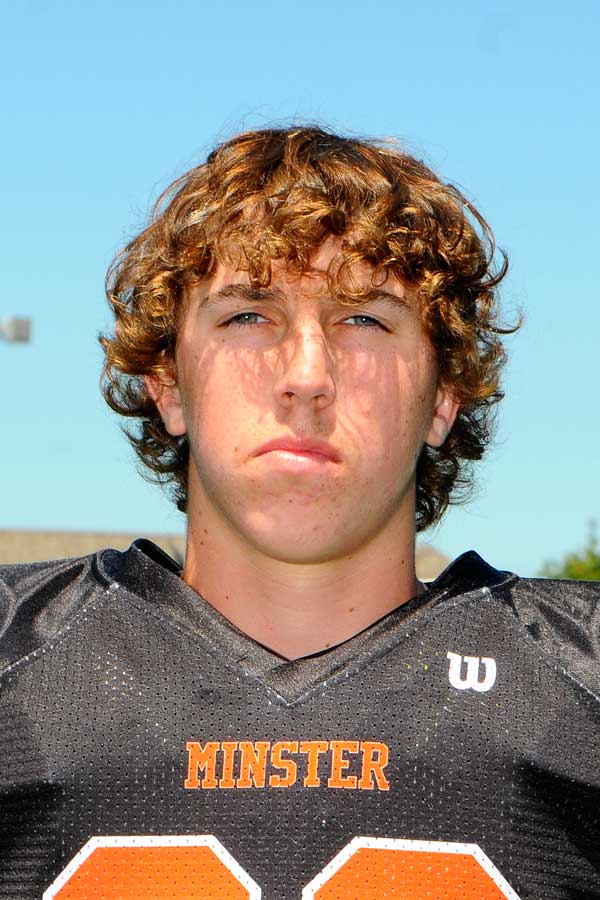 Alex Schmitmeyer, RB Minster
33 carries for 261 yards and four touchdowns in the Wildcats' 41-20 win at Fort Recovery.
Defense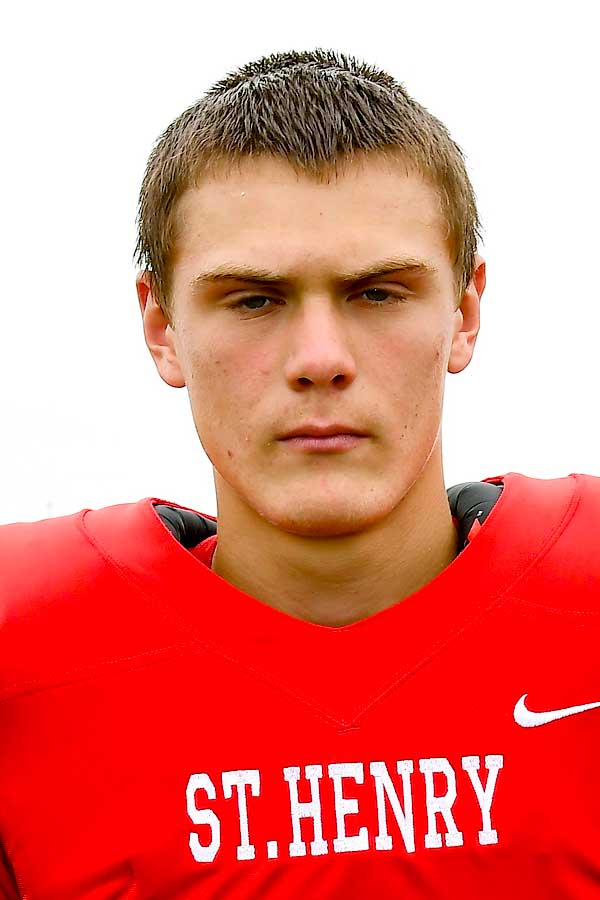 Owen Lefeld, LB St. Henry
12 tackles, 5 tackles for loss and a fumble recovery in the Redskins' 24-21 win at Delphos St. John's.
Thursday, September 19th, 2019
Goal Line
By Daily Standard Staff
Football Facts of the Week:
• Since 2014, Minster has earned two state championships and one runner-up but has gone just 1-9 against Coldwater and Marion Local in that stretch.
• The 87-yard kickoff return by Coldwater's Zach McKibben against Versailles last week was the ninth-longest return in program history. Four of the top 11 returns have come against Versailles (stat provided by Chris Cron).
• St. Marys has lost two consecutive games for the first time since 2015. In that season, the Roughriders had a pair of two-game losing streaks, falling to Bath and Celina on Oct. 2 and 9 and then losing to Wapakoneta and Ottawa-Glandorf on Oct. 23 and 30.
• St. Marys is playing its first-ever game at Grand Lake Health System Field this week after three straight road games to start the season. The last time St. Marys opened the season with three consecutive road games was in 2001 when it traveled to Sidney, Wapakoneta and Ottawa-Glandorf. (St. Marys info courtesy of school's football history website).
Standings
MAC
| | | |
| --- | --- | --- |
| | MAC | Overall |
| Anna | 1-0 | 3-0 |
| Coldwater | 1-0 | 3-0 |
| Minster | 1-0 | 3-0 |
| Marion Local | 1-0 | 2-1 |
| St. Henry | 1-0 | 1-2 |
| New Bremen | 0-1 | 2-1 |
| Parkway | 0-1 | 2-1 |
| Del. St. John's | 0-1 | 1-2 |
| Fort Recovery | 0-1 | 1-2 |
| Versailles | 0-1 | 1-2 |
Friday's Games (7 p.m. starts)
Coldwater at Minster
Anna at St. Henry
Del. St. John's at Marion Local
Fort Recovery at New Bremen
Parkway at Versailles
WBL
| | | |
| --- | --- | --- |
| | WBL | Overall |
| Shawnee | 2-0 | 3-0 |
| Wapakoneta | 2-0 | 3-0 |
| Kenton | 2-0 | 2-1 |
| Ottawa-Glandorf | 2-0 | 2-1 |
| Van Wert | 1-1 | 2-1 |
| Bath | 1-1 | 1-2 |
| Celina | 0-2 | 1-2 |
| St. Marys | 0-2 | 1-2 |
| Elida | 0-2 | 0-3 |
| Defiance | 0-2 | 0-3 |
Friday's Games (7 p.m. starts)
Elida at Celina
Van Wert at St. Marys
Wapakoneta at Shawnee
Defiance at Kenton
Bath at Ottawa-Glandorf