Friday, August 25th, 2006
Green and White netters look strong
Bulldogs cruise past Roughriders, 4-1
By Ryan Hines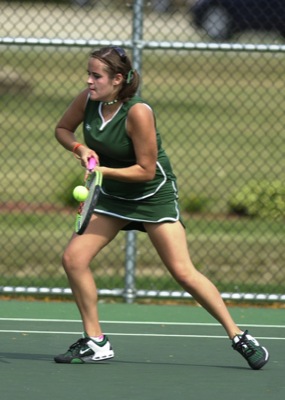 The Celina tennis team is off to a 4-0 start on the young fall sports season following a 4-1 victory over rival St. Marys on Thursday night.
The three Bulldogs' tennis matches all ended in victories for the Green and White.
Kelly Casad won at first singles over Kelly Fritz, 6-0 and 6-1, Erynn Piper was victorious in second singles 6-2 and 7-6 (5) over Megan Dominik and Kendra Menchhofer cruised past Lauren Miller 6-3 and 6-0.
The lone St. Marys victory came in first doubles where Alysha Moore and Amanda Tebbe defeated the Celina pair of Jess VanTilburg and Erin Brooks in matching 7-5 sets.
The Bulldogs did win the second doubles match as Jess Wills and Amber Jaeger teamed up to beat Roughriders' team of Kelly Byer and Jessie Wierwille, 6-1 and 6-1.
In jayvee action, Candy Kluver and Alissa Westgerdes won 8-1, Sara Dorsten and Kinzie Gardner triumphed 8-4 and Abbie Brown and Olivia Pyles were victorious, 8-3.
Celina hits the courts again on Monday back in Western Buckeye League action at Van Wert.