Saturday, September 30th, 2006
Blue Goose coming down
By Timothy Cox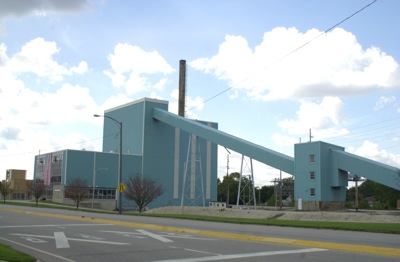 Crews have started removing asbestos from the Blue Goose in Celina with the old power plant to be completely dismantled within a couple of months.
The building has been turned over to B&B Wrecking, Cleveland, city Safety-Service Director Jeff Hazel said. All city property inside the building has been removed; only the huge American flag draped on the east side of the structure remains.
The company is paying the city $26,000 for the right to take down the building and salvage the scrap metal from the site. The 1-acre parcel is eventually to serve as the site for a new water treatment process being added to the city's current system.
"They've been working since early September. We should start to see some noticeable demolition work taking place real soon," Hazel said.
The Blue Goose was built in 1969 and was plagued by problems from the beginning. It never produced enough power to run the city and was finally shut down permanently in the spring of 1973.
It currently served only as storage for stolen bicycles recovered by the police department and for some electrical equipment. The electric department has relocated its materials and Wal-Mart donated space for the police to store the bikes, Hazel said.
The fate of the flag remains undetermined. Hazel said he has discussed the issue with electric Superintendent Jeff Severns but no decisions have been made.
The city currently has no buildings that could accommodate the oversized banner, but the new water treatment facility to be built there might be big enough, Hazel said.
The town might have to recruit some Boy Scouts or others knowledgeable about properly folding and storing flags to get the flag down, Hazel said.