Thursday, October 5th, 2006
Bulldogs looking for second straight win on Friday
By Ryan Hines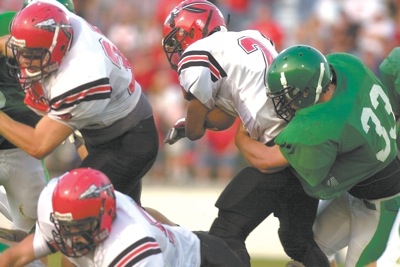 Celina struggled a week ago, but still managed to pick up its second win of the season in a nail biter over Elida.
A possible second straight win isn't out of the question this week as Celina hosts Bath in a battle of teams in the bottom half of the Western Buckeye League.
Although Bath sports the exact record as Celina at 2-4 overall and 2-3 in the WBL, Harris sees the Wildcats as an up-and-coming team in the league.
"Bath is a pretty decent football team that keeps getting better, and that's their team in a nutshell," said Harris. "Honestly speaking, Bath is probably the best team in the bottom half of the league right now."
Harris' kind words are based on watching the Bath running game, which has had huge nights in both victories this year over Van Wert and Elida (a combined 1-11 overall and 0-10 in the WBL).
"They ran crazy against Elida. Scored five touchdowns early and made it look awfully easy," said Harris. "We had some trouble against Elida. Bath seems to be a favorable opponent right now."
Todd Ruggley is the workhorse for the Bath rushing attack as he totaled 446 yards and six touchdowns in the two wins over WBL competition.
"Their offensive line and running back were impressive on film," commented Harris. "They're bigger than us and they move people. The push people and the tailback is able to cut from right tackle to left tackle. He's able to find space and then he just takes off.
"They just want to give it to the tailback because that's when they're at their best. If that doesn't work, then they shift to shotgun and try to spread you out."
Celina got some good news on offense as starting quarterback Derek Gagle returns to the lineup after missing last week's game due to a severely sprained ankle.
"Gagle practiced for the first time this week on Tuesday and was about 70 percent on Tuesday, so we're anticipating that he'll start for us," said Harris. "His return gives us more options in the passing game and we'll have to throw the football to win this game.
"Only problem is that having to throw the ball only compounds our problem right now because we don't give him much time to throw back there," continued Harris. "If we aren't able to throw the ball, our only other choice is to hand off the ball and then punt after three downs."
The running game looked strong with John Bonvillian starring a week ago against Elida in the first half, but adjustments at halftime shut down the Celina running game.
"Bath will run a multiple-look defense just like everyone else does these days," said Harris. "They'll probably go with an odd-man look because Elida stopped us when they went to that and I'm sure that they noticed that. I anticipate that they'll put a lot of people on line of scrimmage and dare us to throw the football and we'll have to be able to do it. Bath's strength is on defensive front for them, the secondary isn't their strength."