Saturday, November 18th, 2006
Animal mania and the Christmas spirit
By Shelley Grieshop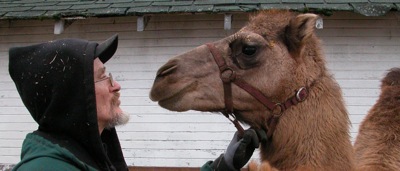 MENDON - Noah of biblical fame would feel right at home on the Barber farm.
Creatures big and small are plentiful in pens and barns near the winding Neptune-Mendon roadway. But this time of year, it's the family's camels that steal the spotlight at live Christmas nativity scenes.
"They're our babies," Don Barber of Mendon quickly replies when asked why anyone would want to raise six camels.
His wife, Karen, also adores the towering "beasts of burden."
"There's Joe, Elizabeth, Cookie, Olivia, Victoria and Emily. We just love 'em," she adds.
The couple fell for the long-necked, long-lashed, creatures 10 years ago at an exotic animal sale after feasting their eyes on Sherman, a 5-week-old calf.
"There he was in the show ring. Don kept talking about him, he couldn't take his eyes off him," says his wife.
Camels are expensive - adult bulls can cost thousands of dollars - and they didn't have the cash in hand at the time, Karen Barber says. They talked about it after arriving home and soon were back on the highway heading for - ironically - Mendon, Mich., to bring their baby home.
The rest is history, as they say. The couple now breed and sell camels and other animals of every size and color and are licensed annually by the state and federal government.
In good weather, motorists line the road near the family's gravel driveway to get a glimpse of the white deer, speckled goats and pot-bellied pigs. Also peeking their noses from beyond wire and wood fences are horses, donkeys, mules and llamas.
Inside the home, a parrot, countless Chihuahuas, cats and an aging Doberman reside, while two monkeys and another screeching parrot are housed in an adjacent shed. Former farm guests include buffalo, zebra, coatimundi (of the raccoon family) and even a kangaroo.
Camels are a lot like horses, Don Barber says. The family's herd of dromedaries (one hump camels) eat grain and hay and love treats like peppermint and cookies.
Karen Barber, a van driver for the Mercer County Council on Aging, says the single humps are much more calm and personable than their cousins, the Bactrians (double humps). She describes how one of the largest camels in their herd rests its huge head in her cradled arms, its soft chin cuddling against her small 5-foot-5-inch frame. It also gives her a kiss on demand, she says with a grin.
The largest camels in the Barber herd measure about 6 1/2 feet at the hump, their heads swaying more than a foot higher. If annoyed or scared, the camels will dangerously kick outward with all four legs.
At a live nativity program in St. Henry a few years ago, sudden noise from a 6-foot speaker startled one camel who was chased across the countryside for hours before being corralled in a barn.
"Don was holding the rope and he got knocked out but no one else got hurt," Karen Barber says. "You could see the camel darting back and forth, purposely dodging around people as he went."
For years the Barbers have taken a mixed menagerie of camels, donkeys, goats and llamas to the Church of God in Van Wert where a group of troubled teens lead them around for hours.
"Everyone just loves it," says Karen Barber. "We also let the students name the goats we bring each year. The kids really look forward to that."
Food for the camels and other animals is expensive and their care is time consuming. Don Barber, who is currently on strike from Goodyear Tire & Rubber Co. in St. Marys, says it takes two days to get the animals groomed and ready for petting zoos, Bible school programs and other events.
Space is an issue on the small farm and the couple are currently seeking more land. They welcome visitors with open arms and dream of one day operating a nature preserve to share their passion.
"It's a lot of tedious work but it's rewarding," Don Barber says, as one of the camels carefully nudges the bill of his cap in search of another handful of grain.