Thursday, February 1st, 2007
Wapak lawyer defends top U.S. officer in Iraqi abuse scandal
By Shelley Grieshop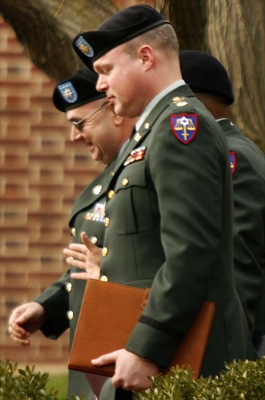 A local attorney is defending the highest ranking American soldier charged in the abuse of Iraqi prisoners at Abu Ghraib.
Major Kris Poppe, 44, a Wapakoneta resident, was tapped last summer to return to active duty with the U.S. Army Reserves to defend Lt. Col. Steven Lee Jordan, the former head of the interrogation center at the Abu Ghraib prison in Iraq.
Jordan, 50, is the first officer charged in the physical abuse and sexual humiliation of the prison detainees, in what has become a high-profile case nationally and internationally.
"It's very interesting to be working a case with that level of scrutiny," Poppe said Wednesday via telephone from his Army base at Fort Knox, Ky.
A 1981 graduate of New Bremen High School, Poppe has an impressive military record himself, serving more than two decades in the Marines, the Ohio National Guard and the Army Reserves. As a Judge Advocate General (JAG) officer, he served at various bases across the country and spent several years as an assistant professor, teaching in the Army's lawyer training program in Virginia.
Poppe said his family - wife, Suzanne, and two children, Lucas, a high school sophomore, and Katie, a seventh-grader - were his first consideration when asked last summer to defend Jordan.
"I had to weigh it against all personal considerations," he said, adding that he also left behind his practice in Auglaize, Mercer and Allen counties. "But I've been in the service 25 years, and when they call, you go and do your duty."
Jordan is being court-martialed on eight charges, including cruelty and maltreatment of prisoners, and faces a maximum 22 years in prison. Although he did not personally take part in the abuse, he is accused of looking the other way in 2003 as prisoners were stripped naked, photographed in humiliating poses and intimidated by vicious dogs. He also is accused of lying to investigators.
Photos of the abused prisoners were made public in 2004 and became a hot topic in the United States and abroad, causing an uproar in the Muslim world.
Last fall, an Article 32 investigation by top military officials was held to determine whether enough evidence existed to go to trial on the 12 charges originally filed against Jordan. Those charges included three counts of dereliction of duty.
Jordan did not offer a plea to the eight charges (four were dismissed) during an arraignment hearing Tuesday at Fort McNair, just a few blocks from the White House. At the hearing, Poppe filed a motion to dismiss the case to protect Jordan's right to a speedy trial. That motion will be heard at a hearing Feb. 6.
Poppe said he will continue to argue that no evidence exists to prove Jordan committed any of the crimes. Jordan has never spoken to the media because "he truly believes in the Army and doesn't want to hurt the military in any way," Poppe added.
Jordan, a soldier for 27 years, was to end his tour of duty in October 2004 but has been held on involuntary active duty due to the charges and is currently serving at Fort Belvoir, Va.
Poppe graduated from The Ohio State University and received his law degree from Ohio Northern University. Since 2003, he has worked alongside his father, well-known attorney John Poppe, in the family's law office in Wapakoneta.
"He's an excellent lawyer and military man," John Poppe proudly commented about his son, one of eight children.
John Poppe said through the years he's given his son advice from his own firsthand experience. One such piece of knowledge, handed down from father to son, was to visit the scene of the crime to get a better understanding of the case.
"But this time I told him, 'Don't you dare,' " John Poppe said with a laugh.
Mercer County Common Pleas Court Judge Jeffrey Ingraham describes Kris Poppe as "very professional and well prepared" as an attorney in his court. He said Poppe is especially good at representing clients in sensitive issues "because he relates well."
"In the world he finds himself in now, I respect and admire him for honoring his commitments," Ingraham said. "He will represent our legal profession in a very professional and sensitive way."
Kris Poppe said defending Jordan isn't much different than representing defendants back home.
"You have to work the case just like any case," he said. "In the end, you have a client to defend."