Wednesday, April 18th, 2007
Two little eaglets heads pop up at Grand Lake nest
By Shelley Grieshop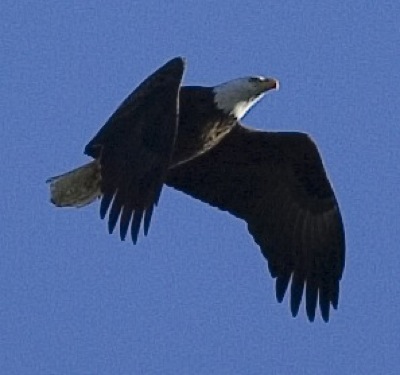 At least two eaglets have hatched and appear to be doing well along the southwest side of Grand Lake, despite last week's snowfall and cold spell.
Jill Bowers, a St. Marys resident and volunteer American bald eagle watcher for the Ohio Division of Wildlife, said she's confirmed "two little heads" in the nest in the Mercer County Refuge, but hasn't ruled out the possibility of a third.
The young hatched 21/2 weeks ago following an incubation period that began about Feb. 20 in the state protected wildlife area along state Route 703.
The parents of the chicks are seasoned veterans, having nested on the lake since 2001. They successfully reared a total of 12 eaglets prior to this year - including three eaglets hatched last spring.
Another pair of American bald eagles appear to be awaiting the arrival of their young in a nest near the Prairie Creek housing subdivision on the south side of the lake, along state Route 219 in Montezuma.
"They've not hatched yet but might by the end of the week or the beginning of next week," Bowers said.
The second pair of bald eagles hatched their first-ever brood last year in the same nest they chose again this year, near the housing subdivision. The incubation period began about March 12. The incubation period for most eagles lasts about 35 days.
Wildlife officials were thrilled last spring when both pairs of adult eagles each hatched three healthy eaglets in their lakeside nests.
Ohio's American bald eagle population continues to grow with 16 new pairs confirmed so far this year. Twenty-seven years ago there were only four nesting pairs along Lake Erie's shore; in 2006, Ohio wildlife officials confirmed 150 American bald eagle nests, which produced 206 young.
Bald eagles usually mate for life and often will reuse nests as long as they are undisturbed from year to year. Some nests reach 10 feet in diameter and weigh as much as 2,000 pounds.
Weather and even other eagles can endanger the lives of the chicks. Bowers said an immature eagle, about 2- or 3-years-old, recently flew near the nest on t he reserve and could have spelled trouble for the new family. Thankfully, he continued on his way southeast, she said.
"He was booking it, not intent on sticking around," she said, adding that springtime is a busy migration season for the majestic birds.
Bowers said the adult female on the nest "didn't even blink" at the sight of the intruding male. Problems likely were avoided because the resident male was not around for a confrontation, she added.
Although wildlife officials are ecstatic about the success of the two pairs of eagles in Mercer County, the Grand Lake area is large enough to offer a home to more. Bowers said the only drawback at the moment is the lack of tall trees for nesting.
Bowers also explained the lake's demographics - nearly surrounded by homes and people - is a scenario eagles tend to avoid. However, the pair near Prairie Creek don't seem to mind, she admitted.
"I guess if eagles are going to survive here they're going to have to adjust to people. But people need to remember to give them space," she said.
If eagle nests are disturbed, the adult birds might abandon their young who would certainly die without any means to get food on their own, Bowers said.