Saturday, April 21st, 2007
Bulldogs suffer third league loss
By Ryan Hines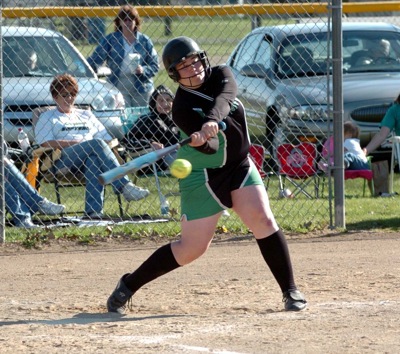 It's time for the Celina softball team to reassess its goals for this season.
The Bulldogs were hoping to compete for the Western Buckeye League softball crown, but Kenton handed Celina its third league loss of the season as the Wildcats won a game on the road at Bill Feth Diamond, 3-1.
With a WBL crown out of the question, Celina (10-3, 2-3 WBL) must now turn its attention to righting the ship before the postseason begins in a couple of weeks.
"I'm very disappointed because I know what these girls are capable of doing, but they are struggling right now with confidence and it's showing, especially on offense," said Celina head coach Nicole Driggs. "We have all the weapons that we need, but we don't have confidence right now and the girls have to find that within themselves.
"We have to regroup. I told the girls that this is humbling to the Celina softball program and it should be humbling to the girls too," added Driggs. "We need to reassess our goals and just work hard to get out of our current struggles. We need to take the humility and go from there."
It has been a struggle of late for the Celina offense, other than the 36-run outburst against Fort Recovery on Monday. The Bulldogs mustered just five hits against Kenton pitcher Julia Stalder, who was hardly dominating, but still was in control with a strong defense behind her.
"Julia threw a good game for us against a very good Celina team," said Kenton head coach Chuck Moore. "She threw strikes and our defense played well behind her when the ball was put into play."
Stalder got all the runs she needed from the Kenton (5-4, 3-2 WBL) offense in the first inning as Anne Derr ripped a single down the leftfield line scoring
(Continued from page 8)

Katie Conkle, who reached on an error, and Corina Reefs, who reached on a single.
"I think that the two runs in the first inning was a big confidence boost for us," said Moore. "I think that the girls were able to relax a little bit once we put a couple of runs on the board early."
Kenton made it a 3-0 lead in the fifth frame when Kaylee Sheets led off with a walk, stole second and third and then trotted home on a Sarah Cozad RBI single.
Celina responded with a run in the bottom of the fifth when Laura Homan lofted a double to left-centerfield scoring Audrey Harner, who reached on a fielder's choice.
Stalder made sure that Celina got no closer than two runs the rest of the way as the Wildcats hurler sent down the final six batters in order.
"We're hesitant at the plate and we're not attacking the pitch," pointed out Driggs. "We couldn't handle their pitcher tonight, and I think that it has a lot to do with confidence."
The lack of offense made Homan a hardluck loser for the Bulldogs, despite recording 16 strikeouts.
"Laura pitched great again for us and I think that she feels the pressure to pitch well because of our struggling offense and the errors we've been making on defense," said Driggs.
Celina is off today and will look to get back on track Tuesday in another WBL contest against Elida, the team that bounced the Green and White from the postseason in an upset a season ago.