Monday, September 24th, 2007
Hitting the mark
Celina archer holds world professional title
By Betty Lawrence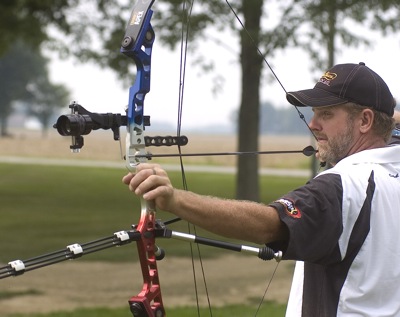 Chris Stachler was only the tender age of 5 when he got his first bow, a Bear Recurve, from his uncle Ted's barber shop in Celina.
Stachler is now the tender age of 44 and his lifelong love of archery has led him to a world archery title. His uncle still shoots but no longer sells archery equipment out of his barber shop.
In August, Stachler of rural Celina took the World Championship Professional Male Fingers class at the International Bowhunting Organization's tournament in Anderson, Ind.
Some archers use a mechanical release when shooting their arrows and some shoot with just their fingers, hence the class designation.
Stachler has competed in archery tournaments for nearly 20 years and after dominating the amateur class in 2003, he felt comfortable enough to try his skill at the professional level.
"But then I had back surgery in 2004 and that kind of wiped me out until last year, when I moved into the professional division," he says.
The most important thing to remember when shooting at a target, he says, is to stand up straight and tall.
"Proper stance is so important. You have to always stand straight and square, no leaning into the bow. And, your bow has to fit you," he says. "Someone once told me to pretend I had an eyebolt at the top of my head, pulling it and my body up, and it helped. I've always remembered that."
During 3-D competitive target shooting, Stachler uses a Mathews Apex Solocam compound bow with a 62-64 pound draw weight (29-inch draw length).
"It's the maximum I can shoot comfortably," he says from the backyard of his home where he practices.
Quietly, slowly and with his eyes glued on the target, he pulls back the string on his compound bow with his right hand, holding the arrow with just one finger until he hears a click. The custom-made arrow is airborne, traveling nearly 280 feet a second, and suddenly strikes a well-worn target.
"I know, when I hear the click, that it's time to let go, that I have drawn back enough," he says. "Some people use a mechanical release, but I shoot with my fingers, actually just one."
It's frustrating, he says, when he hears the click of a nearby cameraman during tournament play, as it throws him off. The sounds are similar, he adds.
"The number of people competing who shoot with their fingers is dwindling," he says, noting most now prefer mechanical release. "I guess we're a dying breed."
The foam targets that he shoots at in competition are set up an average of 42 yards away and the 3-D targets range from turkeys and elk to bears. In competition, there a total of 40 targets that archers must shoot at.
"The hardest part in shooting is judging distance. When you are used to shooting on flat terrain and then compete where it is hilly, it throws you off," Stachler says. "But then, the guys who are used to hills, they have a hard time on flat ground. It's just the opposite."
Stachler makes his own arrows, which for competition must be a designated weight of 5 grains (unit of measure) per pound of bow weight.
"You can get thrown out if your arrows don't weigh in properly," he adds.
He gets the parts to make his arrows from Easton arrows, which, along with Mathews Bows of Sparta, Wisc., are his sponsors.
Tournament season runs from February through August throughout most of the eastern United States and Texas, and Stachler tries to compete in nearly a dozen events each year. Occasionally, his wife and children travel with him, other times, a group will travel together to cut down on the expenses.
"Yes, we compete against each other, but the people in my class are a lot of fun and have become good friends," he says. "I really enjoy the camaraderie, doing what I love the best and with people who love it as much."
Stachler says it was "awesome" winning the world title. He earned a special gold belt buckle and a cash award.
"It's a lot of fun competing and it kind of goes in cycles. You can shoot good for a while and then you don't," he says. "I do it mainly because I just enjoy it. It's not just about the money, it's my relaxation."