Saturday, June 21st, 2008
Wenning fires no-hitter for Cavs
By Gary R. Rasberry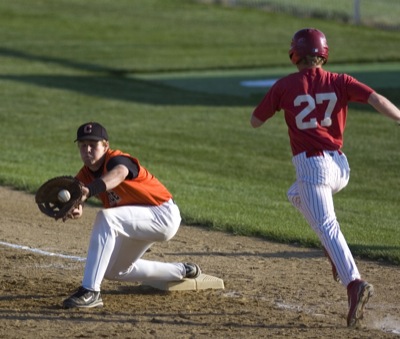 ST. HENRY - Coldwater's Keith Wenning came up with a gem on the mound, striking out 12 in throwing a no-hitter as the Cavaliers defeated St. Henry 5-0 in Mercer County ACME circuit action at the Wally Post Athletic Complex on Friday evening.
Wenning had a dominating game and received solid defense to move Coldwater to 9-2 on the summer.
"I was feeling good," said Wenning. "It was hot out there. My arm was feeling good and I kept the ball down."
Coldwater got two runs for Wenning in the second as St. Henry had defensive troubles. Briar Miller reached on an error and Adam Rammel got the call to bunt the runner over, but stayed on base due to a throwing error that moved the runners to second and third. Jordan Woeste brought both runners in with a single between first and second to make it 2-0.
The Cavaliers got another unearned run in the fifth when Aaron Rammel, fresh up from the junior ACME squad, reached on a throwing error and later scored on Wenning's single to right.
Aaron Rammel later added a run in the sixth, hitting a solo home run over the leftfield fence to make it 4-0. The Cavaliers added one more in the sixth.
Redskin starter Chad Siefring had a pitching line that was respectable, scattering six hits and walking just one batter. Only two of the five Cav runs were earned.
"Chad pitched a great game," said St. Henry assistant coach Jim Wourms. "I really couldn't ask for anything more out of him. Better defense would have helped us, but we couldn't get the sticks going. That hurt us. Really, they should have had just one run, but that one run would have been enough."
The best threat for St. Henry came in the bottom of the sixth when Wenning issued back-to-back walks to Nick Rindler and Brad Kremer to load the bases with Jim Schwieterman at third after reaching base earlier on a fielder's choice. Wenning roared back and got two quick strikes on Jason Wourms. After Wourms fouled a ball off, Wenning's next offering was wild and away from catcher Adam Rammel, but swung at by Wourms. Rammel immediately got the ball and stepped on home plate to get the force out to end the threat.
"That was huge," said Wenning of Rammel's play. "I got a little wild and the pitch count got high. Adam helped me out."
With Cavalier coach Romie Schwieterman keeping with him to try and close out the no-hitter, Wenning, who walked four batters, wasted no time to finish up, getting Kurt Koesters to look at strike three, then got Adam Rinderle to swing at strike three. Siefring ended the game by looking at strike three for Wenning's 12th punchout and the game-ender.
"With a five-run lead, I wasn't going to take him out with a no-no going," said coach Schwieterman. "He's the big Hoss Cartwright we have to ride now through the season. He didn't have to pitch a lot this spring and he's getting better every start. He's throwing three pitches for strikes. That's where it all starts."
Wenning helped himself, getting two of the six Cavalier base hits in the game.
Coldwater's doubleheader with Paulding today has been canceled. The Cavaliers return to action on Tuesday, hosting Defiance for a 5:30 p.m. doubleheader.