Saturday, August 30th, 2008
Panthers defense dominates Raiders
By Mark Ruschau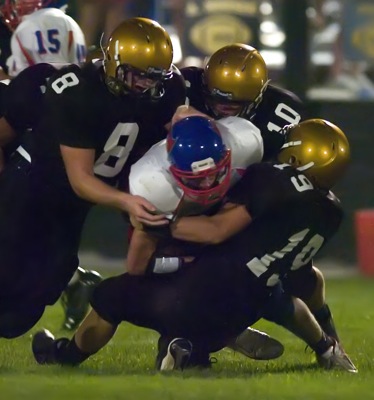 ROCKFORD - The Parkway Panthers used a solid defensive effort to defeat the Wayne Trace Raiders 33-0 in non-league action Friday night at Panther Stadium.
The Parkway defense, in addition to pitching the shutout, held the Raiders to just 125 yards of total offense while also forcing seven turnovers. The Panthers picked off five Ryne Jerome passes, including a school record four interceptions by senior Joshua Fisher.
The Panther defense harassed Wayne Trace backs all night long as they recorded 10 tackles for losses, including two each by Cole Frank, Joe Dellinger and Fisher.
"Yes indeed, the defense did play well tonight," said Parkway head coach Ed Kuhn. "They did a good job of tackling and that was a concern of ours going in tonight. We made sure that we wrapped up and got to the football and they did a good job. We wanted to make sure that we put pressure on the quarterback and we did, It was a good win."
After an exchange of possessions to start the game, Parkway scored on back-to-back possessions to take control of the game. Taking over at the Wayne Trace 37-yard line after a short punt and aided by a pass interference penalty, the Panthers used four plays to get on the board, capped by a 19-yard touchdown pass from Jared Bourelle to Logan Hunter.
On the ensuing Bourelle kickoff, the Panthers special teams aided the cause as a Gale Critten fumble was recovered by Kris Hughes at the Wayne Trace 35. After a nine-yard loss on first down, the Parkway offense recovered as it went 44 yards in six running plays with Fisher covering the final 16 yards for the score.
The Parkway offense got on the board one last time in the first half as they went 80 yards in just four plays with Bourelle hooking up with Fisher on a nine-yard scoring strike to give the home team a 21-0 lead.
On the night, in addition to his defensive exploits, Fisher added six rushes for 69 yards and a score and nine receiving yards for another score.
"Josh is a great athlete and a great young man," said Kuhn. "He is one of those players that you wish that you had more of."
While Parkway's offense was able to put three scores on the board, they sputtered for the biggest part of the night as they were able to accumulate just 269 yards of offense, just 90 yards in the second half. The Panthers turned the ball over twice and were penalized seven times for 40 yards, while having six plays of negative yards.
"We just did not play offensive as well, tonight as we know we can," said Kuhn. "Each week we've got to get better and we are not satisfied with the way things went tonight and we know that we got to get better."
The Black and Gold defense picked up the scoring slack in the second half as Hughes and Fisher returned Jerome passes for scores.
Parkway opens up Midwest Athletic Conference play Friday night as the Panthers travel to Maria Stein to take on Marion Local.