Friday, September 5th, 2008
Celina defense paves the way in 1-0 shutout
By Gary R. Rasberry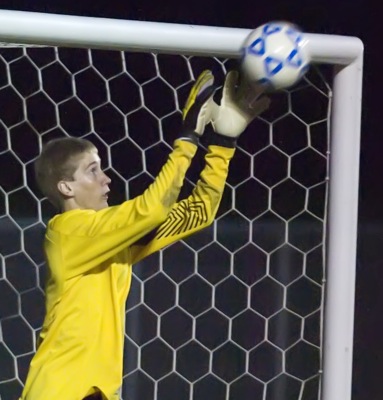 ST. MARYS - It's not often that a coach is a little disappointed after a victory.
But Celina boys soccer coach Bruce Strine was not happy with his team's offensive push against rival St. Marys.
The Bulldogs put 19 shots on goal against the Roughriders, but could only manage one second-half goal. Celina's defense made the goal stand up as the Bulldogs go to 2-0 in the Western Buckeye League with a 1-0 win at West Elementary in St. Marys.
Celina (2-2) had controlled the tempo of the game and kept the ball in its offensive zone for most of the game, but St. Marys' defense, and keeper Jacob Luthman (10 keeper saves), did put forth a great effort to keep Celina from adding more goals.
"First half, second half, we got some nice looks at the frame," said Strine. "We didn't finish. We didn't put it in the back of the net.
"It's very disappointing to control and dominate play like we did, and not walk off field feeling good about ourselves offensively."
While Strine admitted disappointment in his offense, St. Marys coach Zach Hertenstein could not hide his pride in the way his defense played against the Bulldogs.
"I cannot find fault with that effort," said the first-year Roughrider head coach. "That was fantastic. We play with that kind of effort throughout the season, we're going to win some games. People are going to be afraid to play us. I can't be prouder of them. They absolutely played hard."
The lone goal came early in the second half, as Michael Sommer fired a pass to Aaron Schmitt, who put it into the back of the net with 33 minutes left in the match.
That would be all the Celina defense needed as St. Marys was only able to get a couple clean shots at the net. The defensive pressure by Celina kept St. Marys from passing the ball cleanly.
"We played well. We're working to move the ball and switch the field. We did that well in the back," said Strine. "We held on to it some, but we're improving. We just want to keep getting better."
"Offensively, we're looking for a lucky break," said Hertenstein. "That's how our season's going to go. We're going to have to win games 1-0 or 2-0 and have to play solid defense. We had some solid chances, but it was few and far between. We weren't jelling very well."
The junior varsity game was also a 1-0 contest with the Bulldogs posting the win.
Both teams head into non-league action on Saturday. Celina makes the trip south to face Greenville while St. Marys remains at West Elementary to face the Botkins Trojans.