Monday, September 8th, 2008
Hoying honored to be inducted
Hoying, Jeff Uhlenhake among former Buckeyes honored this past weekend
By Robb Hemmelgarn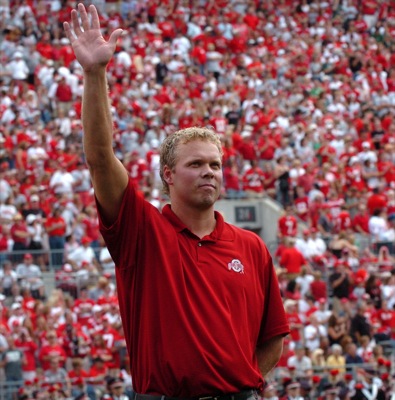 COLUMBUS - Few Halls of Fame in college sports carry the same clout as the Ohio State Varsity "O" Association Hall of Fame, which this weekend in Columbus, held its induction ceremony.
Among the 12 former Buckeye greats enshrined were a pair of former Ohio State football players with local ties - Bob Hoying and Jeff Uhlenhake.
Hoying, a 1991 St. Henry graduate, is arguably the most versatile athlete to ever come out of Mercer County, while Uhlenhake starred at Newark Catholic High School in the early 1980s and still has many family members living in the Celina area.
"It wasn't something I was really thinking about happening to be honest," Hoying explained, referring to his induction. "Normally a Hall of Fame is something that comes when you are a lot older, so along with being elected as team captain as a senior, this is truly the most important honor I have received at Ohio State."
Uhlenhake, who is currently Ohio State football's strength coordinator, was equally touched, not to mention surprised, about his notification.
"I was stunned," he remarked. "I felt honored to have been asked, but was sort of shocked. I had people in the past ask me if I thought I would get in and frankly, I told them no. There are just so many great former athletes, football players in particular in the Hall, that it makes this even more of an honor."
When Hoying jumped on board with the Buckeyes in 1991, many fanatics felt Ohio's reigning Mr. Football was a suitable addition, but their sights were set on the upper tier of the quarterback depth chart.
In line behind veterans Kirk Herbstreit and Kent Graham, Bob was also in the shadow of Joe Pickens, a USA Today All-American and premier recruit of head coach John Cooper.
The quarterback landscape changed immensely within three years as Graham and Herbstreit graduated, while the highly-touted Pickens had quietly cut ties with Ohio State and transferred to Duke.
Prior to the 1992 kickoff, Hoying inherited the Buckeye offense, and over the course of the next three seasons, he helped guide Ohio State to an overall record of 30-7-1.
"A couple of seasons in my career, I felt that we were always one or two more wins away from a national championship," he pointed out. "I will never forget my career at Ohio State, but my senior year was especially memorable. We had a lot of huge wins that season, and I made a lot of friends that I still keep in contact with today."
During his time under center, Hoying etched his name at the pinnacle of all major passing records - many of which still bear his likeness to this day. He still holds school-bests for pass completions in a career (498), passing touchdowns in a game (five), and passing touchdowns in a career (57). He is also tied for the most 200-yard passing games in a season (11) with Joe Germaine, while his 16 career games with 200 or more yards is the most in Ohio State's history. In nearly a dozen other passing categories, Hoying is still second all-time, usually behind Art Schlichter or Germaine.
"I think in the past 15 years since I played, the biggest changes are obviously the speed of the game and the evolution of a more wide-open offense," Hoying commented. "I never really went into shot gun, and now there are just so many four and five wide-receiver sets. It still boils down to playing smart though and making the big plays - those things will never change."
A product of the tradition-loaded Newark Catholic High School, Uhlenhake played in three state title games and was selected as the Class "A" Offensive Lineman of the Year as a senior.
Following high school, it was on to Ohio State where he went on to earn four varsity letters.
With Uhlenhake starting at left guard, the Buckeyes finished 9-3 and 10-3 during his freshman and sophomore campaigns.
The next two years were a whirlwind of transformations for him both individually, as well as for the team. Prior to the start of his junior year, Uhlenhake shifted from guard to center, where he played for the next two seasons.
Before the Michigan game his junior year, Buckeye head coach Earle Bruce was fired. His dismissal ignited the emotions of Uhlenhake and his teammates enough that they defeated the Wolverines later that week - their only win over the team up north in their four seasons.
Prior to his final season wearing the Scarlet and Gray, Uhlenhake was selected as a team captain, but the Buckeye's stumbled under first-year head coach John Cooper as they closed the campaign at 4-6-1 - their first losing season in more than 20 years and only one since.
"We had a rough year all around," he recalled. "A lot of different factors came into play - a new coach and new system were definitely reasons, but our talent level was also lower than it had been in the past."
In four seasons as a starter, Uhlenhake earned First Team All-Big Ten honors as a sophomore in 1986. He also gained All-American status as a senior in 1988, the same year he was named the team's Most Valuable Player.
Both Hoying and Uhlenhake were among the guests of honor at a reception and dinner on Friday, as well as at halftime of the Ohio State-Ohio University match up on Saturday afternoon.
"I had the opportunity to play for some outstanding coaches and with some great players while I was here," Uhlenhake acknowledged. "I owe a lot to them and it is again an honor be a part of something so special."
Hoying concurred, "Playing in Ohio Stadium and in front of a full house of our fans is something that stays with you forever. I was fortunate enough to be a part of some exciting games with some outstanding players, and I have so many memories from Ohio State that I will never forget."
Looking back at the college careers of both Hoying and Uhlenhake, fans in Buckeye Nation will not soon forget them either.