Monday, November 3rd, 2008
State Champs
Minster claims sixth cross country state championship in last 10 years
By Bruce Monnin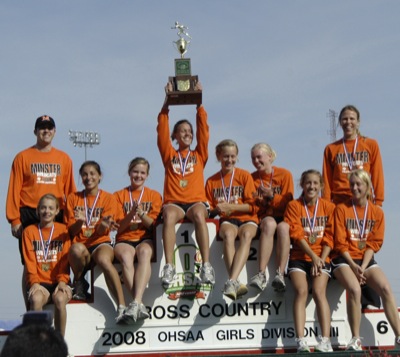 COLUMBUS - Every so often in sports, a memorable event occurs where a member of a team fights through injury or adversity to help their team win. One may recall the 1996 Olympics with Kerri Strug completing the vault needed for the American women's gymnastics team to win the gold medal with an injured ankle. Or perhaps Byron Leftwich quarterbacking Marshall to victory over Akron in 2002 with a fractured shin, his teammates carrying him to the new line of scrimmage after each completion.
Perhaps a local version will be remembered by the fans of Minster for years to come after this Saturday's state cross country championship as the Wildcats finished a mere four points ahead of Attica Seneca East and 16 points ahead of Versailles to win the school's 22nd state championship.
Coming in to the meet, Attica Seneca East was the favorite thanks to their convincing win over Minster and Versailles at last week's regional meet. But Minster coach Jessie Magato knew the Wildcats had a good chance to take the championship.
As the race began, the Wildcats were looking to be in contention.
"I thought they got off to a great start," stated Magato. "Going into the second half of the race I thought we still looked very strong."
But things were not going as well as it seemed. Senior Lei Bornhorst was running 11th in the field, but having problems.
"Going down the last hill, before we re-entered the stadium, I blacked out," recounted Bornhorst. "I don't really remember anything, anybody cheering. Then I snapped back into it, but I fell down. I tried to get up, but I fell back down and that's all I remember. I don't know what it was. Maybe I was just pushed to my limit."
"By the time I got to the finish I saw Lei at a standstill," added Magato. "She was a few yards from the finish and she wasn't moving. I just screamed for her to try to finish. After she finished she collapsed. At the moment, I really wasn't worried about winning or losing, I was just really concerned about my senior who gave absolutely everything to try to win."
Despite her troubles, Bornhorst still finished 22nd to lead the Wildcats, but she was behind three runners from Seneca East. That's when her teammates took over, as the first six Minster runners all finished before the fourth and fifth Seneca East competitors.
Following close behind Bornhorst was freshman Samantha Hoelscher, who was posting one of her best times of the year and moving up through the field.
"I think it was close to my PR," guessed Hoelscher. "But I know passed at least two girls (at the end of the race)."
Then came a flood of Minster orange as sophomores Averie Bornhorst and Sophia Richard finished 37th and 38th, followed by junior Jessica Albers in 40th.
"Sophia and I were together the whole race," recounted Bornhorst. "Then we caught up with Jessica on the third mile."
Richard agreed, adding that she used last year's close loss for motivation.
"I tried to relate the race as much as possible to last year, to get me pumped."
Being one of the more experienced Wildcat runners, Albers was desperately trying to prevent anyone from another team from passing her at the end.
"I knew it always comes down to the final few points," said Albers, "so I knew I had to keep going."
Even sixth place sophomore Maria Dahlinghaus contributed to the win by finishing ahead of the #4 and #5 runners from both Seneca East and Versailles.
"Every point counts," insisted Dahlinghaus. "Even though I wasn't scoring for our team I put them back two points. Our team is so deep and so close together that our 3, 4, 5 & 6 were right there together."
Freshman Kayla Albers finished seventh where she had no effect on the team standings. But she had her own battles to fight.
"I felt strong throughout the race. There was a Seneca East girl I really wanted to beat," recounted Albers, "but she ended up getting me in the end."
However, a testament to the strength of the Minster team was that Kayla Albers would have been the number-one runner on two other teams and one of the top three runners on 12 of the other 15 teams.
Not to be forgotten with the Minster championship was the great performance turned in by Versailles. For the second year in a row, the Tigers made huge strides the week between the regionals and the state meet.
"Looking back to last week, we really gained a lot of points on the top two teams in the state," confirmed Versailles coach Mark Pleiman. "I'm really proud of our girls for that. We had a great mix of girls, three seniors, one sophomore and four freshmen. It was a great year."
The Tigers were led by freshman Tammy Berger who finished in sixth-place overall and senior Mary Prakel who finished 23rd, one place behind Minster's Lei Bornhorst. Senior Kristen Schulte was a third Versailles runner to finish in less than 20 minutes, which helped keep the Tigers close to Seneca East and ahead of Minster before the Wildcat pack rolled in. Sophomore Margaret Prakel and senior Mindy Henry each finished with a time of 20:30 to secure a third-place finish for the team.
The top five of Versailles compiled a faster average time than did Minster, a fact which gave the Versailles coach hope they had defeated the Wildcats.
"I have never seen anything like that. I was hoping that we were close to Minster, but with the pullouts, that was absolutely crazy Minster taking the championship like that," added Pleiman.
One other Midwest Athletic Conference runner participated, as Coldwater's Alyssa Brunswick finished in 33rd place in the overall standings. Running at the state meet was an entirely new experience for the Cavalier freshman.
"It was kind of scary," admitted Brunswick. "I was really nervous. Once I saw so many people in the front, I couldn't believe it."
This is the seventh cross country title for Minster, which ties the Wildcats with Cleveland Heights Beaumont for most girls' titles in the sport. For Minster coach Jessie Magato, in her 10 years at the helm of the Minster program, the Wildcats have now won six state championships, finished second twice and third twice.
At the celebration Saturday night at Minster high school, Magato admitted to a mistake the team made at the start of the season.
"Unfortunately, we chose the quote 'I'm not telling you it's going to be easy, I'm telling you it's going to be worth it.' That was one bad quote. Next year, I am already pushing for a quote like 'Smile and run.'"
But Minster athletic director Josh Clune perhaps best summed up the season.
"Good teams don't bring home that trophy," he stated. "Great teams bring home that trophy."