Friday, January 9th, 2009
Bulldogs hit 10 treys in win over rival
By Ryan Hines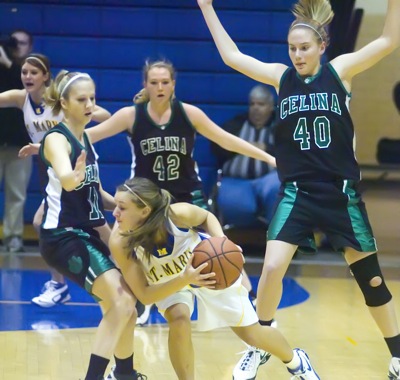 ST. MARYS - The Celina girls basketball team had its most prolific three-point shooting performance in recent memory, but it was barely enough to beat St. Marys.
Celina hit 10 three-pointers to build a double-digit lead and then withstood a valiant St. Marys comeback for a 59-58 win over the Roughriders at McBroom Gymnasium on Thursday night.
Considering both teams entered the game with a paltry scoring average under 40 points per game, Thursday's showing could be called an offensive explosion that was entertaining to the final buzzer.
"I thought that this was going to be 21-20 or something like that tonight and that would be if both teams got hot," joked St. Marys head coach Tim Niekamp. "Who would have thought we would have the style of game that we had tonight. It's funny how things run contrary to the way you expect them to go."
Celina head coach Brian Stetler agreed with Niekamp's assessment of the annual Battle of Grand Lake.
"I think that both teams were shooting the ball as well or better than they have all season long and it certainly gave the fans their money's worth," said Stetler. "I think both of us coaches would have guessed that this was going to be a 40-38 game, or something like that. It was kind of surprising to see, but I'm just glad that we were able to come out on top."
It's hard to imagine shooting 59 percent from the field and losing, but that's what happened to St. Marys as the Roughriders hit 23-of-39 from the floor, including a red hot 7-of-9 from three-point range.
Celina (6-3, 2-1 WBL) shredded the St. Marys (5-5, 1-2 WBL) zone defense for 10-of-21 from behind the three-point line and shot a respectable 49 percent (22-of-45) from the field overall.
"Making 10 threes is the most that we've had here in quite some time," said Stetler.
Cenzie Yoder gave Celina a go-to player in the post for a team-high 17 points while Kelsey Waterman added 15 points and nine rebounds to go along with a dozen from Francis on four three-pointers.
As good as that trio was for Celina, St. Marys' Erika Thornsberry scorched the Bulldogs for a game-high 21 points while Katie Burke and Rachel Wale also hit for double figures with 13 and 11 points, respectively.
Celina led by 10 points at 55-45 with 1:15 to play in the third quarter but a three-pointer by DeeDee Sudhoff at the buzzer seemed to spark the Roughriders entering the fourth quarter.
St. Marys opened the fourth quarter with an 8-2 run to close the Celina lead to one point at 57-56 at the 5:11 mark. Thornsberry sparked the Roughriders' run with five points.
Then both offenses went ice cold for a near four-minute stretch before Yoder made a nice drive to the basket for a layup that lifted Celina to a 59-56 lead with 1:23 left to play.
Burke then found an opening in the Celina defense on the baseline and hit the 15-foot jumper to pull St. Marys back to within one point at 59-58 with 1:00 on the clock.
Cayla Hellwarth missed a short jumper with 42 seconds to play for Celina and then St. Marys appeared set to grab the lead, but Wale's bunny hit the back of the rim and rolled off at the 19-second mark.
Hellwarth had a chance to push Celina's lead to three points, but missed the front end of a one-and-one opportunity with 6.7 seconds on the clock giving St. Marys one last shot.
As St. Marys attempted to get into position for a potential game-winning shot, Francis sealed the win for Celina with a steal just before the final horn sounded.
"We were just never able to pull away from them tonight. Give St. Marys credit, they did a nice job. It's just nice to get a WBL road win in a tight game like this," said Stetler.
"I told our girls that you have to have two different emotions after a game like this," said Niekamp. "First, you have to be disappointed that you lost to your rival, but secondly, there has to be a feeling of satisfaction to see the type of improvement that we've been making."
Celina is back on the road again on Saturday with a matchup against Minster while St. Marys will host Greenville on Tuesday night.