Saturday, January 10th, 2009
Boosting child safety
New Ohio seat law goes into effect statewide April 1
By Shelley Grieshop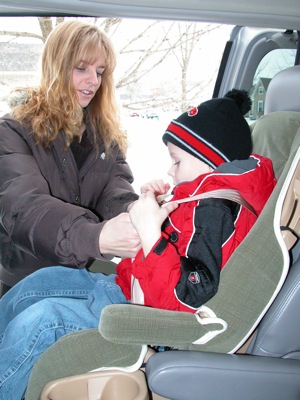 Sales of child booster seats could rise in coming weeks following recent passage of an Ohio law requiring all children use one until they are age 8 and 4 feet, 9 inches tall.
Gov. Ted Strickland signed the law Tuesday and it officially goes into effect April 1. Violators will receive warnings for a six-month probationary period before enforcement begins Oct. 1. Fines will range from $25 to $75.
The new law is considered a secondary enforcement measure, meaning law enforcement officers can only cite a motorist for a booster seat violation if they are pulled over for another reason.
Currently, Ohio law states that children must be in a child restraint system, either car seat or booster seat, until age 4 and 40 pounds. Older and heavier children must be buckled in a seat belt.
Angie Ewing, a certified child passenger safety technician and instructor, was thrilled with the passage of the law.
"I am fully in support," said Ewing, who also is a dispatcher for the Celina Police Department.
Ewing said statistics nationwide show a high number of fatalities and internal injuries among children in the 4- to 8-year-old range who are buckled only in standard vehicle seat belts.
"Seat belts are meant to fit adult males, not children," she explained.
Shoulder straps can cut into youngsters necks and are often pushed behind their backs for comfort, she said. In crashes, lap belts can cause severe injuries to childrens' abdomens - a medical condition referred to as "lap belt syndrome," which often affects vital organs.
The National Transportation Safety Board says more than 90 percent of children killed in traffic accidents in Ohio are not buckled in or buckled properly in car seats of any kind. From 2002 to 2007, 89 children ages 4 to 8 were killed in traffic crashes and more than 21,000 were injured.
Officials expect to see those numbers decrease in coming years as they have in other states that enforce the use of booster seats. Ohio is the 44th state to enact such a law; Indiana passed a similar law in 2005.
Some parents such as Kathy Carnes of Coldwater are skeptical of the booster seat mandate. Her two children are small in stature and it could be a long time before they reach both the age and height requirements to graduate from a booster seat, she said.
"I do believe the seats are safer, but Hunter will be 6 in April and he's still a pound shy of 40 pounds. He could be in a car seat until he's 12," she said.
Carnes and her husband, Nate, were looking forward to one less bulky child seat in their vehicle, although she admits the children enjoy sitting up higher for a better view out the window. She wondered what she and other moms will do when they have to carpool several children. Will there be room in her vehicle and will she have enough booster seats to go around,? she pondered aloud.
Booster seats range in price from backless brands at $30 to high-back models costing as much as $150. Ewing said the high-back models are advised for vehicles with bench-type seating that don't provide a place for children to rest their head.
Ewing said some local agencies such as Our Home and the health department in Celina can help income-eligible families obtain car seats.
"There likely will be some state initiatives coming to help people who can't afford one," she added.