Monday, May 17th, 2010
Two men face charges after car pulled from lake
By Margie Wuebker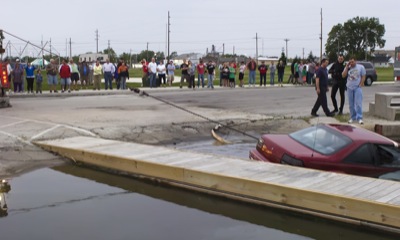 CELINA - Two local men will appear in Celina Municipal Court this afternoon in connection with the apparent disposal of a stolen car in Grand Lake on Saturday night.
Edwin T. Lovelace, 58, 440 Touvelle St., Lot 37, and Alfred "Ted" Maxwell Jr., 53, 300 Bruns Ave., Apt. 53, both of Celina, each face a misdemeanor charge of obstructing official business.
Celina Police Chief Dave Slusser said charges are pending against a 50-year-old Celina man in connection with the theft of the red 1994 Pontiac. Slusser declined to identify the man until the formal filing of court paperwork.
Witnesses reportedly called police at 7:53 p.m. Saturday to report someone put the car in gear and let it roll into the lake in the vicinity of the Hot Water Hole. Officers responded to the scene as did the Celina Fire Department dive team.
Divers quickly determined there were no occupants during primary and secondary searches. Lake Shore Drive was closed down during the search while a wrecker lifted the vehicle from the water.
Police received another call shortly after 8 p.m. from John Gray, 318 N. Walnut St., Celina. He told them his car was nowhere to be found when he left Roberts Town Tavern, 402 S. Main St.
Witnesses described the man who put the vehicle in gear. He left the scene in another car, and witnesses also had that license number and described the driver of that car.
"The witnesses really made a tremendous difference in the time it took to clear up this case," Slusser said.
Lovelace and Maxwell were arrested later at the Lovelace home, but offered conflicting statements, Slusser said. They were allegedly part of a four-member group at Roberts Town Tavern who were involved in the situation. Gray was not with the group, Slusser said.
Slusser listed the car as destroyed.