Tuesday, July 13th, 2010
Luebke gets called up to Triple-A Portland
By Gary R. Rasberry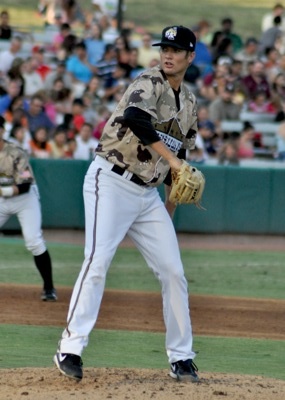 For Cory Luebke, it's really just another step up the baseball ladder.
Luebke, the Marion Local High School graduate and former Ohio State University pitching ace, was informed on Sunday that he had been promoted to the San Diego Padres' Triple-A farm club.
After having a strong first half of the season in Double-A San Antonio, Luebke is moving up to play for the Portland Beavers of the Pacific Coast League.
The Beavers aren't waiting long for Luebke to acclimate himself to his new surroundings, as he will make his PCL debut on Thursday when the Beavers host the Colorado Springs Sky Sox at PGE Field with a first pitch slated for 7:05 p.m. PDT (10:05 p.m. Ohio time).
"It's something I had hoped would happen sooner or later," said Luebke in a telephone interview on Monday. "At this point, Double-A, Triple-A, you see guys go from both spots. The way the big league club is pitching, I didn't know if they would push me much or not.
"It's exciting. A new challenge and I'm looking forward to it."
Luebke's promotion to the top farm team of the San Diego Padres comes despite a spring training injury that caused a late start to the season.
Spring training started out well for Luebke, who got the chance to appear in some Cactus League games with the Padres. He went 1-1 with a 4.50 ERA.
It was while taking batting practice before making a spring training start against Arizona that Luebke suffered an untimely injury.
"I was going to start the last big league spring training game against the Diamondbacks because (the Padres) didn't want to show any of their starters," said Luebke, who will head to Portland on Wednesday after working out a few more days in San Antonio. "I was taking BP with the team before the game and in my last round, I pulled part of my oblique muscle off my rib cage."
The injury grounded Luebke at the Padres' complex in Peoria, Arizona to rehab, something that was a bit frustrating for Luebke.
"More so (frustrating), because it would have been my last start of spring training before getting ready to head out. To see everybody going out and playing and you have to stay back and rehab for a month and a half, it's a little frustrating, but I hung with it and made the best of it," said Luebke.
When Luebke finally returned to San Antonio, he made two relief outings before getting his first start against Arkansas on June 2.
With the Missions this year, Luebke posted a 5-1 record and an ERA of 2.40. In 561/3 innings, Luebke struck out 44 batters and walked 12 while his WHIP (walks and hits per innings pitched) is an impressive 0.94.
"They took it pretty slow," said Luebke of his return to active play. "Everything felt normal, it was just a matter of getting my feet wet again. We did work on mechanics when I was down there (in Peoria) and they had a lot of coaches down there, so I was able to keep throwing and stay sharp so it wasn't too hard of a transition to get back into it."
The Beavers, coached by former Major League Baseball All-Star catcher Terry Kennedy, could use some pitching help, as they currently stand at 34-56 in the PCL's Pacific Northern Division.
Even though it's a new team, with new opponents, Luebke is not overly nervous about making his debut at Triple-A.
"They've got two pitches they want me to start working on more," said Luebke. "They feel up in Triple-A, it's something I'll have to use more. It'll be another learning curve. We're all trying to get where we are all trying to go.
"At this point, I've thrown in some big games. It will be like a normal game out there. I'm just looking forward to it, a little excited to get pushed a little bit and seeing some of these veteran hitters up there. These guys have been around for awhile. It's one step closer."

Luebke's stats with San Antonio:
Cory Luebke's stats from the 2010 season with the San Antonio Missions. Luebke was promoted to Triple-A Portland over the weekend and will make his debut on Thursday.

GP GS W-L ERA ip h r er bb so WHIP
10 8 5-1 2.40 561/3 41 18 15 12 44 0.94