Monday, August 2nd, 2010
Real estate risk
Consider pros, cons of owning on Grand Lake
By Janie Southard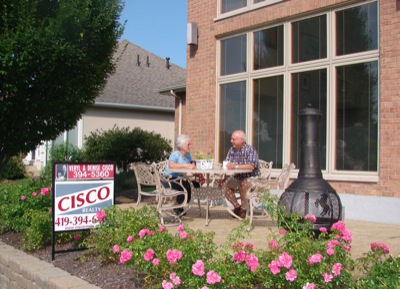 GRAND LAKE - Real estate is influenced by a series of factors, and one factor locally is Grand Lake's algae problem.
It may not be the best time for selling lake-related property, but one local real estate agent thinks now is actually a good time to invest.
St. Marys Realtor Scott Ross said the market for lake-related properties has been good overall this year. At least a lot better than last year at this time, which was an area low point.
"(Lake property) is actually a really good investment, but like all investments it goes up and down," he said. "People tend to like land investment because they can have a little more control over it. There's not a lot you can do to influence Apple stock, for instance. But you can always find a way to improve your property."
Improvements aside, Bob Yahl of St. Marys has had it with his fishing cottage at Harmon's Landing. The home has been on the market for about a year.
Yahl, a Goodyear retiree and avid fisherman, said you couldn't pay him enough to fish on Grand Lake anymore. He has owned the cottage as a second home for 10 years just for a getaway to enjoy his favorite pastime.
"I love fishing, which is why I bought the cottage in the first place," he said, adding he lived at the cottage when the fishing was good and fished almost every day.
"The lake has been going bad for a long time and no one has ever wanted to face facts. They didn't want to hurt the Realtors or the developers ... And nobody wants to take action, but they do want to blame the farmers. (The farmers) do contribute to the problem, that's true. But they're not the only ones," he said.
Harmful toxins produced by two types of blue-green algae have overtaken the lake and the state has issued an advisory warning people not to go into the water, even in watercraft, and to not eat fish from it.
Rejuvenating the lake will take a "massive fix" in Yahl's opinion.
"That includes paying the farmer to stop farming for five years while parts of the lake are dredged. But the feasibility of that is - none," he said.
Nine years ago, former Piqua residents Larry and Ann Baker built an upscale home at Hidden Shore on the south side of the lake. It's been for sale the past 15 months.
"We had three private showings in a two-week period before the algae. Since the algae - we've had one. That says something I think," Larry Baker said. "We're prepared to wait it out. I'm sure once the plan for resolution of the lake problem is made public, we'll see the activity come back."
Baker said the couple had been talking of selling long before the algae bloomed last year. Their reasons have nothing to do with the lake troubles. They simply want to downsize from the 2,400-square-foot, two-story home.
"We're heading into our 70s and we're just thinking ahead," said Baker, who worked more than 25 years in the cable television industry and now works a few days a week in Piqua at the family's wholesale glass company.
Ann Baker said she has loved living on the lake.
"It's a great family lake and it also offers so much wilderness," she said. "It's not all houses. You can see and feel nature."
Realtor Christine Grimm, also a waterfront homeowner, agreed Grand Lake living has a lot to offer.
"Most out-of-towners are looking for lake property. It's the ideal getaway and the ideal investment. Most people who come here from outside live within 70 miles of the lake," she said. "More than half my lake sales have been in cash, from pensions, early retirement money, etc."
The economic downturn the past few years also has played a huge part in real estate everywhere. The algae problems this year have only added to the challenge to sell lake-related properties.
But one positive, many have said, is that a spotlight has been put on the lake and solutions are being sought.
"No one came last year when the algae bloomed. This year the algae stinks and that's getting us some attention," Grimm said.
Larry Baker also said he feels things will turn around.
"Once a plan for resolution of the algae problem is made public, everything around the lake will improve," he said.