Thursday, August 19th, 2010
Celina's lab testing water for 11 lakes
By Nancy Allen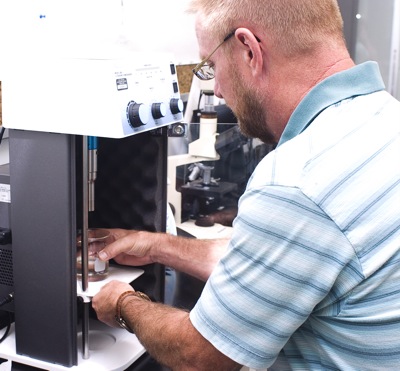 CELINA - Blue-green algae blooms in numerous lakes across Ohio are keeping employees busy at the Celina Water Treatment Plant.
That's because until last week, the plant had the only lab in Ohio certified to process water samples for microcystin, a type of algae toxin that has been found in Grand Lake and others in the state.
The Celina lab is testing one to six water samples per week from 11 lakes.
"This is the fifth week we've averaged over 60 samples per week, so we're pretty swamped now," Todd Hone, assistant plant superintendent, said on Wednesday.
Hone said three plant employees are alternating testing duties, spending 12-14 hours per week. The city charges $45 per sample.
The city isn't making money from the testing, just trying to cover associated expenses, he said. There has been some overtime due to the extra workload, but it's been minimal, he said.
"We're not trying to make a ton of profit off it, we're just trying to pay off the equipment and supplies we use to do the testing," Hone said. "When you factor man hours into it, we're probably not coming out ahead."
The city last year bought a $2,800 ultrasonic homogenizer that blasts apart algae cells with sound waves, causing the cells to release toxins so toxin levels can be measured. Each sample is put through the device individually for eight minutes. Then the samples are placed in microcystin test kit trays for 3 1/2 hours to determine if microcystin is present, and if so, at what levels.
Testing for algae toxins other than microcystin is done at Greenwater Labs in Florida.
The Ohio Department of Natural Resources (ODNR) is paying for microcystin test kits ($600 each) for the samples sent to the Celina lab, Hone said. So far these kits have been enough to process samples sent by ODNR and the Ohio EPA, he said.
Local officials have had to educate themselves on algae since the first water quality advisory was placed on Grand Lake last year in May. In some cases local officials likely know more than people at the state level.
Hone said Celina Water Treatment Plant Superintendent Mike Sudman and Chief Operator Tom Georg last week demonstrated the microcystin testing procedure during a conference at Stone Lab on Lake Erie. Among the 17 attendees were Ohio EPA Director Chris Korleski, other EPA officials and water superintendents from throughout Ohio.
"We know how to identify some of the algae and we're familiar with the strains that produce some of the cyanotoxins, but at the same time we're not biologists," Hone said. "I'm not going to say we know more than the EPA because they have access to college professors and biologists who know more about the algae than we do at the local level."
The scientific name for blue-green algae is cyanobacteria, an organism that has been on earth for 4 billion years.
Ohio EPA spokeswoman Dina Pierce today said the Ohio EPA's lab in Reynoldsburg is now certified to do microcystin testing and processed its first sample last week. The EPA plans to begin using this lab to test samples. ODNR will continue to send samples to Celina, but may begin using the EPA lab as well.
"For the time being we'll continue to take our samples to the Celina lab and may continue that for Grand Lake, but depending on how many other lakes develop issues, we may start sending those to the EPA lab," ODNR spokesman Mike Shelton said.
Shelton said the EPA's lab will eventually be able to test for toxins other than microcystin, which could save ODNR money.
"We're hoping it will be less costly to send our samples to the EPA lab instead of Greenwater Labs in Florida," he said.
Hone said he's glad to hear the EPA's lab is up and running.
"That will take some of the workload off of us," he said.