Monday, November 22nd, 2010
Arrowhead discovery shows tie between Indians, area
By Betty Lawrence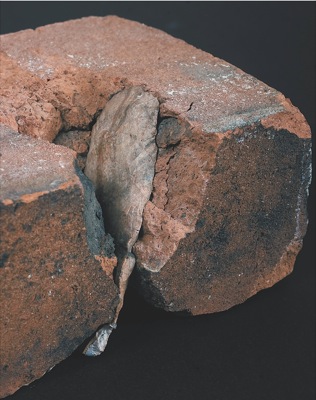 ROCKFORD - Local stone mason Buck Kahlig calls the dovetail arrowhead he found embedded in a brick in a downtown Rockford building a "one in a million" find.
He came across the arrowhead about seven years ago while restoring the front of the Eagles building.
"My son, who was pretty young at the time, helped me find it. I just put the brick back in the wall and went back a few years after I was done with the building (this summer) and took it out," he said.
Kahlig recently donated the brick to the Shanes Crossing Historical Society Museum in Rockford.
He estimates the arrowhead is from the time when Indian clans followed the St. Marys River. The brick, which dates back to the 1800s, is made of local clay, he said.
"There used to be kilns where the tomato factory (Fremont) in Rockford is now. They made all the brick they used locally out of local clay," he said. "Rockford used to be Indian territory and the arrowhead somehow got scooped up with the clay when they made and baked the brick."
Historical society president Norm VanTilburg has been searching for more information on the artifact.
"The brick will be on display here at our museum in Rockford, along with any information we find about it," VanTilburg said, terming Kahlig's find "unusual and interesting."
"I never saw anything like it," he said. "It is in really good shape, and I appreciate him donating it to the museum."
VanTilburg said all he knows is the brick was made locally and is probably over 100 years old.
"Most of brick buildings in downtown Rockford were built in the early 1900s, some in the early 1890s," he said.
Kahlig restores historic brick buildings by trade and stressed the arrowhead was "just about the best thing he's ever discovered."
"My son, who is now deceased, was young at the time and was with me when we came across the brick," he said. "In that way, it will always have special meaning to me, not simply just as an historic find."