Wednesday, December 15th, 2010
Three killed in crash
Car, semi collide at U.S. 127, 33
By Margie Wuebker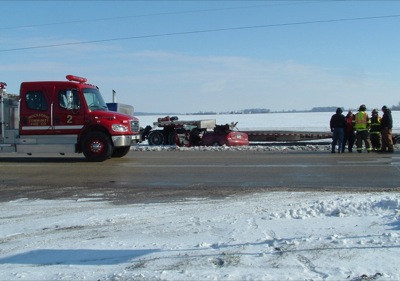 MERCER - Three people - two women and a child - died Tuesday when the car in which they were riding collided with a semitrailer at the intersection of U.S. 127 and U.S. 33 near Mercer.
Regina D. Spradlin, 50, 302 W. Pearl St., Rockford, was pronounced dead at the scene of the 10:44 a.m. accident, according to a Mercer County Sheriff's Office report. Her daughter-in-law, 25-year-old Bethany R. Spradlin of 1730 Celina Road, St. Marys, was rushed to St. Rita's Medical Center in Lima, where she died at 12:17 p.m. Her son, 3-year-old Jordan J. Spradlin, went by ambulance to Van Wert County Hospital, where he later died.
Another son, 4-year-old Gabrial M. Spradlin, was taken by ambulance to the Van Wert County hospital and later transferred via LifeFlight to Parkview Memorial Hospital in Fort Wayne, Ind., where he remains in serious condition as of this morning.
Their deaths - the fifth, sixth and seventh traffic fatalities of the year in Mercer County - came less than 24 hours after a Montezuma woman and her unborn child died of injuries sustained in another U.S. 127 crash 10 miles south. Killed in that accident was 20-year-old Ashley M. Curry of Montezuma, who reportedly was four months pregnant.
The Tuesday accident occurred across from the Motor Inn Truck Stop at 10391 U.S. 127. Regina Spradlin, who was eastbound on U.S. 33, drove her 2000 Ford Focus into the path of a northbound 2005 Peterbilt driven by Troy A. Brown, 34, Lone Rock, Wis., according to the sheriff's report.
"The truck driver told us the other driver ran a red light," Chief Deputy Gery Thobe said this morning. "We have no reason to doubt his statement, but it would be nice to have an independent witness come forward."
Brown also was taken by ambulance to Mercer County Community Hospital in Coldwater, where he was treated and then released.
The accident remains under investigation.
Rex Bragg, owner of the Motor Inn Truck Stop, heard a crash and looked up to see a truck driver hurriedly enter the convenience market.
"I took one look at his face and called 911," Bragg said. "Two more truck drivers stopped and fortunately one of them had six years of training as an emergency medical technician. He went up to the car and told me to call 911 again and tell them to bring more people because it was real bad."
People at the scene attempted to communicate with the occupants of the car, but there was no response. One man reportedly performed CPR on one of the youngsters until the first of four ambulances arrived on the scene.
"That truck driver was a good samaritan," Bragg said. "I don't know his name, but he certainly tried to help those folks."
The busy stretch of highway remained closed to non-emergency traffic for nearly two hours until both heavily-damaged vehicles were removed from the scene.
Assisting deputies at the scene were units from Celina Fire Department/Emergency Medical Services, Rockford EMS, the Wapakoneta post of the Ohio State Patrol and the Mercer County Emergency Response Volunteers.
Funeral arrangements for the Spradlins are pending at Cromes Funeral Home in Sidney.
Tuesday's accident was not weather-related, according to Thobe, but weather likely was a factor in Monday's crash. Curry was a passenger in a 2001 Ford Taurus driven by her 22-year-old fiance, Brandon Bradley, of the same Montezuma address. He apparently lost control of the southbound car and the vehicle crossed the centerline into the path of a northbound 2001 Buick LeSabre driven by Ronald J. Lange of Osgood.
Four other people were injured in that crash and transported by ambulances to the Coldwater hospital. Ava M. Curry, the 1-year-old daughter of the victim, was later transferred by CareFlight emergency helicopter to Children's Medical Center in Dayton, where she is listed in good condition this morning. No information was available regarding the conditions of the others.
Thobe said the investigation is continuing and the completed report will be referred to the Mercer County Sheriff's Office for review, standard procedure in fatal accidents.