Wednesday, January 26th, 2011
St. Marys crushes Green Wave
By Mark Ruschau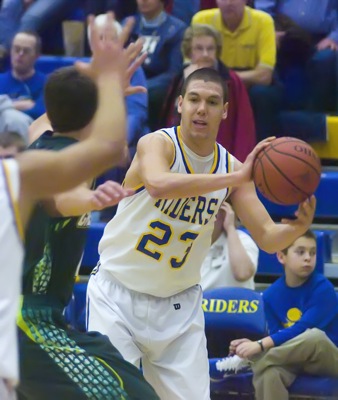 ST. MARYS - The St. Marys Roughriders' boys basketball took a break from the rigors of the Western Buckeye League on Tuesday night and used a great defensive effort to key a 63-28 rout of the Greenville Green Wave at MuroTech Court.
St. Marys gets back to .500 on the season at 6-6 with all six wins coming outside of WBL play. Greenville falls to 3-10 with the loss.
The Roughriders did a great job of defending Greenville as the Green Wave scored a season-low 28 points. St. Marys held Greenville to just nine field goals on just 27 attempts from the floor while forcing 20 turnovers.
St. Marys had a strong night offensively as well, connecting on 24-of-51 from the floor and committing just four turnovers, two in each half.
Derek Roop led things offensively for the Roughriders with a game-high 19 points. J.D. Meyer added 17 points and Garet Fledderjohann chipped in 13 points.
"It really helps when you shoot the ball and it goes in a little bit, because you can then set up your pressure and get some points there as well," commented St. Marys coach Dan Hegemier. "We have had some guys the past couple of weeks who have shot the ball pretty well but it just has not gone for them so it's nice to have a decent shooting night.
"Defensively, I have been pleased with the way we have played the last couple of weeks," continued Hegemier. "It is good to see the kids come and play pretty well on both ends and get a bit of a lead and not have to play a nailbiter like we have in most games this season. Hopefully tonight is a start where all the hard work that these kids have put in this season starts to pay off for them and hopefully we can carry this over to a tough league road game at Wapak on Friday."
St. Marys got a bucket from Meyer on its first possession of the game and the Roughriders never trailed. St. Marys' defense suffocated the Greenville offense early in the game, limiting them to just three free throws in the first period before the Wave would finally score a field goal, a trey from Alec Byrkett 45 seconds into the second period.
As tough as things were offensively for Greenville, the Green Wave were still within six points at 14-8 before the Roughriders went on an 8-2 run to close the half with a 22-10 lead. Meyer led the run with two free throws and a pair of baskets.
Any thought of a Greenville rally was quickly prevented as St. Marys scored 10 of the first 12 points of the second half to go up by 20 points at 32-12. D.J. Manning and Roop keyed the fast start to the third quarter as they each canned a three-pointer.
St. Marys returns to action on Friday, traveling to Wapakoneta for a WBL contest.