Wednesday, February 2nd, 2011
Snow and ice bring area to a halt
Level 3 snow emergency issued for Mercer County
By Shelley Grieshop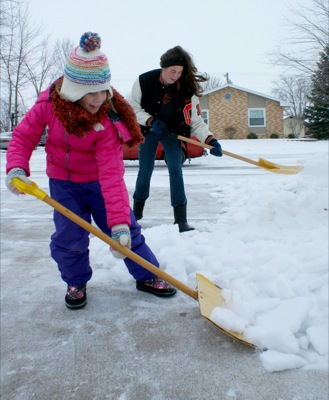 Snow, ice, sleet and high winds paralyzed the Grand Lake area overnight and created treacherous road conditions today.
For the second day in a row, area schools canceled classes with no calamity days left to utilize. Most county agencies, as well as all city of Celina offices, also were closed for the day.
As of press time today, the area remained under a Level 3 snow emergency, meaning all roads and streets are closed to normal traffic. Only essential workers such as medical professionals and emergency crews are allowed to use the roadways; all others are subject to arrest. Mercer County Sheriff Jeff Grey issued the Level 3 snow emergency at 2 a.m.
"We dealt with a lot of traffic issues overnight," Mercer County 911 Coordinator Monte Diegel said. "Right now, we've got several jackknifed semis up on (U.S.) 33 east of Neptune and the road's been closed."
The semi drivers were not injured, Diegel said, adding numerous other non-injury accidents were investigated in the last 24 hours.
"Under these conditions, we don't want people to be out unless they have to be out," he explained, adding local residents should contact their employers before heading to work in the coming days.
About 250 Midwest Electric customers in the Fort Recovery area lost power early this morning due to a pole fire. High winds caused energized equipment to come loose and make contact with the pole, causing a pole fire that knocked out the circuit, according to spokesman Matt Berry.
Troy Anderson, director of the Auglaize County Emergency Management Agency in Wapakoneta, said his neck of the woods received 4 to 5 inches of ice. Local weather forecaster Dennis Howick reported a thin coating of ice in the Celina area.
Thankfully, the crunchy pellets didn't stick to power lines and only a few power outages were reported throughout the area. Unfortunately, the ice pellets created hazardous driving conditions.
"It's like driving through sand. It causes your car to be pulled and can drag you into the ditch pretty easy," Anderson said.
State and county snowplows were busy Tuesday depositing a salt and grit mix onto area roadways. Officials in Mercer and Auglaize counties said salt supplies are good.
A wind advisory remains in effect until 6 p.m. today. Wind gusts as high as 45 mph were recorded overnight and forecasters expect gusts up to 50 mph through this afternoon with an additional inch of snow.
The temperature is expected to drop tonight to a frigid minus 6 degrees following a high of 23 today. Highs and lows on Thursday will be 18 and minus 2 degrees.
Many area residents spent Tuesday afternoon scraping, shoveling and doing whatever they could outside to prepare for Mother Nature's second round.
"It's horrible," said 8-year-old Beth Honigford, who was shoveling a driveway full of ice-laden snow in Coldwater.
She and her sister, 17-year-old Lindsay, wanted to get a leg-up on the coming storm, they said.
"It's better to shovel some of it now than have all the layers to do at once," the teen said.
Friendly Markets on Logan Street in Celina this week served double the number of customers they typically do because of the predicted storm, said Sue Giesige, wife of store owner Tom Giesige.
"Yesterday we were packed," she said.
Milk, cheese, bread and sidewalk salt flew off the shelves, she added.
Fourteen-year-old Andy Brunet stumbled across sidewalks Tuesday afternoon in Coldwater while trying to deliver The Daily Standard newspapers on foot.
"I fell down a few times. I keep sinking in the snow," he said with a grin.
At a gas station in St. Henry, Tom Hemmelgarn scraped ice from the windshield of his Honda CRV, or as his affectionately called the vehicle, "my Redskin mobile." With ice crystals stuck to his eyebrows, he kept an optimistic view of the situation.
"Well, hey, I don't like it, but it's the weather. It could be worse," he said.

Election filing deadline extended:
The deadline for the filing of candidates and issues for the May 3 primary election in Mercer County has been moved from today to 4 p.m. Thursday because of the winter storm.
The office - along with all other county offices - is closed today.
The board of elections staff took the action per instruction from the Secretary of State's office.
The Auglaize County Board of Elections office was open this morning and their deadline for filing remains at 4 p.m. today.