Tuesday, May 10th, 2011
Redskins avenge loss to Cavaliers
Division III Sectional Baseball at Shawnee
By Gary R. Rasberry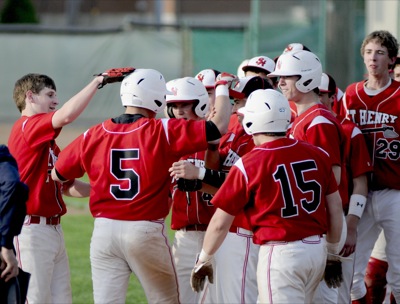 SHAWNEE TOWNSHIP - It didn't take long for St. Henry to get some revenge after Coldwater defeated the Redskins in Midwest Athletic Conference play last Friday.
The Redskins shrugged off a rough third inning and hit a pair of home runs, including a grand slam, to beat the Cavaliers 11-5 in the Division III sectional final at Shawnee High School.
The Redskins (12-9) advance to the University of Northwestern Ohio district semifinals on May 19 at 4:15 p.m. against the winner of today's Liberty-Benton/Otsego game at Patrick Henry High School. The other bracket will pit Ottawa-Glandorf against the winner of Wednesday's Shawnee sectional final between Bluffton and Lima Central Catholic.
The Cavaliers bow out of tournament play at 14-9, the first time since 2001 Coldwater has not advanced to the district tournament.
"First of all, anytime you have St. Henry-Coldwater, you know it's going to be a battle," said St. Henry's skipper John Dorner. "It was the other night (a 10-8 Coldwater win) too, but we walked nine guys Friday night. We said we had to throw strikes and Tyler (St. Henry's starting pitcher Tyler Bruns) did that just that."
"Their offense out-hit ours, for sure," said Coldwater's coach Brian Harlamert, whose squad was out-hit 14-6 on the day. "We had a couple gimme runs that one inning, batted and ran the bases well, but the bottom line is they out-hit us and they out-pitched us."
The Redskins got three runs in the top of the third as Chase Kessen and Kurt Koesters had RBI singles, with Kessen later coming home on a balk by Coldwater's pitcher Reese Klenke.
Bruns, who struck out seven of the first eight batters retired, was hampered by his defense in the bottom of the third as four Redskins' errors allowed Coldwater to tie the game at 3-all.
St. Henry wasted no time in responding, as Brady Kremer singled in Nate Uhlenhake and Derek Froning to break the tie, chasing Klenke from the mound after 3 1/3 innings in favor of Ethan Bettinger.
"You can't put your head down when playing a Coldwater team," said Dorner. "We kind of fell apart defensively in that one inning. The key was that very next inning, getting a couple runs and taking the lead back. We kept hitting the ball and hitting the ball. That was probably the best we've hit the ball all year."
Not being content with a two-run lead, St. Henry added some cushion in the fifth as Froning hit his third home run in as many games, a two-run shot scoring Bruns ahead of him to make it 7-3 in favor of the Redskins.
Coldwater could only respond with solo homers by Aaron Rammel in the bottom of the fifth and Bettinger in the six to get to within two runs at 7-5.
Alex Post, who had two errors in the rough third inning, got the runs back with one swing, hitting a grand slam off Bettinger in the top of the seventh.
Bruns finished the game well. After Klenke got a triple to start the bottom of the seventh, Randal Muhlenkamp grounded out, Drew Klosterman became Bruns' 10th strikeout victim of the game and Eric Schmackers popped out to Brad Heitkamp.
"It was great to have Tyler throw a great game for us," said Dorner of Bruns. "We had a lot of guys come up with clutch hits."
"Tyler Bruns threw a great game," said Harlamert. "He hit his spots. His fastball was lively, in the zone, out of the zone, up and down. Sometimes you have to tip your hat. They outplayed us in all phases of the game."
Post finished the game going 2-for-3 with four RBI and Kremer went 2-for-3 with two runs scored and two RBI while Kessen and Heitkamp each added two hits.
Klenke went 2-for-3 for the Cavaliers.