Saturday, June 18th, 2011
St. Henry buries Celina early
By Ryan Hines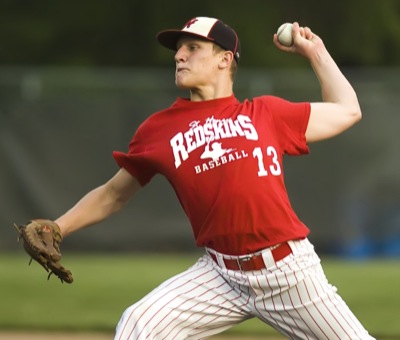 CELINA - The St. Henry ACME baseball team got a strong pitching performance from Trey Rutschilling during a 7-2 win over the Celina Bulldogs on Friday night at Montgomery Field.
Rutschilling picked up the win on the mound for St. Henry (5-5) after throwing 6 2/3 innings and allowing just two runs on seven hits while walking three and striking out 10.
"Trey did really good tonight. He worked ahead in the count and then threw good off-speed pitches to keep them off balance," said St. Henry's coach Brad Kremer.
Celina's head coach Robb Howell wasn't happy with the approach his team had at the plate against Rutschilling.
"Our approach at the plate right now is terrible," said Howell. "It comes down to the mental part of the game right now at the plate and we aren't doing the necessary things to be successful. We aren't relaxed at the plate and it's contagious. Our pitch selection is terrible and there's no fire with a lot of weak swings. Just no pop in our bats right now."
Rutschilling held Celina (3-7) hitless through the first three innings and the St. Henry offense gave the left-hander all the run support he needed in the early going.
An RBI double by Devon Froning and an RBI ground out by Nathan Clune put St. Henry ahead 2-0 after the first inning. Rutschilling then plated another Redskins' run with an RBI double in the third frame while a sacrifice fly by Devon Froning and a wild pitch allowed two more St. Henry runs to score for a 5-0 advantage.
"I thought it was big for us to get up early on them because we have struggled with our bats a little bit here recently," said Kremer. "I thought that we swung the bats much better tonight than we have recently."
Rutschilling added an RBI single and Devon Froning completed a big day at the plate with another RBI double in the sixth inning for a commanding 7-0 lead. Froning finished the game 3-for-3 with a pair of doubles and three RBI.
"He's had a big summer for us this year and he's swinging the bat really well right now," said Kremer. "He had a few big hits today to plate a few runs and increase our lead. Those were big."
Celina was able to get a single in each of the fourth, fifth and sixth innings but was still scoreless until the seventh frame.
Howell went with three straight pinch-hitters to start the seventh inning and the strategy worked as Zach Sigmond and Shawn Stachler each singled before Damon Smith drew a walk to load the bases for the top of the Bulldogs' batting order.
Derek Waterman plated the first Celina run with an RBI single that bounced out of the glove of St. Henry's diving centerfielder Darren Schwieterman. The ball may have bounced out of Schwieterman's glove, but the Redskins' outfielder quickly got the ball back in the infield and a pair of Celina's baserunners were caught off the bases and two outs were recorded.
Braden Billger plated another Celina run with an RBI single and Kremer decided to pull Rutschilling off the mound in favor of reliever Kent Stammen. Stammen needed just four pitches to strike out Kyle Berry and end the game.
"The only thing that is going to make us play better right now is for all of our guys to make a full commitment to Celina baseball," said Howell. "Without it, we will continue to struggle."
Celina is back in action again today hosting Lima Central Catholic at 11:30 a.m. and then playing Shawnee at 7 p.m. while St. Henry will play a doubleheader today against LCC (2 p.m.) and Shawnee (4:30 p.m.) at Celina's Montgomery Field.