Monday, August 8th, 2011
New businesses will bring jobs and optimism
By Amy Kronenberger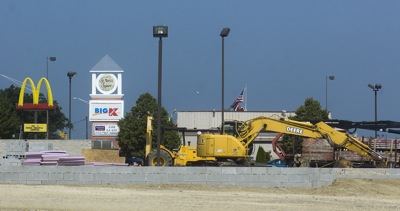 ST. MARYS - St. Marys will welcome four new businesses by early next year, bringing new dining and shopping options and more than 300 jobs.
Construction is complete at the Kohl's department store, set to open at the end of September next to Kroger off state Route 66 in the Shoppes of St. Marys Plaza. The national retail store anticipates hiring 130 full- and part-time employees.
Spokesperson Christie Wolfe said the St. Marys location was chosen after the company analyzed the market area and proximity to its other locations.
"This is good for unemployment, not just for St. Marys, but for the entire region," said Todd Fleagle, manager of industrial and community development in St. Marys. "Also, the businesses will give residents more shopping and eating choices close to home."
Just across the plaza from Kohl's, construction has begun on a Buffalo Wild Wings. The national food chain plans to hire 90 employees.
Store manager Donna Lee said the company chose St. Marys because employees noticed a lot of people from the area eating at the Lima store. They are looking at Nov. 13 as a possible grand opening, she said.
Just west on state Route 66, the St. Marys Square shopping plaza also is adding two new business. A Tractor Supply Company (TSC) store is moving into the former Chief Supermarket, and Beer Barrel Pizza is building a new eatery in front of the JCPenney store.
While St. Marys celebrates its new businesses, many in Mercer County are asking "why not here?"
Mercer County Economic Development Director Jared Ebbing said, most simply, retail is cyclical.
"Ten to 20 years ago, St. Marys residents were asking why Celina was getting the businesses," he said. "Celina has done a great job bringing in Menards, Walmart and other stores. Now it's St. Marys' turn."
Ebbing said Kohl's and TSC officials looked at locations in Celina. However, another TSC store was too close to the city and the land Kohl's was looking at was not available in time. Ebbing would not say which land Kohl's was considering.
"Retail is a fickle market, and it just happened to work out better for St. Marys this time," he said.
As for restaurants, Ebbing said businesses will choose locations with a thinner market. Celina is more dense with competitive restaurants.
"I think Celina does a nice job bringing businesses, and kudos to St. Marys for the work they've done, but sometimes things are out of our control," Ebbing said.
St. Marys offers city-funded revolving loan funds through a Community Development Block Grant and a tax abatement to businesses who set up shop in community reinvestment areas. Both shopping plazas are considered community reinvestment areas.
Chris Palermo of Midland Atlantic, the real estate firm that owns St. Marys Square, said TSC representatives were happy to open the store in a center that already was developed. The store plans to have 20 to 30 employees and should be ready to open by the end of the year, he said.
Beer Barrel Pizza owner John Heaphy said the sit-down restaurant plans to have 80 employees at its new location.
He had the former Monroe Muffler building near JCPenney torn down and now has a foundation in place for the restaurant. He hopes to open around Feb. 1.
TSC and Beer Barrel representatives said they chose St. Marys because the city was central to other towns in the area and because the demographic matched their businesses.
The owner of an established restaurant in St. Marys is optimistic the increased foot traffic will boost his business.
TJ Irmscher, owner of JT's Brew and Grill that opened last year by Kroger, said the new Kohl's and Buffalo Wild Wings will give his restaurant more attention.
"There's always going to be competition with another restaurant, but the people they draw in will give us more exposure," Irmscher said. "We offer enough different foods and a different atmosphere (than Buffalo Wild Wings), so we think the situation will only help us."

For a job:
What: Kohl's job fair
When: Now through Wednesday and Aug. 15
Where: American Legion Post 323 on Celina Road, St. Marys
Contact: Call 877-639-5645 or go to www.kohlscareers.com