Monday, October 31st, 2011
Roughriders unable to dig out of early 1-0 hole
Division II District Soccer at Elida
By Gary R. Rasberry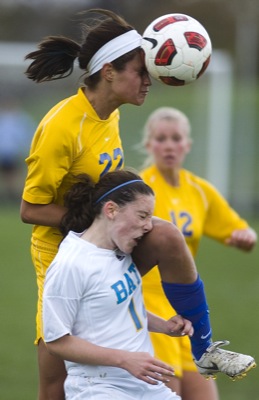 ELIDA - An early goal for Bath held up for the final 50 minutes of the match as St. Marys suffered a 1-0 loss to the Wildcats at the Division II girls' soccer district final held on Saturday at the Elida Athletic Complex.
The win sends Bath (12-3-4) to its first-ever regional semifinal on Wednesday at Graham Soccer Stadium in Findlay against Clyde District winner Clear Fork, which won 3-0 over Oak Harbor. The Roughriders end a strong season at 13-2-4.
"My girls have definitely peaked this season," said Bath's coach Morgan Lashaway. "We're making a great run and have come together well as a team. We're playing some phenomenal soccer."
The Wildcats' solid defense kept the Roughriders from getting many decent shots at the goal. St. Marys had just two shots on goal in the first half but the Wildcats attempted just one first-half shot.
"We battled all day long just to get the ball up to our forwards," said Roughriders' coach Paul Dingledine. "Our girls weren't in position to receive the ball. We just weren't in sync today."
Bath's one shot, though, was huge.
With the clock winding down to 13 1/2 minutes to play in the first half, Katie Dackin set up for a corner kick. Katie Dackin kicked the ball right into the middle of the Roughriders' goal area, where Taylor Dackin - Katie's cousin - headed the ball into the goal at the 13:32 mark as Bath grabbed the lead.
"We've been working on that all season long and haven't been able to capitalize," said Lashaway. "... Taylor timed it up just right and Katie has been able to serve up some beautiful balls in the center for us to give us that great opportunity."
St. Marys racheted up the pressure to score in the second half and took five shots on goal.
The closest that the Roughriders came to tying the score came with 3:15 remaining in the match. Ashleigh Falk booted a long shot from outside the penalty area. The ball went over Bath keeper's Audrey Brandon's head, but hit the bottom part of the cross bar and back into play. Brandon smothered the ball quickly to keep St. Marys from collecting the rebound.
"When that one left her foot, Jeff (assistant coach Jeff James) shouted 'That's going in!'," said Dingledine. "It just deflected off. It was so far out, nobody could follow (the ball) because it was so far away.
"We had our chances and just didn't cash in on it."