Tuesday, November 1st, 2011
Rogers named Rockford's new citizen of the year
By Amy Kronenberger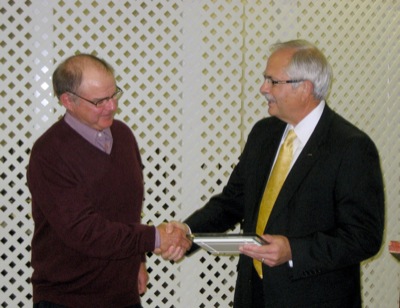 ROCKFORD - Rockford Chamber of Commerce on Monday announced its business and citizen of the year award winners during the 38th annual banquet.
Area farmer Tom Rogers received the citizen of the year award for his service and dedication to Rockford. Ed and Mike Burtch, owners of Burtch Seed, were honored for the business of the year.
Rogers is known for selling his sweet corn and raising quality beef cattle, award presenter and last year's winner Jerry Sell said. He also is known for giving much of his corn and beef to those in need.
Rogers also is an active member of Grace United Methodist Church, Parkway Athletic Boosters and the American Legion. He has been a little league coach for many years.
He also played a large part in grading, resurfacing and reseeding Parkway's football field, cleaning up and developing the north entrance to town on U.S. 33 and organizing many events as owner of the Rockford Belle. He was instrumental in developing the splash pad at the park and in organizing the annual Community Days.
"There are many people who work to make the community better, but tonight the light shines on Tom," Sell said. "We all know he is first and foremost a family man, and we recognize him as the jokester in the variety show for many years ... We appreciate all he's done."
Rogers said he was surprised to receive the award.
"I really do love this town, and I love the things I do," he said. "I even cleaned up the dump; I even enjoyed that."
Before giving Rogers his award, the chamber presented a slideshow, giving a summary of his life. Rogers' wife Barb said he didn't recognize his photos as a child.
"He asked me who it was; he had no idea," she said. "I kept poking him, saying 'that's you.' "
Chamber president Bryan Sutton and Robby Peel, co-owner of Barry's Family Market, presented the second annual business of the year award to the Burtches. Peel and her husband Barry had won the 2010 award.
Tom and Dot Burtch started the business in a small warehouse in Rockford in 1979, Sutton said. In 1980, the Burtches purchased the Tama Elevator and grew the business from a local grain company to a seed production facility.
Today the company is run by their sons, Ed and Mike Burtch, and has expanded into Michigan and Indiana.
"This family-owned business has really been a benefit to local agriculture," Mercer County Commissioner John Bruns said.
Bruns and fellow commissioner Bob Nuding presented Rogers and the Burtch brothers with proclamations from the county.
Other speakers at the banquet included Robin Elston of Elston Consulting; Casey Nuttle, president of the Leota Braun Foundation; Greg Puthoff, Parkway superintendent; and Amy Joseph, mayor.