Wednesday, April 25th, 2012
Celina driver killed
By Margie Wuebker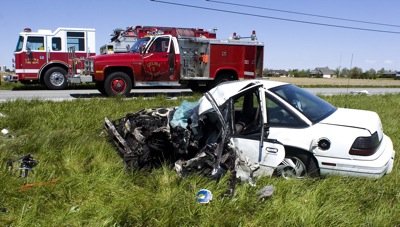 A local businessman died Tuesday when his car drifted left of center and struck a semitrailer while he was going home to pick up supplies.
The accident occurred at 2:07 p.m. along state Route 29 west of Celina, just west of Fleetfoot Road.
Matthias "Matt" J. Pearson, 50, of Celina, the owner of Matt's Soft Water Service, was pronounced dead at Mercer County Community Hospital in Coldwater. He is the ninth traffic fatality in the county since Jan. 23.
Pearson was driving eastbound when his 1995 Pontiac drifted left of center and struck a westbound semitrailer cab driven by Willie Antuan Brown, 28, of DuPont, Wash., according to Mercer County sheriff's office reports.
Witnesses to the crash told deputies the Pearson car was being driven erratically just before it traveled left of center and struck the left side fuel tank of the 2010 International owned by Covenant Transport Inc. of Edinburgh, Ind.
Both men were taken to Coldwater hospital. Brown was not listed as a patient this morning.
Wreckers were called to the scene to remove the heavily damaged vehicles. The cab sustained multiple flat tires, and some diesel fuel spilled along the highway.
Units from Mercer County Emergency Response Volunteers were called to the scene for traffic control. Representatives of the Public Utilities Commission of Ohio also responded.
"Matt was coming home to get more supplies before he headed over to another job in Mendon," his mother, Mary Jo Pearson, told The Daily Standard this morning. "He had plenty of time because he didn't have to be there until 3 or 3:30."
She said it was the second accident her son had in the past week or so, explaining he had previously struck a deer while driving on Fleetfoot Road.
He has three children - Christopher, 23, Jade, 21, and Matthias, 2.
The accident is the latest fatal crash resulting from a driver going left of center. An incident March 31 on U.S. 127, south of Clover Four Road, claimed five lives. On April 16 a Celina woman died after she veered left of center and her car collided with the rear wheels of a semitrailer on U.S. 127, north of Clover Four Road.
Authorities continue to warn motorists about the dangers of distracted driving and encourage people to notify law enforcement regarding erratic driving.